A waste-free kitchen
A review of tips and tricks from around the world to re-use peelings, recycle leftovers and reduce packaging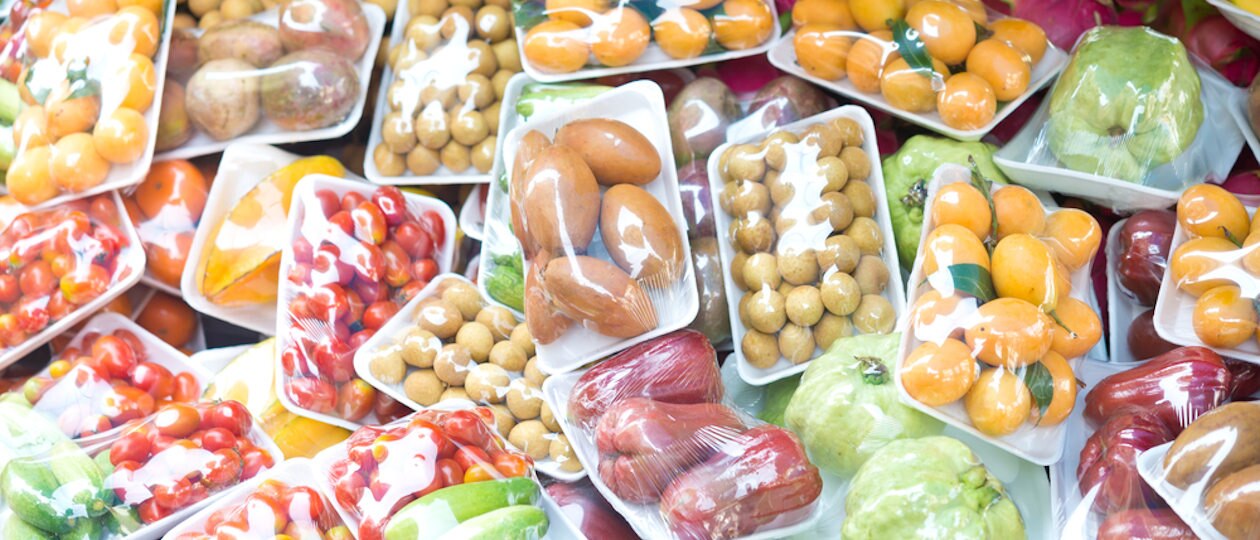 Is plastic food wrapping excessive? ©Shutterstock/nflmk
Anyone who cooks knows that waste bins tend to fill up at an alarming rate. A delicious homemade apple pie generates a big pile of peelings; a curry leaves us wondering what to do with the plastic container the Thai vegetables came in, and a simple steamed artichoke produces an impressive quantity of uneaten leaves. Not to mention bread that, more often than not, goes stale and ends up discarded. Yet there are plenty of ways to avoid throwing excessive amounts of food waste into the bin or onto the compost.
Béa Johnson's approach to reduce packaging
Béa Johnson was discouraged by the mainstream lifestyle in the US nurturing the notion of 'single use' consumption. She therefore decided to swap the American model for an extremely pared down, some might say austere, lifestyle. In so doing, she has managed to reduce her waste from 240 litres a week to just one litre a year and also cut her family's spending by 40%. Her book Zero Waste Home is crammed with useful tips and the concept has made her famous around the world. Béa buys nothing in unnecessary packaging, so there is little to go in the bin. She only shops in bulk and takes her own glass jars (she has more than a hundred of them) and reusable fabric bags, which she sewed herself from old bed sheets. Whether she is buying rice, pasta, flour or lentils, everything goes directly into one of her own containers, so she has no need for the plastic trays, sachets and film used to package food. As she totally rejects paper packaging too, she takes her jars to the butcher's to fill them with cuts of meat or sliced ham! She also uses airtight jars to store biscuits, tomato sauce, mustard and much more.
Traditional Japanese cuisine: Eat the whole vegetable
Kansha is a culinary philosophy from the Land of the Rising Sun. Its underlying principle is gratitude for the generosity of nature and to show appreciation for all the cereals, grasses, grains, fruit and vegetables we eat.
Kansha teaches us that we can use everything, even things we would usually throw away. All food, whether leftovers, leafy tops, trimmings or peelings, has potential we can put to good use with the help of specific, centuries-old recipes. The roots of wild garlic add a light garlicky taste to pancakes; kombu is used to make a broth and then reused to make the condiment gohan no tomo1 (a 'friend for rice'). Okara, a by-product of soy milk production, is the main ingredient of a stir-fried vegetable dish called u no hana2 (cottontail) often served in izakaya (Editor's note: Japanese gastropubs). Thickened soy milk left at the bottom of the saucepan can be heated and scrambled like eggs, seasoned with sesame and used as another highly flavourful 'friend for rice'. The Japanese even go to the trouble of saving the water used to rinse rice (togi-jiru) to then blanch vegetables!
Traditional European cooking
Japanese cuisine is not alone in promoting frugality; European culinary traditions also have a whole array of solutions for 'zero waste'. In Tuscany, dry bread never goes to waste: sliced, grilled and drizzled with extra-virgin olive oil, it becomes a delicious bruschetta (or fettunta); in winter, it is added to vegetable soup to make nourishing ribollita and, in summer, it is popular in panzanella, a sort of rustic salad made of tomatoes, cucumbers, red onions and basil. When it comes to meat, it is an Italian tradition to make the best use of poor quality cuts, such as cow's stomach. Cooked in a broth, served in a bread roll and seasoned with a green sauce made from parsley, it becomes lampredotto, a Florentine street food staple.
In southern Switzerland, stale bread is turned into torta di pane ticinese, a delicious cake that is a speciality of Ticino. With the addition of candied orange and lemon peel for flavour, pine kernels for texture and cocoa powder or grated chocolate for extra richness, nobody would ever guess the main ingredient! In Eastern Europe, it is traditional to use dried onion skins as a natural dye to decorate Easter eggs. As for fruit, most people know that cherry stones enhance the flavour of jam, but the stalks should not be thrown away either. Infusing them in hot water makes a highly appreciated diuretic herbal tea.
The list of examples goes on and on…
Cutting down on waste by giving a second life to things we usually throw away is good for the planet and for your bank balance. All it requires is a little bit of creativity! Several books on the subject (see bibliography) provide a variety of ingenious and tasty tips on how to make the best of all sorts of leftovers, tops, trimmings and peelings. Enjoy your meal!
Do you like this page?