A butcher's life
Young Swiss people are showing no interest in this skilled trade. To restore their image, butchers are focusing on proximity and tasty recipes.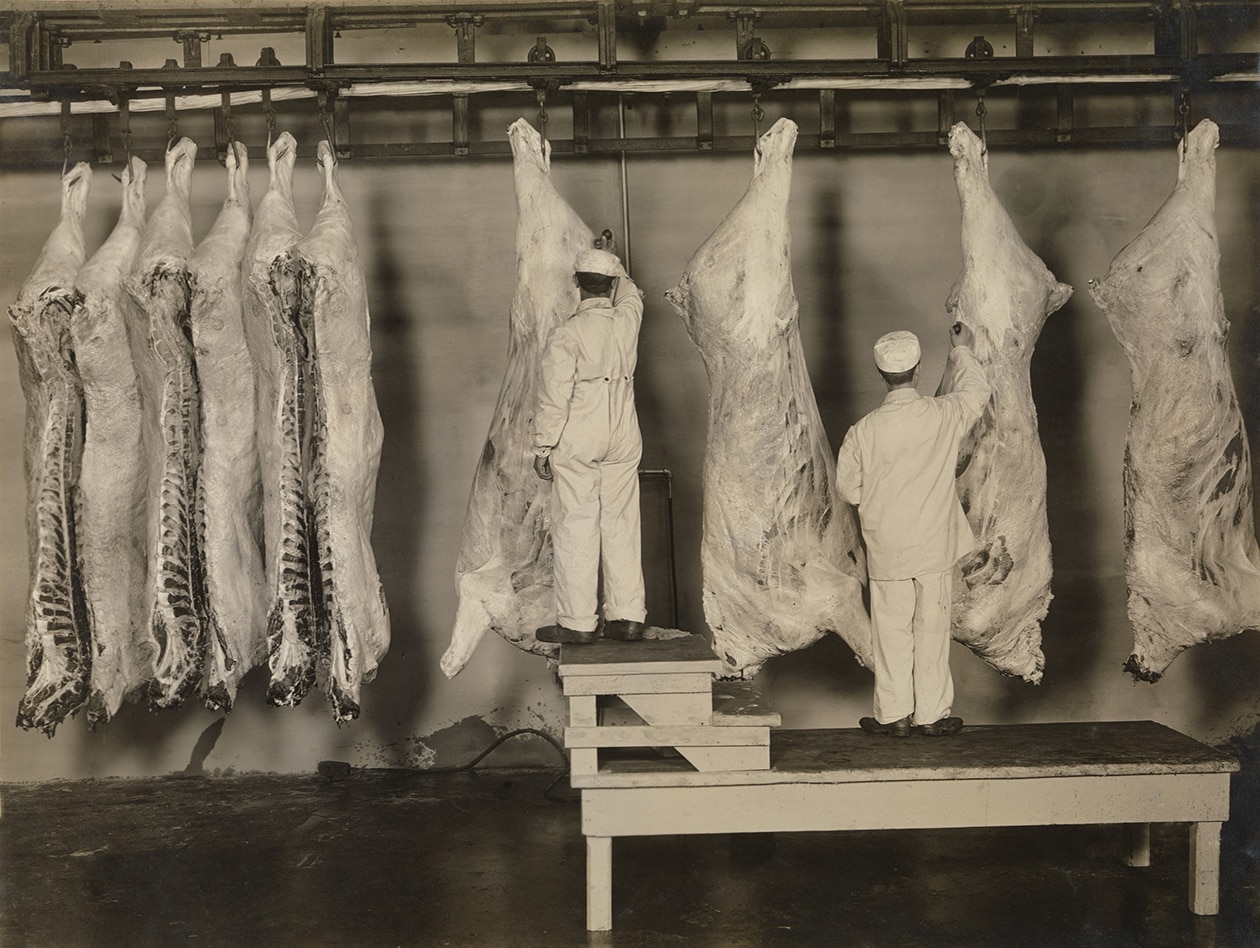 A profession linked to public health. Federal inspectors examining carcasses, United States, 1910. ©Shutterstock/Everett Historical
Benoît Vionnet has just started his apprenticeship. Unlike his classmates who have opted for careers in retail or in the service sector, this 15 year old from Lausanne has chosen to train as a butcher, a profession with a tradition of artisanship. "I've always liked meat-based dishes," explains the teenager. "For me, it's a real pleasure to work with this raw material and to transform it into quality products." Nonetheless, he is well aware of the fact that his future line of work does not appeal to many of his generation. He admits, "Some have been surprised by my choice and I've even heard others say that the job repulses them a bit."
The unease Benoît Vionnet observes is mirrored in this bitter observation made by independent butchers in Switzerland: Young people no longer want to learn the trade. In 2000, there were 735 apprentice butchers.1 In 2017, there were still 622.2 In 2016, Switzerland's professional meat union, the UPSV, issued a press release in which it sounded the alarm.3 300 apprenticeship vacancies remain unfilled every year. Consequence: Butchers can no longer find a successor. Thirty years ago, there were more than 2000 independent butcher's shops in the country. In 2014, only half remained.4
According to Markus Roten, promoter of succession planning within the UPSV, the lack of young butchers is also due to the arrival of a host of new professions over the last twenty years, usually related to the digital and service sectors. There is therefore a wider choice of career for a relatively stable number of apprentices. He also admits that the image of the profession has suffered over recent years. Markus Roten points out, "There have been a few scandals related to the meat trade, such as mad cow disease. Another problem is that many teenagers have lost the connection with nature. They eat meat but don't really want to know where it comes from." Interest in this profession has also declined at the same time as meat-free diets have been growing in popularity. In Switzerland, 11% of inhabitants declare themselves vegetarian, with 3% even choosing a vegan diet. In 1997, only 2.3% of the population was vegetarian.5 Moreover, animal welfare movements, anti-speciesist groups in particular, now have a growing following. Shocking images filmed in abattoirs, the criticism of conditions on factory farms and the associated environmental cost are clearly playing their part in changing mentalities and tarnishing the image of butchers.
Proximity and transparency
So, what can be done to revive interest in the butcher trade? Over the past two years, Markus Roten has been working to restore the image of this profession during his visits to job fairs and open days, as well as in schools. He posts videos on social networks where young butchers describe their working day. The main message of this initiative: Being a butcher does not mean killing animals. "Of course, to eat meat, an animal has to be killed. But that's not done at the butcher's. We just transform the meat." Instead, Markus Roten likes to focus on proximity and traceability: "Consumers are increasingly favouring local products so they can be sure of where they come from. Today, butchers can meet this demand by offering meat that does not come from industrial farms."
He also highlights another advantage. At a time when, in many sectors, machines are replacing humans, the traditional work of a butcher stands more chance of resisting such change. Indeed, young people in industrialised countries are increasingly taking stability and security into account when choosing their career. Andreas Fischer, a sociologist at Friedrich-Alexander-Universität Erlangen-Nürnberg in Germany has observed this phenomenon. He explains, "We are witnessing a re-materialisation of career choices. For young people, having a stable and secure job has become the number one priority in their choice of career."
So, why then are so few attracted to the butcher trade? Switzerland is not the only country concerned by this disenchantment. France is several thousand butchers short each year6 and Germany7 and the United Kingdom8 are in a similar situation. According to Andreas Fischer, both the working conditions and the job specifications are at issue: "In terms of flexibility and work-life balance, the job does not offer many guarantees. The work is tiring, often with complicated hours, little room for creativity and a low potential for personal fulfilment."
Blaise Morier is apprentice Benoît Vionnet's boss and the owner of the Boucherie du Tilleul in Prilly, near Lausanne, a well-established butcher's shop for over half a century. He is aware of these disadvantages. For him, to convince young people to learn the trade you need to play on flavour. "When I present my job at shows and job fairs, I offer numerous tastings with different sorts of meat and cold cuts." He goes on to explain, "Boning pieces of meat is still an essential part of my job, but the culinary factor is becoming more and more important." Over recent years, Blaise Morier has therefore developed the delicatessen side of his business: His shop window display now boasts kebabs, marinated meat, ready-made meals and salads. "Today's butchers have to want to cook and to surprise their customers with new flavours. I've seen for myself that it's that side of things that really attracts young people."
Meanwhile, Benoît Vionnet sees a big future for himself. Having been an apprentice for barely a month, he already sees himself taking over a butcher's in a few years. Does the lack of regard for the profession bother him? "On the contrary. I just tell myself that if so few young people want to work as a butcher, that means there'll be all the more possibilities for me."
Do you like this page?