Mad about jars!
Once the preserve of grandmothers' cupboards, glass jars are now making a comeback. There are a number of reasons for this revival.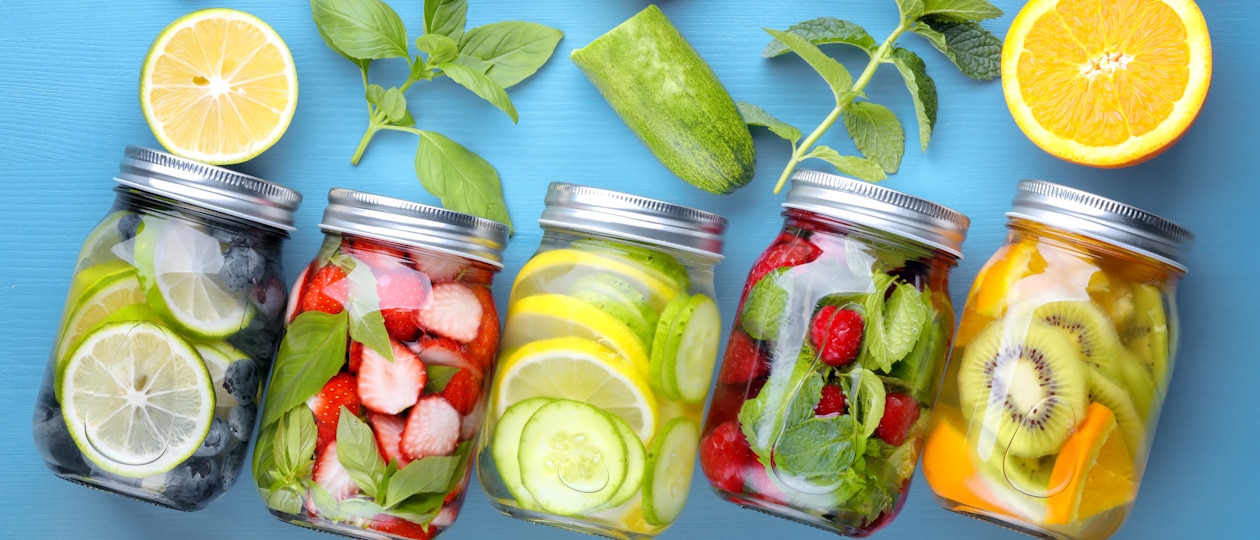 Bilberries & lime, strawberries & basil, lemon & cucumber, raspberries & mint, kiwis & oranges: nature in a jar. ©Shutterstock/fotohunter
We thought jars were a thing of the past. Between the 1960s and 2000s, glass jars had fallen well out of favour, except among a few jam-making aficionados. Plastic was 'in' everywhere. A modern home had to be equipped with polymer containers in trendy colours, for refrigerator storage or microwaving food. Tupperware paved the way in this domestic revolution.
Yet, although sealed glass containers were down, they were certainly not out. They are now making a comeback in grocery stores and in our homes. Even better, people are finding new uses for them. They now serve as containers for carrying goods home from bulk food shops, and as vintage crockery for hip city bars. Their transparency and eco-friendliness reflect consumer aspirations in the 21st century. Riding high on this trend, sales of historic brands such as Weck in Germany, Le Parfait in France or Ball Mason Jar in the United States, have been rising for some years now.
The American company has confirmed this renewed interest in glass jars. As the Ball Fresh Preserving Marketing Team explains, "Yes, we've seen a renewed interest in our jars as people are beginning to use them for alternative uses other than canning, which has reflected in our sales." According to an international survey conducted in autumn 2016, the company's customers use the jars in a variety of ways: 57% of consumers use jars for home canning, 46% use them for food storage, 37% for general storage, 36% for beverage use and 29% for home decor.
In the summer – the jam season – Marisa McClellan's Food in Jars blog registers half a million visitors a month. They are mainly women and mostly from North America, but also from other parts of the world, such as Germany, Indonesia and Australia. "Some of my readers are looking for more eco-friendly ways to store food; others want to cook healthier meals for themselves and their families, or have found a new hobby in canning."
Vintage style
A great many new fans simply find jars beautiful. Marisa McClellan points out that, "The public prefers their design to that of basic plastic containers. Jars come in all colours and sizes." To satisfy fans of glass jars, this blogger from Philadelphia (US) views them from all angles by, for example, reporting on her website on reissues of century-old designs, tips to accessorise them, and places to find rare bargains.
After this successful undertaking, Marisa McClellan published several books full of recipes to make in jars, some of which have sold 100 000 copies. American home cooking classics, such as strawberry and vanilla jam, tomato chutney, and pickles, are the most viewed pages of her blog. "I invent new recipes, but I also share the ones I learned to make with my mother, when I was younger."
Acclaimed by chefs
This vintage touch is behind the financial success of the French chain, Boco. This company sells about 5500 jars a day, containing dishes prepared by professional chefs, and has no doubt played a role in bringing jars back in fashion in Europe. After buying a meal, or having it delivered by the company, customers can then either have it heated up on the premises or take it home." Jars conjure up images of the past," explains Simon Ferniot, CEO of the company, which has branches in France, Belgium, Switzerland and Monaco. "We all love jars because they remind us of our grandmothers' recipes. At Boco, we offer classic European dishes with a few modern twists from the chefs." Most of these chefs have stars in the Michelin Guide, which has no doubt contributed to the success of this initiative.
Jars also appeal to cooks as they offer a popular way of preserving food. Simon Ferniot points out that, "Of course, we can put a jar in a fridge, but we can also use it for vacuum storage or pasteurisation. It keeps all the flavour in. It is also easy to heat up. Its only drawback is its weight."
Another downside of homemade preserves is the risk of spread of bacteria. "To be totally safe, preserving any kind of food in jars at home should include heat treatment using proven modern methods," explains Extenso, the nutrition reference centre at Université de Montréal (Canada). "There are two methods for preserving food in jars: canning in a bath of boiling water, and pressure canning (sterilisation in a pressure cooker)." The Canadian centre's website lists all the precautions necessary to avoid diseases such as botulism. Freshpreserving, an online guide in English, also provides advice on hygiene for beginners to canning.
For Boco, the advantages nonetheless seem to outweigh the drawbacks. Just six years after the company started, it now has twelve branches. "Seven or eight similar concepts to ours have appeared in Europe," adds the CEO. "More and more delicatessens and bakeries also sell food in jars but, of course, we cannot copyright preservation techniques that are over a century old. Our supplier, the German glass-maker Weck, patented its invention in 1892!" 1
Transparency and ecology
Another reason for this new enthusiasm is the need for transparency. According to Simon Ferniot, a glass jar shows all its content, thus fulfilling consumers' desire to see and know what they are buying and eating. There is a growing need for this in Europe, especially since the 2013 scandal when horse meat was found in some supermarket 'heat and eat' meals.
The ethical advantages of glass do not stop at its transparency, as the material also has ecological benefits. Sylvie Droulans is one of Belgium's most famous homemakers. A year and a half ago, together with her two children and her partner, she set herself the challenge of not producing any waste. She describes her daily life on her website Zerocarabistouille. Glass jars have proven crucial on her drive for 'zero waste'. She goes to shops that sell ingredients in bulk or in glass containers with a deposit on them. Then she carries her purchases home in cloth bags. Finally, at home, she refrigerates, freezes or vacuum seals her food in jars. This Belgian family also uses glass jars as crockery or lunchboxes: "Some jars make very good cereal bowls or convenient containers for carrying lunch to work," says the blogger.
Many activists and grocers around the world promote the 'zero waste' strategy and see jars as an excellent alternative to plastic. According to the Bepakt.com site, at least 195 shops sell products in bulk. "We use jars because we no longer trust plastic," explains Sylvie Droulans. "We fear the negative effects on our health, when plastic is in contact with our food."
Advocates of waste reduction also point out the advantage of the environmental impact of glass as compared to plastic, and the fact that it is 100% recyclable. Some restaurant owners promote it, too. "We encourage Boco customers to bring the jars back so we can re-use them," says Simon Ferniot. "We also suggest ways to give our jars a second life, and, if we end up having to throw some jars away, we know that glass is the material with the most efficient recycling process."
Do you like this page?