O-sechi ryōri
In Japan, families share traditional New Year food over three days. The dishes are presented in a magnificent lacquered box and are heavily symbolic, promising good health, wealth and academic success.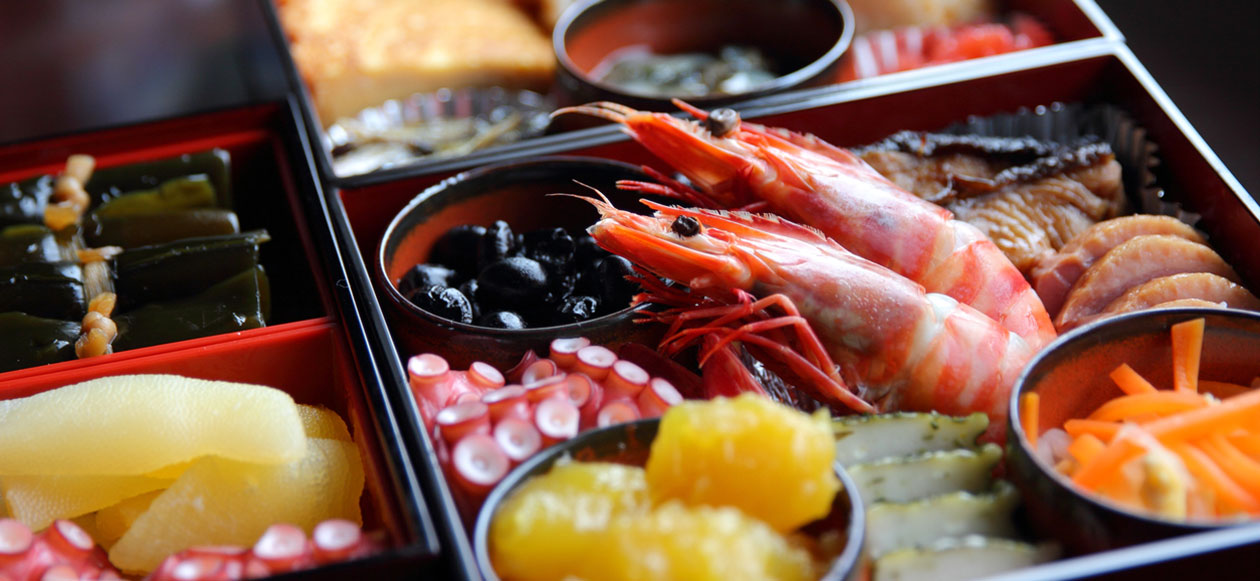 O-sechi ryōri, the meal eaten at Japanese New Year ©iStock/mitchii
The turn of the year is a particularly important time in Japan, brimming with customs and rituals. It is a family-oriented, religious festival, a far cry from the dance floors, champagne glasses and glitzy party dresses often associated with this time of year. The Japanese have been celebrating New Year on 1 January since the country switched to the Gregorian calendar in 1873. Prior to that, the change of year was celebrated on the first day of the lunar calendar, generally in February, and heralded the return of spring, as is the case in other Asian countries such as China, Korea and Vietnam.
New Year, new beginnings
O-shogatsu, or Japanese New Year, symbolises new beginnings. The Japanese start preparing for the festivities from mid-December onwards, shaking their tatami mats, cleaning the house from top to bottom and repairing or replacing broken objects. It is also a time to conclude ongoing business, and in particular to settle one's debts, so as to leave the old year behind and give the best possible welcome to the new one, hoping it will be prosperous and happy. Once the cleaning is done, people decorate their doorsteps with a pair of kadomatsu arrangements. These pine and bamboo branches can easily withstand the harsh winter cold and hence are symbols of health and long life. They also shelter the New Year god, who will come and stay for a few days to share the festivities with mortals. On the evening of 31 December, people customarily eat toshi-koshi soba, literally 'New Year noodles'. The long buckwheat noodles symbolise long life, while the broth is a good way to warm up before heading to the temple to hear the bells ring 108 times. If the New Year's Eve soup seems a little simple, it is because the main festive meal is eaten the following morning, on 1 January, after seeing in the first sunrise of the year (hatsuhinode).
O-sechi ryōri, a symbol of happiness
Sitting cross-legged, chopsticks in hand1, each member of the family helps themselves to the cold buffet called o-sechi ryōri, "the cuisine of the great banquets, in reference to the meals traditionally served at the grand annual celebrations of the imperial court"2. This is a set of specific dishes following a tradition dating back to the Heian period (794-1185 CE). Formerly served during the festivities that accompanied each new season, these dishes are associated with the New Year meal, which marked the year's most important change of season, the return to spring, when everything comes back to life. They are cooked in advance and, owing to the considerable amounts of vinegar, salt or sugar used, which act as natural preservatives, they keep for several days without refrigeration. The rich and varied assortment is presented in jūbako, pretty lacquered stackable boxes, each divided into compartments.
The many varied dishes are mainly prepared with root vegetables, fish, seaweed and seafood. The food is presented in small servings, carefully arranged to create an attractive display. The shape, colour or even the name of each dish symbolises a particular connection with the wishes made for the year ahead.
During the last days of December, it is customary for the mother of the family to prepare o-sechi ryōri. This is a sizeable task, as the assortment is meant to feed the whole family for three days. Tradition has it that no cooking is to be done between New Year and 3 January, a precaution taken in order to prevent accidents such as burns, cuts or fires when preparing the meals, which would be a bad omen for the year just beginning. Not having to work means that the whole family can visit relatives, exchange small gifts and perform traditional rituals.
Lotuses for a clear view of the future
Burdock root, or gobo, is common food in Japan and features among the root vegetables eaten at New Year. For the festive meal, gobo and other root vegetables are chopped finely, marinated in vinegar then seasoned with sesame (kinpira gobo) or gobo can be cut in thin strips, cooked and crushed with a wooden pestle (tataki gobo). This hardy root grows deep in the soil, hence it symbolises strength and health. Sliced lotus root is also often eaten at New Year. It can be prepared with vinegar (subasu) or fried and seasoned with sweetened soy sauce (renkon no netsuke). Either way, the many holes in lotus roots symbolise having a clear view of what the future holds3.
Kuri kinton cake is made from Japanese sweet potatoes (satsuma imo) mixed with sweet chestnut purée (kuri). Its beautiful golden colour and the term kinton, meaning 'treasure', both symbolise wealth. Kōhaku namasu is a kind of salad made from white radishes (daikon) and carrots cut into short, thin strips, seasoned with sweet vinegar and flavoured with yuzu (a Japanese citrus fruit resembling a mandarin orange). This dish aims to combine the colours red and white, symbolising happiness and festivity.
Sardines for a plentiful rice harvest
As for the fish dishes, tazukuri consists of dried sardines cooked in soy sauce and sprinkled with sesame seeds. Its kanji 4 literally means 'planting paddies' since small fish were traditionally used to fertilise rice fields5. Tazukuri therefore symbolises a plentiful harvest.
Red snapper is included in the assortment because its name, tai, is reminiscent of the Japanese word medetai (propitious, happy). Prawns, or ebi, cooked in sake and soy sauce, are also a common dish in o-sechi ryōri. Since prawns have a slightly curved back, they represent longevity and hence this dish symbolises the desire for a long and peaceful life, lasting until you stoop with old age6. Herring eggs (kazunoko) are thought to bring fertility, as they symbolise a large number of children. Those not so keen on herring eggs, yet still want descendants, can opt for daidai, the Japanese bitter orange, since its kanji literally means 'from generation to generation'7.
Of all the dishes in o-sechi ryōri, datemaki is the students' favourite. This sweet omelette is flavoured with prawns or fish paste, rolled and then cut into slices. Its shape is reminiscent of a scroll and represents knowledge and good fortune in studies. Adults in their prime, however, will want to take a second helping of kuro mame, a deep black soy bean dish symbolising health and work.
O-z
ō
ni
soup
On New Year's Day, people prepare o-zōni, the typical soup for the first days of January. It is traditionally made all over Japan using food that comprised the offerings to the New Year's god. There are several regional versions, which may or may not include meat, miso and mushrooms for example, but they all feature mochi, grilled or plain sticky rice cakes floating in the bowl.It is the only hot dish eaten during the New Year period and as such is the exception that confirms the 'no cooking' rule during this time. Caution is advised when enjoying this soup as the mochi become especially sticky when immersed in the hot broth and are known to cause several cases of suffocation in Japan every year.
Declining popularity
Although o-sechi ryōri is a tradition, today people are less keen on the lengthy preparation time involved. Nowadays, fewer women make it from scratch. Since the 1970s, households have been able to purchase this elaborate assortment of dishes8. There's no shortage of options as it can be ordered online, booked at famous restaurants or simply bought at the local supermarket. One study has shown that two-thirds of all kamaboko, a type of fish cake, are bought ready-made9.
O-sechi ryōri has also diversified to include dishes from other culinary traditions, in particular Chinese (chūkafū o-sechi) and Western cuisine (seiyō o-sechi). Some shops even sell special themed assortments featuring Disney cartoon characters! Whatever the option chosen, the ready-made versions do not come cheap: an o-sechi for two or three people to share costs around 11 500 yen and prices can really go through the roof for the luxury versions!
Changing dietary habits have also lead to a decline in the popularity of traditional o-sechi ryōri. It was once seen as an exceptional opportunity to enjoy unusual delicacies, very different from everyday food. With exotic food now readily available all year round, it no longer seems like quite the same tasty treat.
Nowadays, o-sechi is seen as 'traditional' rather than 'delicious'10. Sometimes, Japanese people dispense with it altogether, preferring to eat something else on the first day of the year. On the other hand, for the sake of nostalgia, expatriates may decide to prepare o-sechi themselves to recreate the festive atmosphere of New Year in Japan. Mariko Hashimoto, a Japanese expatriate in New York, explains: "There are some things we make only at this time of year. Cooking brings back the smell of home, the snow on the roof, the sound of the gongs from New Year's Eve"11.
Do you like this page?