Asparagus and foie gras in nuoc mam sauce
Over the course of almost a century of colonisation between 1862 and 1954, the French had a strong influence on Vietnamese cuisine.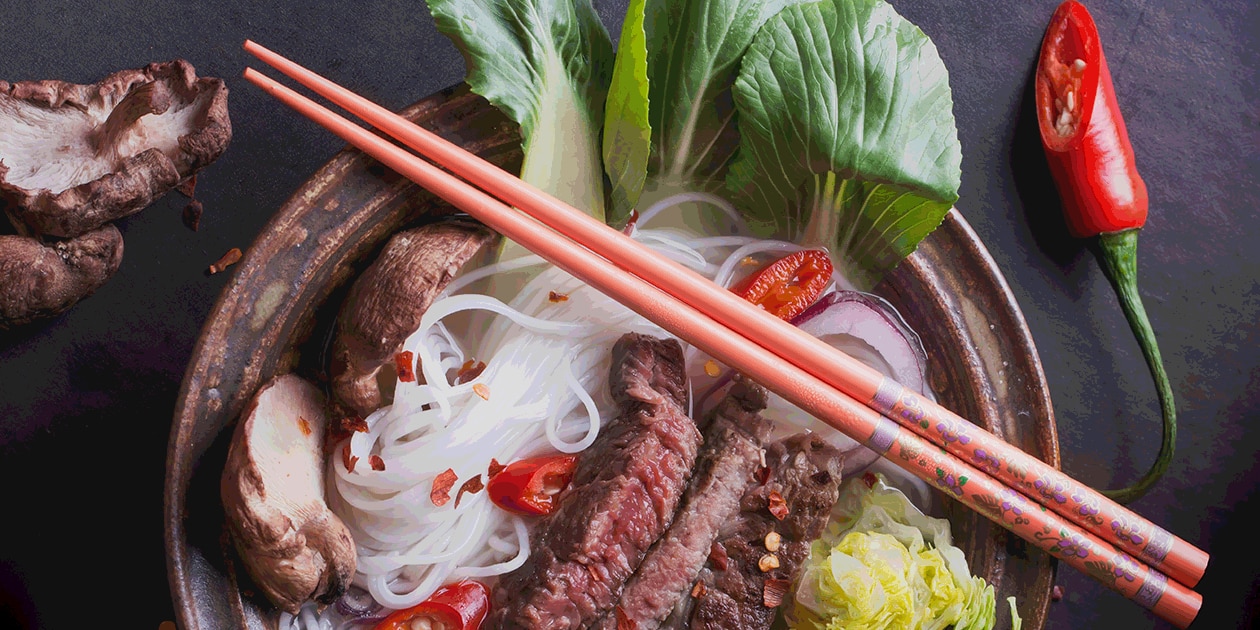 The French, used to eating beef, were astonished upon their arrival in Vietnam1, to discover that it was not part of local cuisine. Traditionally, the Vietnamese saw oxen and buffaloes as beasts of burden, so they rarely ate them. French colonists set up cattle farms in order to have access to their choice meat.
At the time, dairy products were also rare in the Vietnamese diet and nearly impossible to find throughout the country. Since the French came from a food culture where butter, milk and cheese played a central role, they began to import condensed and powdered milk. These products were initially intended for French settlers but, from 1915, also became available on the Vietnamese market2. The middle classes soon adopted them, together with all kinds of other imported foodstuffs, such as ham, pâté, champagne and spirits.
In her article Cuisine and Social Status Among Urban Vietnamese, 1888-1926, Erica J. Peters clearly shows how the urban middle class of the period consumed such food as a means of asserting its new social status. Serving champagne, sampling hams, and enjoying the same products as the French was all for good reason: Food was used as a way of integrating into the realms of the French administration and symbolised an attitude of openness towards this culture. The French, for their part, were delighted with this change in culinary habits, which illustrated that French lifestyle was beginning to be adopted and, above all, that a new market was opening up for products imported from France.
Apart from beef and dairy products, the French also introduced a wide range of new fruit and vegetables, such as strawberries, artichokes, asparagus, leeks, broccoli, carrots, cabbages, tomatoes, beetroot, rocket and more. Herbs such as dill, rosemary, thyme, peppermint, basil and sage, were also soon incorporated into Vietnamese cuisine.
The colonial period added French bread and pastries to Vietnamese eating habits too and these have become an important part of the everyday Vietnamese diet today. Imported drinks included champagne, wine, beer and coffee.
The introduction of new ingredients to Vietnamese cuisine is also reflected in the Vietnamese language, with many new products bearing names similar to the French: atisô (artichaut – artichoke), ca cao (cacao – cocoa), ca phê (café – coffee), ca rôt (carotte – carrot), sô cô lat (chocolat – chocolate), and giam bông (jambon – ham), for example. Other names were adopted in a less precise fashion: bo (beurre – butter), dau cô ve (haricot vert – green beans), su hào (chou-rave – kohlrabi), pho mat3 (fromage – cheese), and so on.
Economic imports
Economic exploitation was a major element in the colonisation of Vietnam. The goal was not to compete with French companies, but to focus economic activity in specific sectors, taking advantage of the local geographic and climatic conditions. The French opened coal, mineral, and metal mines, intensified rice cultivation and set up rubber and cotton plantations. Since the climate was propitious, they also introduced coffee trees to Vietnam, with the intention of establishing large plantations for exporting coffee. The plant adapted so well that Vietnam is now the second-largest producer of coffee worldwide. Most of this production goes for export, but local consumption is also very high; the Vietnamese prepare their coffee with condensed milk and lots of sugar and accord this beverage pride of place in their everyday life.
Vietnamese or French?
Nowadays, the ingredients imported during the colonial period blend with traditional Vietnamese products and give rise to countless new combinations. Soft-boiled quail eggs are served on a bed of asparagus (Trung cut mang tay), while artichokes and spare ribs are served together in a hot soup (Tanh atisô suon heo). French heritage has bonded so closely with Vietnamese cuisine that it is no longer so distinct. It would be easy to believe that the traditional dishes emerged directly from Vietnamese gastronomy: Their subtle aromas and flavours have long been enjoyed by all social strata and have become an integral part of the country's culture. However, things are not always as they seem. On taking a closer look, many of the most typical dishes are not devoid of influence.
If we take Cha ca for example, a typical dish from Hanoi, prepared with pieces of catfish marinated in turmeric, then stir-fried and served alongside noodles and spring onions, spiced with chilli and seasoned with nuoc cham sauce. Chef Luke Nguyen emphasises the contribution of French culinary practices in this dish: "Traditionally, the Vietnamese served the fish whole, with bones and all, to savour the sweet taste. It is not typically Vietnamese to cut it into fillets, nor to cook it in a frying pan."4 Dill, a herb first imported from France, is now added to Cha ca in abundance and, while it infuses its subtle aroma, it remains a relic of colonisation.
Even a national dish like pho, a veritable common denominator of cuisine throughout the country, did not emerge solely from Vietnamese culinary tradition. Pho is a richly-flavoured bouillon, simmered for a long time over low heat and embellished with rice noodles, slices of beef, mung bean sprouts and fresh herbs, and seasoned with nuoc mam fish sauce, a splash of lemon juice and a few slices of chilli. This light and nourishing noodle soup is served at any time of day, but especially in the morning for breakfast. The beef betrays the French influence on the contemporary recipe. According to Nguyen Dinh Rao, president of the UNESCO gastronomy club in Hanoi, the first pho was created in the town of Nam Dinh: "When, at the start of the 20th century, the textile industry became established in this part of the Red River delta, in the north of Vietnam, both the workers arriving from elsewhere and the French and Vietnamese military sought a more sophisticated dish than the traditional local soups. To satisfy the European palate, beef and other ingredients were added to the Vietnamese broth and rice noodles."5
Bo bun, Sup mang tay cua… these signature dishes of Vietnamese gastronomy have a French touch, too. The former, a kind of noodle salad with countless ingredients, incorporates carrots and beef into the recipe, while the latter is a soup based on crab and asparagus. However, the most renowned Franco-Vietnamese culinary marriage is without doubt bành mi, a sandwich made with a baguette garnished with pork. There are countless variations, including vegetarian ones, but the classic version combines pork terrine and pork belly, cucumber and pickled vegetables, all flavoured with coriander and seasoned with soy sauce and chilli.
Fusion dishes: new cooking and eating habits
The introduction of new ingredients in Vietnam gave rise to a myriad of new dishes. Not only were traditional dishes altered by the addition of new ingredients, but French dishes were also adapted to local tastes, giving rise to crème caramel prepared with coconut milk, baguettes made with rice flour, and spices in a beef ragout. The Vietnamese added fresh coconut water, lemongrass and other spices to the classic duck à l'orange to create Vit nau cam, while France's renowned steak frites saw an original interpretation known as Bo bit-tet, where the potatoes and meat are chopped, stir-fried in a wok and drizzled with fish sauce.
Restaurant tables are laid with both chopsticks and knives and forks, while salt and pepper stand alongside the traditional bottles of fish and soy sauce. Didier Corlou, a chef specialising in Franco-Vietnamese cuisine, experiments with daring combinations of foie gras and black truffles. Meanwhile, in the street, everyone happily bites into their bành mi.
Do you like this page?