The Gauthier experience
Alexandre Gauthier wants his guests to discover those little nothings that are everything.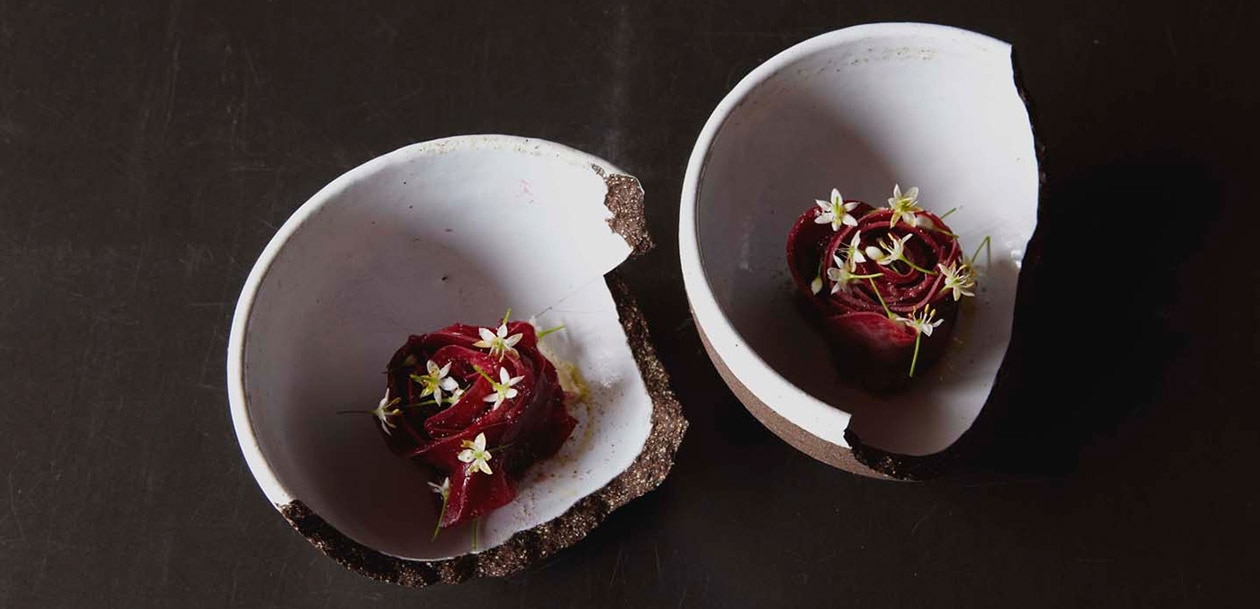 Swiss author Martin Suter devoted his novel The Chef to culinary pleasures, telling the story of Maravan, a young Tamil chef who uses his cooking talents for seduction purposes. Alexandre Gauthier has also mastered this game. Very early on, he decided that cooking was about more than just providing nourishment. Like the character of Maravan, he sees the sole aim of his work in giving his customers pleasure.
After stints at some renowned French establishments (Coutanceau in La Rochelle, Lasserre in Paris, La Pinède in Saint Tropez), Alexandre Gauthier soon joined his father, Roland, back at the family-run inn near Montreuil-sur-Mer, in Pas-de-Calais. The decor was traditional, and grenouilles meunières (frogs abound in these parts) were a mainstay of the classic cuisine served there. Gauthier gradually took charge of the kitchen. In the old rooms of the restaurant, increasingly innovative dishes were served up: the contrast between extremely weathered walls and highly modern meals could not have been starker.
It was when he renovated the hotel restaurant in 2011 that Alexandre Gauthier really came into his own. He did not stop at extending and revamping the place; he took this overhaul as an opportunity to reflect on his vocation as a chef and hotelier, and to devise in minute detail the experience he wanted his customers to have. When it came to envisaging the new setting, Alexandre Gauthier took on a role akin to a film or theatre director. The notion of pleasure is the cornerstone of what is on offer at the all-new La Grenouillère.
Two encounters were to play a key role in this reinvention. The first involved architect Patrick Bouchain, who was recruited to redesign the place. He likes to strip buildings of anything superfluous and question their function, in order to obtain a pure experience. For La Grenouillère, he drew on the region's traditional hunting cabins and Alexandre Gauthier's childhood memories of adventures with the boy scouts. Together, the pair dreamed up the improbable alliance of nature at its most untamed and the standard of comfort expected at a hotel-restaurant of this calibre.
The second turning point for Alexandre Gauthier was meeting performers working in contemporary French circus, and in particular Jérôme Bouvet of the theatre company 2 Rien Merci. This show allowed Gauthier to discover "the extent to which little nothings can be everything". Bouvet managed to create a special moment by juggling… with three breadcrumbs. Pure poetry out of thin air. This experience allowed Gauthier to recast his vision of hospitality and pleasure. He understood the principle of offering customers a break from everything in his establishment. For him, pleasure comes primarily in contemplative moments.
Such an approach is unique in a culinary world that traditionally adheres to norms. This standardisation of the international culinary landscape has been shaped by the Michelin Guide since the early 20th century. The famous Red Guide's influence has extended to many countries, with its simple classification of the best restaurants, awarding them one to three stars, and imposing rigid codes that outline what a great restaurant should be, from the food down to the service. The Michelin Guide has inspired many other guidebooks, which have also attempted to classify, rank, categorise and assess restaurants and chefs.
But like many chefs who have emerged in recent years, Alexandre Gauthier has forged his own path outside these codes. In his hotel-restaurant, the protocol of prestigious institutions has been relaxed. He is trying to tell his own story, in the most direct way possible, with no artifice, and no obstacles. This is no doubt the raison d'être for his kitchen that opens completely and directly onto the dining area. It is not a new idea, but chez Gauthier it is implemented in an original fashion. The magnificent kitchen, where some ten cooks work every evening, may be open, but it is at a remove from diners: shrouded in a half-light that slightly obscures it from view, it operates more like a continual background, the live backdrop of the play about to be enacted at diners' tables. It is a clear sign of Gauthier's desire to "script" the time you spend in his restaurant.
He has this approach in common with the chefs of the current avant-garde. René Redzepi at Noma in Copenhagen, Magnus Nilsson at Faviken in Sweden, to name but two, also propose a restaurant as an experience, stripped of futile conventions, to give diners an intense moment of sensations and pleasure. These self-assured young chefs have been the driving force behind the recent revival of the gourmet restaurant. Dazzling luxury has slowly given way to the sensory. Chef Alain Ducasse talks readily of "ingredients that carry sentiments" to distinguish them from utensils or foods that are only there for the sake of decorum. Similarly, to Gauthier's mind, a rustic knife with a roughly carved wooden handle is far better than a polished, standardised piece of silverware. His plates, glazed according to the Japanese raku technique, are cracked, chipped, broken. This mix suits him, and yet it is the antithesis of the great classic restaurants, which have always opted for the sublime opulence of Limoges china.
Gauthier likes the accidental and the unexpected, whereas classic gastronomic cuisine aims to reproduce the same gestures, day in, day out. This brings him right in line with the new world order of cooking, which emphasises the experience, sensitivity and the element of surprise. He is in touch with the zeitgeist, and his restaurant is perfectly attuned to the expectations of his customers, who are looking to be actors in memorable and unexpected moments, rather than spectators at a lavish and at times outmoded ballet.
At every turn, Alexandre Gauthier wants his guests to be able to take time to notice those little nothings that are everything. He offers a breather. In nature, outside of time, in touch with one's senses... What could be closer to the definition of pleasure?
Do you like this page?