Panettone
This light and airy dome-shaped loaf cake is an inimitable sweet treat at Christmastime.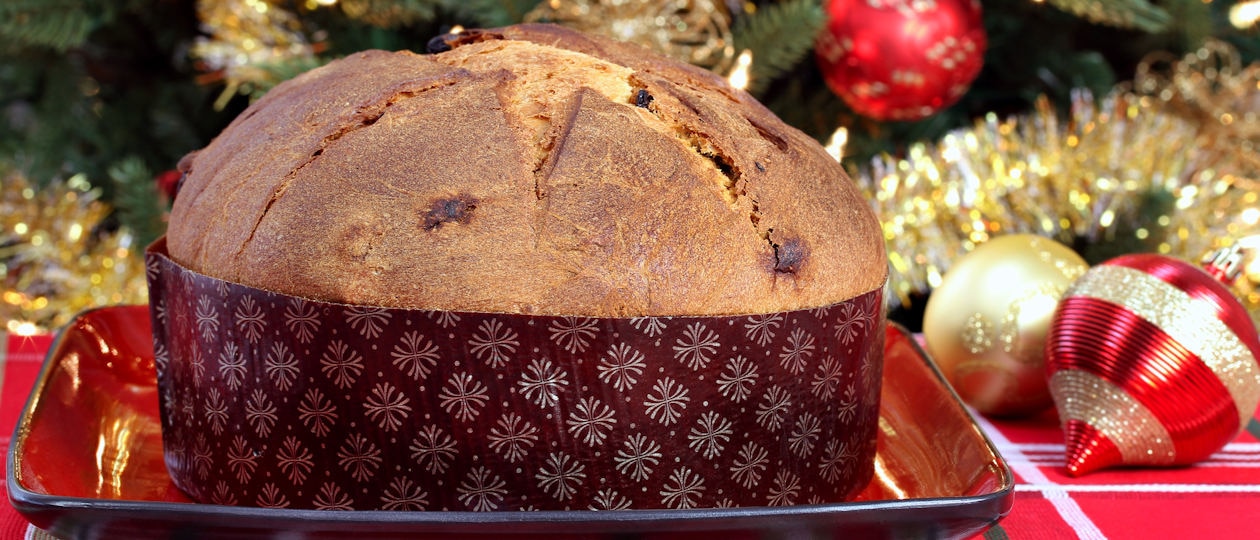 Panettone whisks Italians back to the Christmases of their childhood. ©Shutterstock/RoJo Images
The origins of panettone: Between legends...
There are various tales of how panettone was invented in the 15th century. According to some, while the Duke of Milan's chef was preparing an important reception, he inadvertently left the dessert to burn in the oven. His kitchen hand, Toni, suggested serving a cake he had made that morning from some ingredients he had found in the pantry… and it was an immediate success! They called it 'pane di Toni', later changed to 'panettone'. Another legend gives a more romantic version of the invention of panettone:  Ughetto degli Ateliani, a nobleman known as Toni for short, was madly in love with a baker's daughter1, and managed to persuade the baker to hire him as his apprentice. Keen to increase sales and demonstrate his creativity, he invented a new dessert made from wheat flour, eggs, butter, honey, candied orange and lemon zest, and raisins. His creation proved quite a hit with customers and, soon after, the two lovers married and lived happily ever after.
... and historical facts
Historically, the origin of panettone goes back to the custom of celebrating Christmas as a family sharing a special loaf of bread together: The entire family would gather around the fire, while the patriarch would slice up the large loaf and give a piece to everyone as a sign of communion. While the poor had to make do with pan de mej (millet bread)2 throughout the rest of the year, during the festive season bakers gave all their customers a more luxurious type of bread, made from pure wheat flour, milk, butter and honey, and flavoured with Muscat of Alexandria. This speciality was called pan del ton, which meant 'luxury bread' in local dialect.
How panettone has evolved
The mushroom-shaped sweet bread we know today is nevertheless very different from its ancestor, which was round and more compact. In the 1920s, a baker by the name of Angelo Motta revolutionised things by making the production process more complex. He added more butter to the recipe, left the dough to rise longer and shaped his creation in paper cases (pirottini). Rather surprisingly, the paper moulds proved essential as they enabled the dough to rise well and keep its dome shape without collapsing. Cooling panettone is then another crucial stage. Once out of the oven, it needs to rest upside down to ensure it does not cave in on itself. In the past, bakers would pierce the base of the pirottino with a knitting needle, so that they could then hang the panettone upside down. Nowadays, there are specially designed machines for cooling this cake without having to pierce it.
Worldwide consumption
After the Second World War, the industrialisation of panettone production saw its popularity spread throughout Italy, while other countries discovered the dessert thanks to Lombard immigrants. People soon developed a taste for panettone and it is now enjoyed worldwide and very often given as a present over the festive season. Hence, Italy reserves part of its production for export, notably to France, Germany and the United Kingdom. The sector has never experienced a downturn. In 2016, for instance, this typical Italian Christmas treat flooded export markets with sales of 381.2 million euros.3
'Copyrighting' the recipe
The quality of the ingredients, the proportions and the preparation methods bring a range of different flavours and textures. Every artisan has his or her own recipe and many people swear by their local baker's panettone, remaining loyal customers from one year to the next. Measures have been put in place to protect the artisanal expertise from copies that could damage its reputation: Since 2005, this Italian speciality has had to comply with specifications indicating the ingredients and minimum percentages to be used in order for it to be considered a Panettone tipico delle tradizione artigiana milanese (typical of the Milanese artisanal tradition). This forms a framework canvas which artisans are then free to paint using their imagination and their favourite ingredients. Consequently, there is a plethora of variations on the basic theme: panettone with hazelnuts, filled with chocolate cream, enhanced with Morello cherries or dried apricots, etc. Federico Anzellotti, president of the Confederazione Pasticceri italiani (Confederation of Italian Pastry Chefs), has even tried his hand at vacuum baking panettone at a low temperature. It has proved a hit with his customers. Finally, the Fiera nazionale del panettone e del pandoro4 annual fair promotes Italian artisans active in the sector and remains a sign of the staunch patriotism for this gastronomic delight.
Do you like this page?