Social satiation
India is a country with diverse cultures, cuisines and eating habits. These habits factor into diverse issues created by social situations associated with migration, urbanisation and farming. Four Indian artists' works deconstruct and explore the satiation of India's population in various strata of society.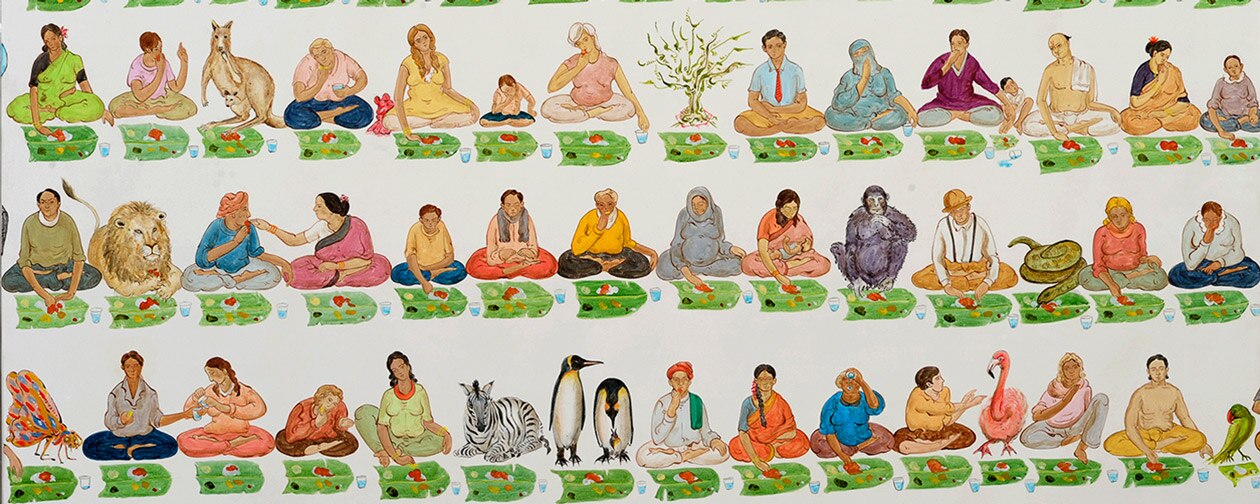 The politics of food in the dominance and distribution of hunger and eating habits is something that has been at the root of many historical events, and is also something that each of us deals with daily – consciously and unconsciously. These habits seep into our everyday lives through migration, food consumption and, above all, different lifestyles. Their impact on Indian society has been associated and reflected in the works of four Indian artists – N. S. Harsha, Sunoj D., Subodh Gupta, Arunkumar H.G. While highlighting concerns of nutrition, intake and hybridism, their works also question the implications of terms such as rural and urban, and development and decline.
Rituals and communities, N. S. Harsha
The pattern of migration from rural to urban areas is increasingly due to the desire to identify with a global world. While this transition occurs, changes may be outwardly noticed, but eating habits tend to remain true to their origins. N. S. Harsha highlights the details that exist within these collective entities by attributing to each individual in his paintings and painted installations unique characteristics that create numerous identities. Through detailed representations inherent in the symmetry of his works, Harsha's subtle humour draws on Indian beliefs and rituals, as well as comments on social strata and world food organisations.
The artist's renditions of details in miniature are a reflection of India's renowned school of miniature paintings. These miniature narrative techniques, which Harsha renders through a contemporary format in his works, weave in many stories and so convey a multitude of messages through each painting. "Leftovers", an installation of the remains of a typical communal meal eaten in South India, is a reproduction of leftover food, complete with the smear of curds and banana peels. These remains instantly conjure up another image, one showing remnants of Harsha's painting "Humanised Future", where animals, people and a tree are seen eating a communal meal in harmony.
Rural consumption, Sunoj D.
India has over 60% agricultural land, and much of it is succumbing to urban development. The associated hazards of the loss of farmlands are a primary concern addressed in the works of artist Sunoj D. Rice plants, used plates, seed balls, painted farmlands, clinical cultivation and foliage play a significant role in the artist's works. Although devoid of visual human presence, Sunoj's works instantly give rise to a concern for nature that is directly related to human implementation, destruction and development. 
His works include interactive installations as well as detailed paintings and drawings that hint at the regressive elements inherent in urbanisation. In his works "Urban Farmland Project" and "When You Watch Them Grow…2", the viewer is deliberately made aware of farmlands that have been abandoned as a result of urban development. When people grow rice plants in pots in city apartments or are given mud-seed balls to throw on to cultivable soil in the city, there is a sudden identification with the hazards of depleting rural areas. The resulting effect ripples down, leading to everything from the health perils of clinical food consumption in rich homes to farmer suicides, hunger and loss amongst the poor. All this takes a toll on crop cultivation and creates a shortage of supply, which in turn leads back to the vicious circle of society's consumption.
Cuisines, utensils, economic development, Subodh Gupta
In all sections of society, the kitchen is a space that exists in every home. As food centre, it speaks volumes about the economic status of the people it accommodates. Their status can be determined by the kind of food they have, and the utensils and chinaware used for its consumption. Through his oeuvre of installations, sculptures and paintings, Subodh Gupta has explored this notion in relation to India's economic transformation by examining the use of everyday objects found in Indian homes. Gupta, who hails from Bihar – the state which once had the highest migration rate in India – draws on several references to utensils and baggage that are associated with migrating. Steel lunch boxes, plates, water tumblers, pans and milk pails are synonymous with the artist's mode of expression.
In "Two Cows", a pair of bicycles translate into a system for delivering fresh milk to homes. In his installation "My Family Portrait", Gupta recreates a typical wall of utensils from an Indian kitchen, complete with a sealing ring from a pressure cooker. In his most recent series of paintings – "Note to Self" –, the artist creates paintings of the leftovers from meals he has eaten in various cities around the world. These works takes a closer look at what is global and local, while also commenting on how food habits and consumption adapt themselves to migration and economic development.
Genetic-aesthetic consumption, Arunkumar HG
Urban and rural worlds should be able to survive alongside each other based on an understanding of their co-existence in which connections are important and spaces are respected. Pre-conceived utopian notions do not, however, allow this to take place. There has been a complete disconnect between the two, where scientific aspects of genetic farming and the need to exist in contemporary structures have ruined the topography of the earth. Arunkumar HG grew up on a farm and witnessed the change of life and environment in the ecologically sensitive region of the Sahyadri Hills. According to the artist, agriculture and environment cannot be separated. Through his works, Arunkumar raises questions related to the consequences and sustainability of bio-technology and genetic urban farming through the consumption of aesthetically appealing products. 
Over time farming has declined as an occupation due to market dependency. The necessity for the consumption of shelf products has been developed beyond human needs. These market products are also required to reintroduce soil nutrients and chemical fertilisers without which crops cannot grow. "Bhumi ki Khurak" (Diet of the Earth), "Bhu-janalay" (Earth Dinner) and the artist's latest piece, "Droppings and the Dam (Damn)", are some works that address the artist's concerns in relation to ecological, environmental and socio-cultural links for sustainable living. Thousands of plastic bottle caps  (Image 1) are transformed into a perfect landscape, to which they, however, pose a threat; while a four-month-old wheat crop that is growing on a dining table waits to be harvested; and a spread for a traditional meal has been laid out, and labelled with the names of the chemicals used in farming it. All these visually appealing works draw audiences in, only to make them realise that without bio-diversity and self-sufficiency there is no escape from the parameters of the politics of food distribution and consumption.
Do you like this page?