Seppeltsfield, a sip back in time
Located in one of Australia's prized wine regions, Seppeltsfield has an offering like no other: the chance to taste century-old, single-origin wine.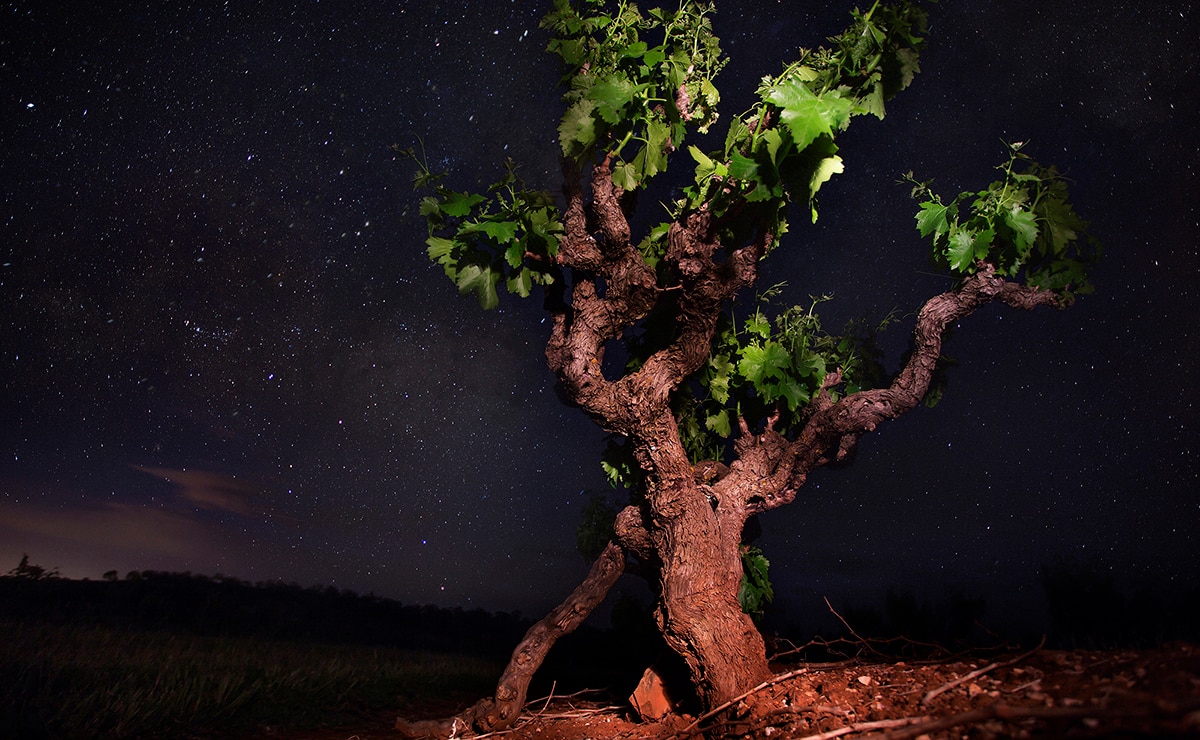 Larger than life: an old vine stock from the Seppeltsfield estate against a backdrop of starry skies. ©Seppeltsfield
Combining 420 acres of ancient vineyards with beautifully manicured gardens and heritage-listed architecture, alongside proud artisan winemakers, producers and contemporary chefs, Seppeltsfield is an iconic part of Australian winemaking history.
From tobacco merchants to visionary winemakers
The heritage-listed estate was established by Joseph Seppelt (1813-1868) in the Barossa Valley of South Australia in 1851, just fifteen years after Europeans settled in the state. A wealthy merchant and tobacco farmer from Silesia1, he emigrated to Australia alongside many Lutherans, although more for economic than religious motives. He and his wife Johanna, their three young children, plus thirteen families they knew from the neighbourhood back home, set sail for Australia in 1849.
It was a number of years after settling into the Barossa that Joseph entertained the thought of becoming a winemaker. He first tried to grow commercial tobacco crops before changing tack and buying land to build a working farm. He purchased 158 acres for £1 each2 in the rolling plains of northern Adelaide, a savvy deal even by the standards at the time.
Joseph began with building a stable, then a bakery, a wursthaus, living quarters, a dining hall, a dairy and a cellar. He slowly developed the infrastructure of the farm with high-quality imported iron and hardwood from Europe alongside local slate and stone from the Adelaide hills. In the early days, grapes were but one of the many crops grown on the Seppelt community farm. After a few years of exploring the local and export wine markets, in 1865 Joseph was confident enough to begin importing materials for the construction of a full-scale winery, and grapes would soon supersede all other crops grown on the farm.
Construction took twelve years and was not quite completed before Joseph passed away at the age of 55. The business was left to his equally entrepreneurial 21-year-old son Benno, who passionately carried on his father's vision. Upon completion of their Port Store Cellar in 1878, Benno laid down a 500-litre puncheon of his finest tawny in commemoration of his father, with strict instructions it was not to be touched for the next 100 years. Benno's foresight began an unparalleled tradition that has been continued every year and by every generation since.
Seppeltsfield centennial cellar and century-old wine
Today, Seppeltsfield Centennial Cellar houses an unbroken lineage of single-vintage fortified wines. It is the only place in the world you can sample wine aged for over a century and crafted from the grapes of a single vineyard. There are only two litres of Benno's original 141-year-old Para Tawny left, which means you will need to dig deep into your savings for a sip of this particular vintage! The second unique offering is a tour through the centennial cellar with the opportunity to try a glass from the barrel of your birth year and other significant years of your life, a sensory experience that is somewhat of a rich, velvety liquid time machine.
When comparing different vintages around the room, you begin to appreciate how the seasonal variation in weather and conditions impacts on the sweetness and flavour of the liquor. A glass of tawny delivers decadent aromas and flavours such as raspberry, blackberry, caramel, nuts, cinnamon, chocolate and vanilla. The further back in time you travel, the stickier, richer and more irresistible the wine becomes and, by the time it has been ageing and evaporating for one hundred years, only a quarter of the original volume is left. The indulgence of the experience will make you wish your own great-grandparents had started such a tradition!
A tour of the grand Seppeltsfield estate
The centenary cellar was not the only foresight put into Seppeltsfield. Benno's 1888 Gravity Cellar was built into the side of the terraces, making the most of the natural incline of the hill to assist the transport of the fruit through the winery. This minimal handling approach is now a coveted modern-day winemaking principle, which not only reduces labour but also heightens the aromatics and purity of the wine.
Seppeltsfield primarily grows the Barossa-renowned varieties of Shiraz, Grenache and Cabernet with additional small plantings of Riesling, Touriga and Palomino. Perfectly suited to the Mediterranean climate, Shiraz occupies 50% of all the vineyards in the entire Barossa region. The highest prized soils on the Seppeltsfield estate are in the Great Terraced Vineyard, a hillside outcrop of ironstone, quartz and slate soil. The 60 to 80-year-old bush vine Grenache plantings3 in this vineyard have traditionally been used for fortified wine, however small parcels are now also being used to craft small batch still wines.
A five-kilometre trail of towering canary date palms exemplifies the strength of the Seppelts to overcome the economic downturn of the Great Depression. They had created such a tight community of staff who felt like extended family that they could not bear to lay off a single person, even when there was little use in making table wine that no one could afford to buy. Instead, everyone was put to work planting 4000 palm seeds in exchange for food for two years. These palms would one day become icons of the estate.
Other historic sights not to be missed are the great terraced vineyards and the Seppelt Family Mausoleum. Contemporary additions to the estate include the Fino restaurant adjoining a lovely European-inspired alfresco courtyard. Fino's food philosophy places 'ultimate importance on the produce and its provenance', perfectly aligned with the ethos of Seppeltsfield itself. Simple yet exquisite combinations such as smoked mulloway with haricot beans, chicory and capers are served as shared plates, the perfect way to enjoy a long lunch after a morning of wine tasting.
Port
Port is a style of fortified wine created by the Portuguese in the 1600s, when they needed to find a way to stabilise their wine for export to Britain as conditions on the ships caused wine to oxidise and sour. Winemakers figured out that, if they picked the grapes later in the vintage, the sugar content would be higher and the product more stable. Adding a concentrated grape spirit such as brandy raised the alcohol content and fortified the wine. This method killed the yeast and bacteria that caused spoilage, thus allowing the product to age well and even improve over time. Other fortified wines such as sherry, tokay and muscat are made using similar methods but with different combinations of grapes and spirits.
Port is now a protected term under the European Union Protected Destination of Origin guidelines. Seppeltsfield referred to their fortified wines as port until 2011, when new labelling laws were introduced in Australia. Now, port-style wines (other than those produced in the Douro Valley in the northern provinces of Portugal) are referred to as Vintage, Tawny or Ruby, depending on the methods of ageing.
Do you like this page?