The chips paradox
Their worldwide success niggles the Belgians, doctors, and gastronomists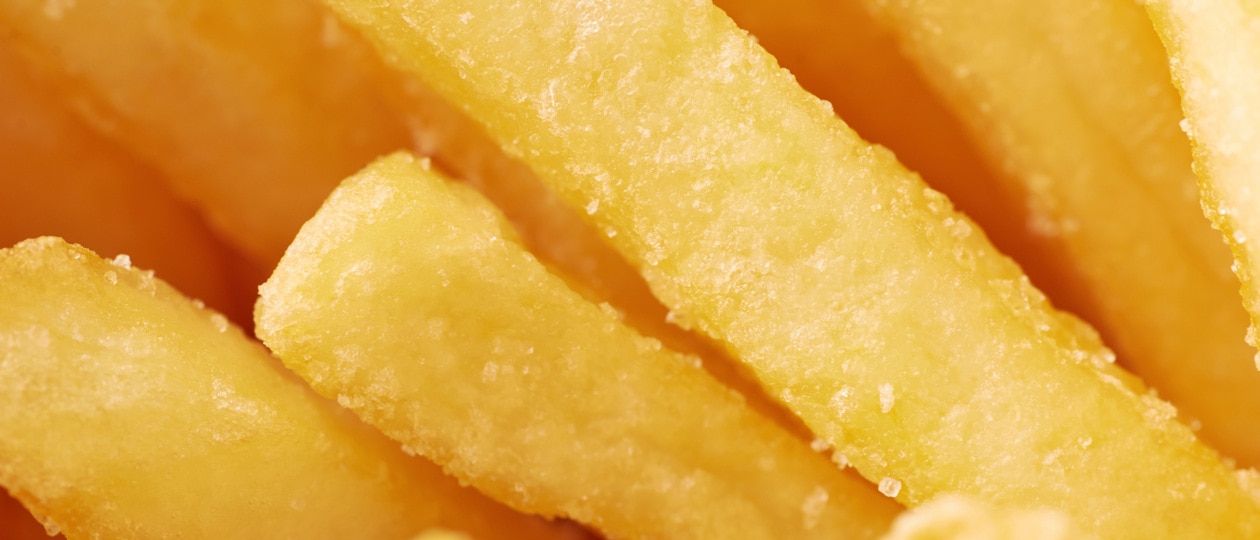 I am popular around the world, children's favourite 'vegetable' and a guilty pleasure for many adults. I am golden and slender. What am I? ©Shutterstock/timquo
Crispy and tasty, but risky, despite their unclear origins, one thing's for sure: Chips are a planetary craze!
Whether we call these potato sticks chips, wedges, French fries or just fries, we're still unsure of their origin. Although part of Belgian national heritage, that may not be where they were first enjoyed. While France also claims them as its own, they may not be as French as their name implies. We must first define a fry before determining its lineage. It's a potato stick twice deep-fried in hot oil. So, if potatoes originated in the Andes1, isn't it likely they were first fried there? After all, native Andeans were already eating this tuber in the 13th century… but that's long before it met the second ingredient required for making chips: a deep pan of boiling oil. According to food historian Pierre Leclercq, director of Le Petit Lancelot, a Belgian-based itinerant information centre on the history of food, "The marriage could not have taken place there, as the Amerindians did not use this cooking technique."
The matchmaking could only have happened once potatoes arrived in Europe. Even then, as this food historian points out, it still wasn't love at first sight. "Potatoes were food for the masses, served boiled or braised. Cooking them in deep oil would have been costly and only accessible to the bourgeoisie, who would not lower their standards to eat potatoes." The first written reference to 'chips' is dated 1750 and describes round slices of potato cooked in fat in a frying pan. Pierre Leclercq adds, "There is mention of this in Italy, France and Spain."
Potatoes first underwent two-step frying in deep in oil at the end of the 18th century, in Paris. "Inspired by Parisian cuisine, vendors sold thin slices of fried potato or potato fritters." Itinerant fairground artists and merchants spread this idea to northern France and Belgium for a hundred years or so, until the French fry found its final form: a stick of potato plunged twice into deep oil, as indicated in a Belgian cookbook from the early 20th century. Who actually first made this move from round slices to thin sticks remains a mystery to this day.
Crispy business
Pierre Leclercq believes a Bavarian fairground artist lit the flame of passion for chips in Belgium in 1830. French-speaking countries and Great Britain often gave Germans the nickname 'Fritz', so this talented salesman made use of his predestined name to promote his product: thin slices of fried potato. They were a big hit and became part of Belgian fairs before turning chips into a real business in les baraques à frites (French fry shacks). The Belgians are in fact now eager to include chips in the Unesco2 list of intangible heritage.
Even though the Belgians consume the most chips per capita, the love for these light golden sticks goes way beyond their border. Whether chips are partnered with a steak in France, or with a burger in the US, the entire world succumbs to potatoes when fried crispy on the outside and soft in the middle. The annual consumption of chips worldwide amounts to almost eleven million tonnes, which is equivalent to 350 kg a second.3 Two thirds of potato production goes to making chips, and the market exploded in the first decade of the 21st century with a 26% increase in production. Frozen chips bring in the highest sales, as they satisfy modern consumers' preference for speed and simplicity. The Canadian giant McCain was the first to make them on a global scale, and currently accounts for 33% of world production.
Despite this undeniable enthusiasm, chips are often criticised as they are associated with junk food and fast food. Gourmets banned them for many years, but top chefs have been seduced by their commercial success and have now raised chips to gastronomic echelons. Chef, Franck Putelat, awarded two Michelin stars, suggests a metamorphosed cooking technique: His tartare-frite serves a rounded chip, not fried but puffed (pomme soufflée).4 Meanwhile, Alain Ducasse, awarded three Michelin stars, presents his particular version of English fish and chips, highlighting the tasty sauce served with the chips.5
Beware of overdoing things
Potatoes have their proper place in a varied and balanced diet.6 That being said, once transformed into chips, the cooking oil (between 4% and 7% of the ingredients in McCain chips) and the sugars they contain may have less enticing effects on health. In a recent study7, Danish researcher Anne Raben indicates that eating chips increases the risk of obesity, diabetes or cardiovascular diseases.
To make matters worse, when sugars derived from starch are heated to over 120°C in the presence of the amino acid asparagine, they are easily converted into acrylamide. Starch and asparagine are abundant in potatoes fried at 180°C to make chips. Acrylamide is considered a likely carcinogenic compound. Researcher Janneke Hogervorst of Hasselt University in Belgium stipulates, "We are still not sure about the mechanism of action by which acrylamide causes cancer, actually. It has clearly been proven that acrylamide causes cancer in experimental animals (…)"8 She goes on to mention that acrylamide is also a known neurotoxin. Hence, the European Union adopted a code of practice in 2017 to endeavour to limit the levels of acrylamide in food.9
Nonetheless, according to currently available data, the first deleterious effects of acrylamide would appear if chips are consumed on a regular basis… but in the realms of several kilograms of chips a day.10 However, this is not a valid reason for doing nothing about it. Frying can be 'improved', for example, by using varieties of potato with a lower sugar content, or by frying them at a temperature lower than 175°C. Storage also has an influence on the levels of acrylamide: Temperatures below 6°C favour the production of acrylamide in raw potatoes, whereas temperatures above 8°C may initiate germination. Pierre Gondé, McCain Foods' Director of Scientific and Corporate Affairs for Continental Europe, reports that "Wider cut chips (wedges) have a lower fat content."
On balance, frying isn't all bad. To produce frozen chips, the potatoes are simply cut, blanched and frozen. There are no additives. Pierre Gondé points out that you can judge the quality of the final product by its colour: He doesn't recommended chips that are brownish once cooked. The big manufacturers have also launched a practical online guide11 to help consumers cook this tempting treat as healthily as possible. All in all, whether it's chips or fries, it's wise to compromise…
BORCH, Daniel et al., 2016. Potatoes and risk of obesity, type 2 diabetes, and cardiovascular disease in apparently healthy adults: a systematic review of clinical intervention and observational studies. The American Journal of Clinical Nutrition. 08.2016. Vol. 104, n° 2, pp. 489-498. DOI https://doi.org/10.3945/ajcn.116.132332.
CONSOGLOBE, 2012. Consommation de frites dans le monde. Planetoscope [online, accessed on 12.02.2018]. Available on: https://www.planetoscope.com/restauration/463-consommation-de-frites-dans-le-monde.html
ELLE VIDÉOS, 2012. Le fish and chips version Ducasse [online]. Levallois-Perret, 18.07.2012. [Accessed on 12.02.2018]. Available on: http://videos.elle.fr/Videos/Le-fish-and-chips-version-Ducasse
EUROPEAN POTATO PROCESSORS' ASSOCIATION, 2018. Golden Frying Recipe. Goodfries.eu [online, accessed on 12.02.2018]. Available on:  http://goodfries.eu/fr/
FAO, WHO. Safety evaluation of certain contaminants in food. WHO food additive series, 2011, vol. 63. [online, accessed on 26.02.2018]. Available on http://apps.who.int/iris/bitstream/10665/44514/1/WHO_TRS_959_eng.pdf
GONDÉ, Pierre, 2018. Acrylamide une nouvelle réglementation (Règlement (UE) 2017/2158). Frites et chips [online]. Webinars 16 & 23.03.2018. [Accessed on 08.11.2019]. Available on: https://www.ania.net/wp-content/uploads/2018/04/Webinar-Acrylamide-Frites-Chips-Ania160318.pdf
GROUPE DÉPÊCHE DU MIDI, 2017. Dans le secret des cuisines des grands chefs étoilés d'Occitanie. Franck Putelat l'électron libre de la Cité. Groupe Dépêche du Midi [en ligne]. 06.2017. [Accessed on 12.02.2018]. Available on: https://groupedepechedumidi.atavist.com/dans-le-secret-des-cuisines-des-grands-chefs-etoiles-occitanie
LYON, Carole, 2017. 1er août 2017. Belgique. La frite belge ce précieux patrimoine. Courrier international [online]. Paris, 01.08.2017. [Accessed on 12.02.2018]. Available on: https://www.courrierinternational.com/article/belgique-la-frite-belge-ce-precieux-patrimoine
OUHTIT, Allal et al., 2014. Potato chips and childhood: What does the science say? An unrecognized threat? Nutrition. 10.2014. Vol. 30, no 10, pp. 1110–1112. DOI https://doi.org/10.1016/j.nut.2014.01.008.
SANTÉ CANADA, 2016. Les guides alimentaires du Canada. Gouvernement du Canada [online]. 01.09.2016. [Accessed on 12.02.2018]. Available on: https://www.canada.ca/fr/sante-canada/services/guides-alimentaires-canada.html
VREUGDENHIL, Dick et al., 2007. Potato Biology and Biotechnology. Oxford : Elsevier.
L'histoire de la frite vue par Pierre Leclercq :
http://www.musee-gourmandise.be/fr/musee/77-articles-fond/132-la-veritable-histoire-de-la-frite#n1
Acrylamide et réglementation européenne :
Do you like this page?