Butchers on film
On screen, butchers are ambivalent characters. Associated with death and nourishment, they incite both fear and fascination. The cold chamber awaits…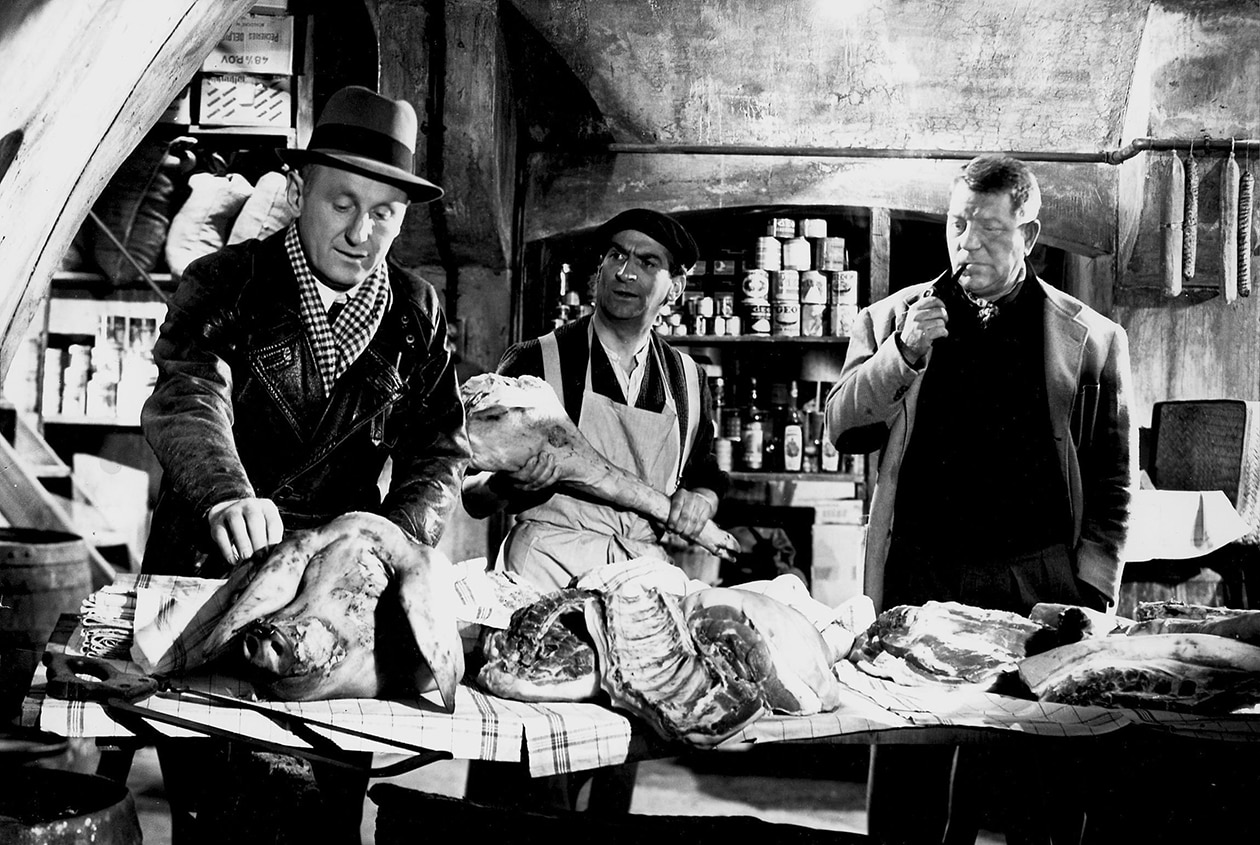 In The Trip Across Paris, Louis de Funès plays a greedy and unscrupulous butcher. ©DR
"Ah, superintendent! [...] I hope you've got a strong stomach, because it's a real butcher's inside." After having warned his boss to expect blood and guts when entering a crime scene in a projection room during the Cannes film festival, the policeman opens the door onto... a real butcher's shop! He is greeted by a ruddy-faced man in a white apron, chopping meat with a cleaver in a picturesque setting: tiled walls, a row of poultry, hanging carcasses and a chubby cashier, complete with accordion music playing in the background. This cult line from the French family comedy La Cité de la peur ('The City of Fear',1994) reveals the ambivalence that lies in the portrayal of butchers: on one hand, a reference to violent crime while nourishing geniality on the other.
This recurring pattern becomes more evident as we browse through some of the few films featuring butchers: Between the shopfront (the butcher's display) and the backroom (often a cold chamber hidden behind a heavy door), there is often a world of difference.
Shopfront and backroom
In The Trip Across Paris (1956), aka Four Bags Full (US), Pig Across Paris (UK) (Original: La Traversée de Paris, 1956), the butcher's wife turns away customers queuing up on the pavement, grumbling: "There's nothing left, what am I supposed to sell you? The walls?!" The film is set in 1942 and rationing is in full swing. Appearances however are deceptive, as her husband Jambier is in fact slaughtering pigs in his cellar and selling them on the black market. In contrast to the bare shelves in the shop, the cellar is well stocked, overflowing with food and even boasting an appetising 'Christmas ham'.
In The Butcher (Original: Le Boucher, 1970), Jean Yanne plays the role of Popaul, a friendly butcher in a small village in the Périgord region, who turns out to be a maniac, murdering women with a knife. There appears to be a very thin line between murder and cannibalism, and the butcher, an official purveyor of meat, manages to cross it with brio. Such morbid frenzy comes to a climax in The Texas Chain Saw Massacre (1974), an American horror film in which a family of Texan butchers, laid off when the abattoir they work in closes down, spirals heinously into cannibalism. As the victims are young hippies, many saw it as a metaphor for the country's innocent children being sent to war in Vietnam.
The black comedy Delicatessen (1991) draws on the same fantasy. On the ground floor of a run-down building in an undefined town and unspecified time where food is in short supply, a butcher gets rich – and fat – by murdering his tenants and then serving them to his customers.
Cannibalism also features in the Danish film The Green Butchers (Original: De grØnne slagtere, 2003) in which Svend and Bjarne, two shady apprentice butchers, decide to open their own business. Following a freak accident – an electrician inadvertently getting locked up in the meat freezer – the young butchers decide to chop up his body. Svend's 'chicky-wickies' marinated in his special sauce become an instant hit in the town and these supposedly 'organic' butchers, the heroes of the chopping block.
In these two last films, the humour is as black as the blood is red as there is a deliciously transgressive dimension to observing ignorant customers falling over themselves to eat their own. We delight for example in Svend cutting up 'thirteen fillets from the thigh' of the electrician and marinating them at the ready for the Rotary club barbecue.
As for the drama Eyes Wide Open (Original: Tu n'aimeras point, 2009), in which Aaron takes over the family butcher's in the ultra-orthodox climate of contemporary Jerusalem, the deceit is less to do with the meat than with the butcher himself. The arrival of Ezri, a handsome young charmer who Aaron hires as an apprentice, unsettles his existence as a good father and devout religious man by making him aware of his deepest desires. The butcher's shop thereby serves as the hideout for their passionate and illicit affair.
There must be blood!
Black market, murder, cannibalism, all-consuming passion... our butchers certainly seem to have plenty to hide. These skilled professionals have long suffered from a negative image. In his article on the image of butchers1, Sylvain Leteux points out that they are real "scapegoats of society, blamed for all the fear and repulsion which is, at least subconsciously, attached to the murder and dismemberment of a living being." To such an extent that in Maigret Sets a Trap (Original: Maigret tend un piège, 1958), as women are being savagely murdered in Paris, suspicion naturally falls on Barberot, a butcher who we glimpse from behind in the very first scene, cutting up meat at nightfall behind the shutters of his shop. Innocent, but apparently already behind bars!
Although the butcher's profession became more specialised in the 19th century (retail butchers now just cut up a carcass), the fact that they are capable of 'killing' nevertheless remains etched in people's minds. Indeed, butchers have legal access to all the weapons they need – from the cleaver to the sharpening steel – and can wield them with ease. Sharpening a knife or brandishing a cleaver are practically clichés in films, often hinting at an imminent crime. Except for The Texas Chain Saw Massacre, one of the most influential films in the slasher subgenre, all of these productions indulge in the use of euphemisms.
The fact remains that the act of killing comes as second nature to these butchers. One of the first scenes in The Trip across Paris shows a pig being slaughtered (particularly memorable, especially when we know that it took eight pigs to film it). With a knife in his hand, the oldest of the two slaughterers declares, "I'm not sure if I still know how to do it..." before delivering the fatal blow, a small smile of satisfaction on his lips. It seems one never forgets how to kill. As Emile La Bédollière mused in the 19th century, slaughtering is even handed down from one generation to the next: "The long-term practice of murder has the same effect on them as inborn ferocity, and ancient legislators had understood this so well that Roman law forced anyone who embraced the profession of butcher to pursue it hereditarily."2
Such a heritage was often difficult to bear, a tragic filiation for our murderers, as for example, in Maigret Sets a Trap or the butcher in Chabrol's eponymous film:
POPAUL: My father was really sleazy, wasn't he?
A CUSTOMER: He was a butcher!
POPAUL: Not even a very good butcher, he made a mess when he killed.
However, despite the sons being disgusted by their father, they are born killers, real savages excited by blood. Hence Popaul's admission, traumatised by the Indochina War:
POPAUL: I kill them with this knife, I can't help myself, it keeps coming to me like a nightmare until I've done it, until I've stuck my knife in [...]. I've seen so much blood flowing [...]. The smell of blood is horrible; it's the same smell in animals as in humans. Everything has exactly the same smell.
The image of sadism reaches its climax in Delicatessen, where the butcher takes real pleasure in disembowelling his tenants. Brandishing his knife at an innocent grandmother, he declares with a cruel smile: "Good evening little girl, we're going to play a little game..."
If the face fits...
In addition to the bloodlust traditionally attributed to butchers, portliness is another common trait, an indication of their obscene opulence (especially when times are hard). When butchers are not portrayed as greedy and fat, they are depicted as greedy and thin, like the skinny Jambier avidly counting his money in The Trip across Paris. Fat or thin, they are all without exception decidedly unattractive, the standard for genre films, which place great store in their characters' faces and in the atmosphere.
Film directors Jean-Pierre Jeunet and Marco Caro were widely acclaimed for the visual aspect of their burlesque fable Delicatessen, in particular their use of sepia and chiaroscuro tones to accentuate faces in close-up and murky early mornings. The shiny square face of Jean-Claude Dreyfus – the hideous butcher with a predatory smile – is hard to forget.
The director of The Green Butchers was equally keen to create a macabre aesthetic. Mads Mikkelsen plays Svend, aka 'Sweat', the more radical of the duo of killers, and as such was made splendidly ugly with a permanently shiny face. With the pale green decor of the shop more reminiscent of a hospital than a butcher's, the olive tones of the two protagonists add to the spectator's revulsion.
From blood red to the red of passion
Writing about the butcher's portliness, Émile La Bédollière generalises: "The butcher's wife is even plumper than her husband. She's a real beauty, fat, fresh, the picture of health."3
The cashier in The Trip across Paris certainly lives up to this image of a round, chubby woman. The less pretentious but just as buxom cashier in Maigret Sets a Trap is a fiery specimen envied by all. As for the butcher's mistress in Delicatessen, played by the voluptuous Karin Viard, she brings out his romantic side: "It would be a shame to waste these hams, a real little piglet!" he exclaims lustfully as he throws himself on her for a spot of hanky-panky on a mattress with squeaky springs. By extension, the butcher is therefore himself compared to a 'pig' with a penchant for fat and fleshy bodies to satisfy his sexual urges (which echo his urges to kill).
A butcher's wife is often portrayed as self-serving and greedy, as having loose morals at best, if not a fascination for bestiality. This is blatant in Delicatessen where the sexy Mademoiselle Plusse can no longer be reasonably expected to desire this revolting man – who she herself calls a 'gorilla crossed with a bulldozer' – without there being some substantial compensation for her. It veers towards the sublime in The Butcher, when Popaul promises the school teacher with whom he is besotted the 'prime cut' and gives her a 'little leg of lamb' wrapped in white paper, which he hands to her (and she sniffs) as though it were a bunch of flowers.
Finally, in the religious and sensual Eyes Wide Open, meat is without doubt a metaphor for flesh and desire. When Aaron places his hand on Ezri's shoulder as he teaches him how to use a big knife, the apprentice kneads the pink flesh apparently hinting at the passionate caresses to come. During this first, seemingly meaningless, moment of closeness, a customer enters the shop making Aaron jump and cut himself as he turns around: His guilt and sinful lust are as plain to see as the blood on his hands.
Ugly, cruel, violent, greedy, lustful... The cinema certainly does little to glorify butchers, or to improve the tarnished image they have been saddled with since the Middle Ages: a dishonourable profession just a step removed from that of an executioner. In the 19th century, butchers sought to make their vocation more respectable by adopting the white apron, a "desire to euphemise the harsh reality of killing and dismembering flesh".4 All our butchers on the silver screen wear this veritable historical costume – with a few formal variations – to 'mask' the reality from customers. We cannot help but see it as a metaphor of our duality, a shining emblem of our opposing instincts, a sad panache of our deeply buried impulses. The butcher's apron is often as white as his hands are stained with blood and the butcher all the more horrifying as he seeks to hide – he who disembowels carcasses – our basest instincts.
Corpus of films
​​​​The Trip Across Paris (Intl) / Four Bags Full (US) / Pig Across Paris (UK) (Original: La Traversée de Paris, Claude Autant-Lara, FR, 1956)
Maigret Sets a Trap (Original: Maigret tend un piège, Jean Delannoy, FR, 1958)
The Butcher (Original: Le Boucher, Claude Chabrol, FR, 1970)
The Texas Chain Saw Massacre, Tobe Hooper (US, 1974)
Delicatessen, Jean-Pierre Jeunet & Marc Caro (FR, 1991)
La Cité de la peur, Alain Berbérian (FR, 1994)
The Green Butchers (Original: De grØnne slagtere, Anders Thomas Jensen, DK, 2003)
Eyes Wide Open (Original: Tu n'aimeras point, Haim Tabakman, FR, IL, DE, 2009)
Do you like this page?