Small countries big on food
Over the past two decades, gourmet cuisine has become a means of promoting a country. A strong culinary culture helps forge national identity worldwide. In this game, the largest countries aren't necessarily the winners.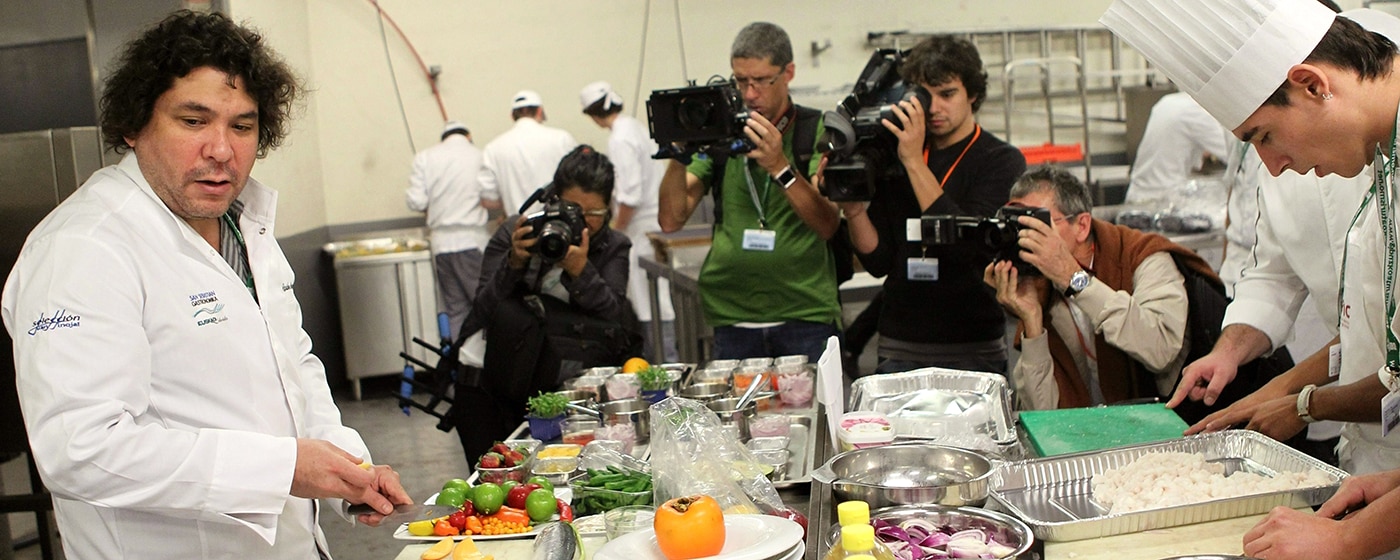 So who would have thought of opening a gourmet restaurant in La Paz in Bolivia, a country with ten million inhabitants, far from the traditional epicentres of global gastronomy such as New York, Paris, London and Tokyo? Yet Gustu opened in a remodelled garage in 2013. Its head chef, Kamila Seidler, presents a cuisine that enhances Bolivian products and traditions, even if this restaurant is not actually Bolivian: the concept and financing stem from Claus Meyer, a Danish entrepreneur.
The capital of gourmet cuisine is Danish!
This isn't the first experiment for this restaurant owner and television celebrity. In the past twenty years, Claus Meyer has opened over a dozen restaurants in his homeland. His flagship restaurant is Noma, which opened in an abandoned warehouse in the heart of Copenhagen in early 2000. The name Noma is short for Nordic Mad or food of the North, and indicates its mission to promote Danish products and cuisine. Head chef is René Redzepi, a Dane of Macedonian heritage.
"Even though this restaurant can only seat forty at a time, it still receives 100,000 requests for reservations each month!"
Noma's success has taken it to the summit of the 50 BEST restaurants in the world and earned it two Michelin stars.
Letting national dishes do the talking
The exceptional success of such a model is an inspiration for other countries. They are convinced that word of a dynamic culinary culture spreads beyond national boundaries, tells a warming story and creates a positive effect. Cooking becomes a vital tool of "soft power", a way to exert cultural influence and assert media presence, while increasing a country's appeal. This approach is not just invaluable, but highly accessible too, as it requires relatively low total investment. Small countries can, in fact, easily compete with big nations in this global culinary "market".
Globalisation whets appetites
Innovative cuisine is evolving all over the world, not merely in Bolivia and Denmark. It is no longer just for big countries with rich and venerable culinary traditions such as Japan, China, Italy or France. These are now facing growing competition, some of which is surpassing them. For other nations have since understood the importance of promoting their lively food culture in this digital age of globalisation.
"This decade is seeing a revolution of the established order: culinary culture is being rebalanced between small and large nations, developed economies and those still emerging."
The beginnings of modern cooking
The foundations for today's French cuisine were laid in the early twentieth century by French chef Auguste Escoffier. He was the first to apply a modern, organised, documented and systematic approach to cooking. In the years prior to industrial Taylorism, Auguste Escoffier invented the principle of kitchen brigades organised around their duties. Each member had his particular role to play in producing a continuous stream of dishes. Escoffier even organised his recipes in a book, Le Guide Culinaire. His highly rigorous approach gave the elaborate French cuisine its good name in the twentieth century. It was the reason for its success and supremacy throughout the past century.
France and its master chefs
The great chef Paul Bocuse, who excels in the art of communication, spread Escoffier's method. While Escoffier had the technical knowhow, Bocuse knew how to get the word out. He turned the chef into a "master chef", dressed in white and equally at ease in front of television cameras as he was with his saucepans. Bocuse added a touch of nobility to the trade and confirmed the domination of French cooks as they forged ahead with more modern, simpler and lighter dishes, resulting in the birth of nouvelle cuisine. Journalists Henri Gault and Christian Millau officially baptised it as such in
"October 1973.This aesthetic revolution assured that French chefs remained at the forefront yet again. Bocuse added a touch of nobility to the trade and confirmed the domination of French cooks."
They continued to dominate completely until the late 1990s. Nouvelle cuisine had developed when the economy was favourable, in an era that sociologist Jean Fourastié called the "Thirty Glorious Years". Following World War II, France was booming and offered the world the flamboyant cuisine of a rich and powerful country.
Olé! Come dine in Spain
The first signs of a downturn in the French economy weakened the influence of French cuisine. Spain, in full growth in the late twentieth century, took over the lead. While it was hosting the 1992 Olympic Games, a new Spanish identity emerged with La Movida, a hedonistic cultural movement advocated by designer Javier Mariscal and film director Pedro Almodóvar. It provided fertile soil for Ferran Adrià's culinary revolution at his restaurant in Roses on the Costa Brava. From the start of this millennium, he upset prevalent notions of shape, colour and texture. He imagined thirty or so morsels one after another, surprising diners and transporting them through a multi-sensory experience.
"It was a far cry from classic French cuisine! Ferran Adrià called it a "techno-emotional" cuisine, as it required top technology to create these sensations."
A whole nation of cooks and their products followed and benefitted from this talented chef's bright new ideas. From then on, Spain had the best restaurants in the world.
Now it's time for neo-Andean cuisine!
Latin America also provided healthy competition as Peru began building a formidable culinary reputation. Home of the potato, producer of cocoa beans and with an interesting national dish, the ceviche, Peru sought to capitalise on its resources with a generation of enterprising chefs led by Gastón Acurio. In the space of fifteen years, he created a chain of some forty restaurants in thirteen different countries. Although Acurio develops all styles of cuisine, every new restaurant promotes Peruvian dishes and Peruvian culture in general. In the unique terminology of nouvelle cuisine, Gastón Acurio refers to contemporary Peruvian cuisine as "neo-Andean". This description also fits Bolivia, which took a similar route when it opened Gustu. The same is true for Brazil's star chef Alex Atala.
Economic power on the table
Today such initiatives are blossoming all around the world. In Asia, South Korea strives to promote itself with its fermented dishes, while in the Levant, traditional Lebanese or Turkish cuisine counts on a rising generation of ambassador chefs to take part in the competition. Trade, tourism and the Internet have gradually transformed cooking from a convivial activity for food lovers into a powerful diplomatic tool from both a cultural and an economic point of view. A nation's influence is now also measured by the creativity and flavours of its cuisine.
Do you like this page?