Carnival
Traditionally, carnival celebrations showcase rich and often sweet culinary specialities. The aim is to stock up on as many calories as possible before Lent. A brief overview.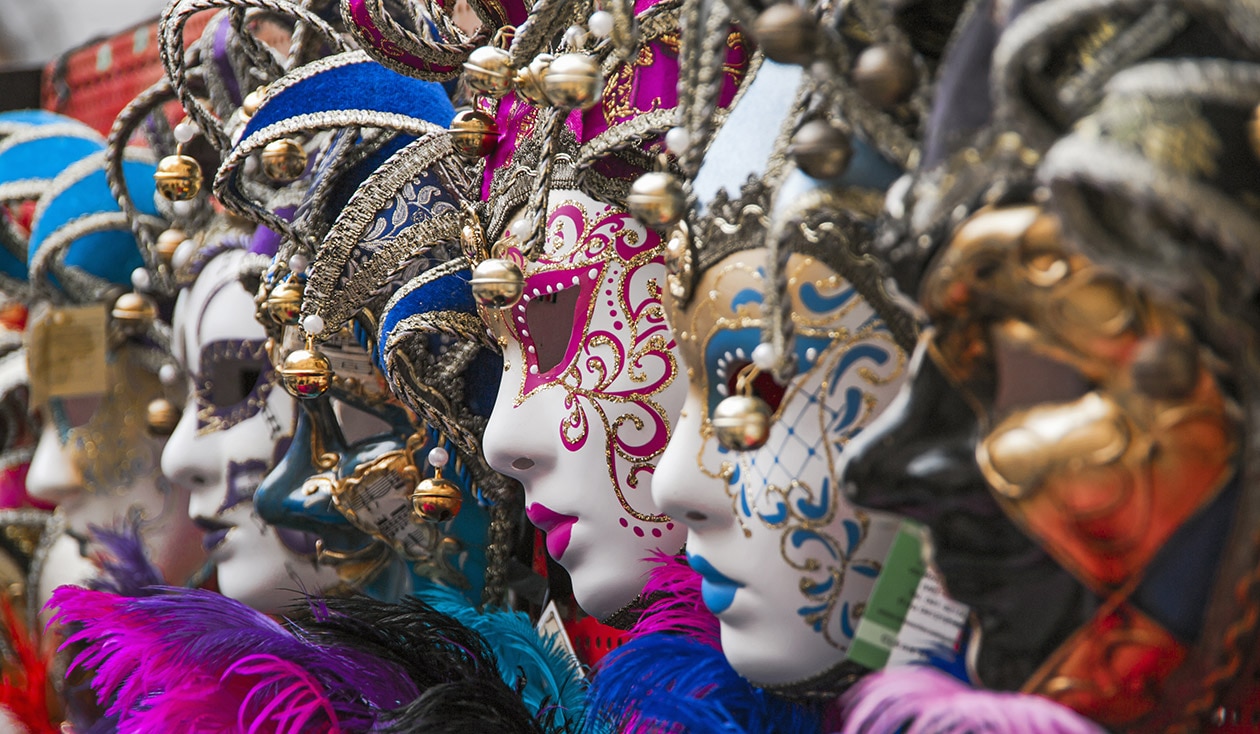 Masks, Carnival of Venice, Italy ©Shutterstock/canebisca
While carnivals across the world each have their own specific characteristics, they also have several things in common: During the festivities, locals dress up and join together to dance, sing, make music, throw confetti or parade through the streets. Carnivals are traditionally associated with the Christian calendar, and are held between Epiphany (6 January) and Shrove Tuesday (between 3 February and 9 March).
Carnivals are very popular in Catholic regions of Europe and are closely linked to the seasons and farming cycles. The Greek Dionysia and the Roman Lupercalia may be considered as the ancestors of modern-day carnivals. The masks worn during these festivals very often assumed an apotropaic role, meaning they were supposed to ward off evil spirits.
Where food is concerned, according to Christian tradition, carnival is the last chance to enjoy fatty food before the beginning of Lent. During this period of 40 days leading up to Easter, festivities are forbidden and people are encouraged to avoid eating rich food, such as dairy products, meat, fat and sugar. The tradition of eating large quantities of this type of food before the beginning of Lent is often considered as the origin of carnival.
Fritters and pancakes in the limelight
"The idea of carnival is to stock up on fat before fasting," explains Fabien Pairon, a senior lecturer in practical arts at the École hôtelière de Lausanne (EHL). Mostly, this consists of sweet specialities. In Belgium, for example, you can find waffles on every street corner. In France and in Italy, deep-fried sweet pastries take centre stage. Their shape varies depending on the carnival and the region. In the South of France, the fritters are known as ganses. They are fried in olive oil and covered in icing sugar. In the region of Saint-Étienne and in Lyon, they are called bugnes, while Languedoc-Roussillon has oreillettes flavoured with lemon or orange blossom. In Italy, the fritters are called castagnole. In Venice, they are often triangular, echoing the multicoloured diamonds of the Harlequin costume. There are also chiacchiere, from the word for 'chatter', hinting at something light and carefree. Indeed, chiacchiere are easy to make, airy and light in weight at least, if not in calories.
Crêpes or pancakes also feature prominently, notably in the centre of France and in Brittany, where they are called galettes. "Pancakes serve as an interesting symbol", points out Fabien Pairon. "They are a reminder of the disc-like shape of the sun and therefore of the return of light and longer days with the arrival of spring."
In Germany, the famous Berliner Pfannkuchen, or Berliner for short, similar to doughnuts, are a carnival favourite. In Spain, carnival is the chance to enjoy torrijas (slices of bread soaked in milk, sugar and egg, then fried in oil). Local fritters, called buñuelos or pestiños, are plentiful. Bartolillos madrileños, rosquillas de Semana Santa and leche frita (a sort of fried custard) are among other Spanish specialities eaten during this period.
Savoury dishes also on the menu
Carnival also features some savoury specialities, although they are less common. In Brazil and Portugal, the feijoada (a traditional dish made from pork, beans and rice) is very popular during carnival. The only slight difference is that, in Brazil, it contains black beans. In Portugal, feijoadas are especially popular in the north and can be made from pigs' ears or seasoned with paprika and mild chilli. In Switzerland, the Basel carnival features three specialities: flour soup, onion tart and Fastenwähe (rather like a pretzel sprinkled with cumin seeds).
As we can see, each carnival presents its own culinary specialities, sometimes with some unexpected customs. During the Cologne carnival, for example, hundreds of tonnes of sweets (Kamelle) are thrown to the crowds from floats. At the Binche carnival, in Belgium, the locals prefer oysters and 'Gilles' oranges' (small blood oranges). In Dunkirk, in France, smoked herrings wrapped in plastic film are thrown to those enjoying the carnival festivities.
Do you like this page?