A wizard with cocoa beans
Tristan Carbonatto is fascinated by the art of making chocolate. He shares his enthusiasm with his team of fifteen employees in his Swiss workshop.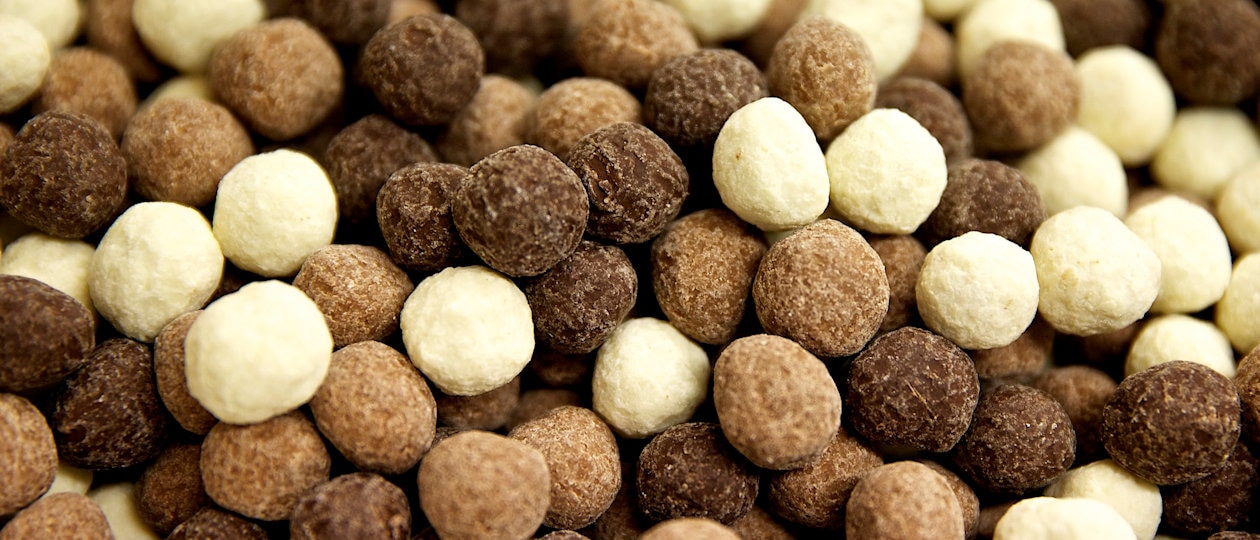 Piedmont hazelnuts covered with white, milk or dark chocolate are little gems that will entice any gourmet treasure-seeker… ©Tristan Carbonatto
His workshop-boutique in Perroy in the Vaud countryside not only attracts local chocoholics, but also chocolate-lovers from France, Japan and other countries around the world. Tristan Carbonatto gives them all a warm welcome. He practically knows them all by name. This undeniable generosity is reflected in the variety of his creations, full of candied fruit, citrus fruit, spices, olive oil, green tea, rum, and whisky. "We've managed to entice epicureans", he explains. "It's not just about luxury. I'd say we make excellent quality chocolate."
Fifteen artisans work alongside him, including his sister and several long-serving employees. As a little extra touch, they create edible chocolate boxes as 'packaging' for the chocolates, and all lettering is by hand. The shop, laboratory and assembly room are filled with umpteen ingenious creations ready to be sent off to customers, such as a piece representing a climbing wall, another depicting the Coliseum and a third, a private jet plane. The chocolatier recalls that, in the past, he was asked to make replicas of the Taj Mahal and Dubai's Burj Khalifa skyscraper.
600 m2 of workshops
Tristan Carbonatto was born in Geneva and raised in Rolle. For a long time, he was torn between becoming a chef or a pastry chef, but his taste buds preferred the latter. "There are too many things I don't like about cooking, such as having to taste prawn canapés or mushrooms early in the morning. The novelty of that soon wears off.," he says with a smile. He learned the trade at the Confiserie Boccard in Rolle then, after working with various well-known professionals throughout the region, including in the famous Restaurant de l'Hôtel de Ville in Crissier, some twenty years ago he decided to launch his own business.
Last year, he moved the company to newly built premises in Perroy. These 600 m2 have finally allowed him to group his different workshops and laboratories under one roof. He now makes around 140 different varieties of chocolate, with prices ranging from 11 to 12 Swiss francs per 100 grams. He makes his creations on a day-to-day basis so they never stay on the shelves for long. In fact, this is a must for such masterpieces, as they contain no preservatives whatsoever.
It is worth mentioning that, unlike many chocolatiers, Tristan Carbonatto does not scorn white chocolate. On the contrary, he appreciates the fact that it enhances a myriad of products that may be masked by the strong taste of dark chocolate. He is renowned for his bars of white chocolate flavoured with Japanese Matcha green tea or Italian Bronte pistachios, and for his with white cube-cut truffles. However, the master craftsman deplores the use of recent inventions such as blond chocolate, which he deems too sweet.
During the festive season, he expands his team to around forty people to meet the annual peak in demand. The 47-year-old chocolatier emphasises that, "Chocolate is a noble product and a pleasure to work with. It can only be made with love. I, for one, like to know exactly where my ingredients come from and I know most of my suppliers personally. We're very open about the origin of our raw materials and the artisanal aspect of our work." Judging by the number of customers flocking to his boutique on a sunny April afternoon, such an ardent, rigorous and creative approach brings delicious results...
What it takes to create exceptional chocolate
Julien Boutonnet, awarded Best Pastry Chef-Confectioner in France in 2015 and head chef at the École hôtelière de Lausanne, feels that we should not just focus on prominent leading chocolatiers, but also on more discreet artisans, who also create exceptional chocolate. This expert shares a few key principles of this craft. "First of all, as with wine, chocolate can be pure (grand cru) or blended (with less character). Secondly, most artisans purchase their choice of chocolate from couverture producers. Very few artisans make their own couverture from cocoa beans because the manufacturing processes are highly specific and very expensive. The quality of the filling and finishing is also really important. Last but not least, innovation in artistic creation most definitely comes into play."
Do you like this page?