Tea sommeliers
'Tea masters' are the ambassadors of good tea. They select the best varieties and combine them with gastronomic dishes.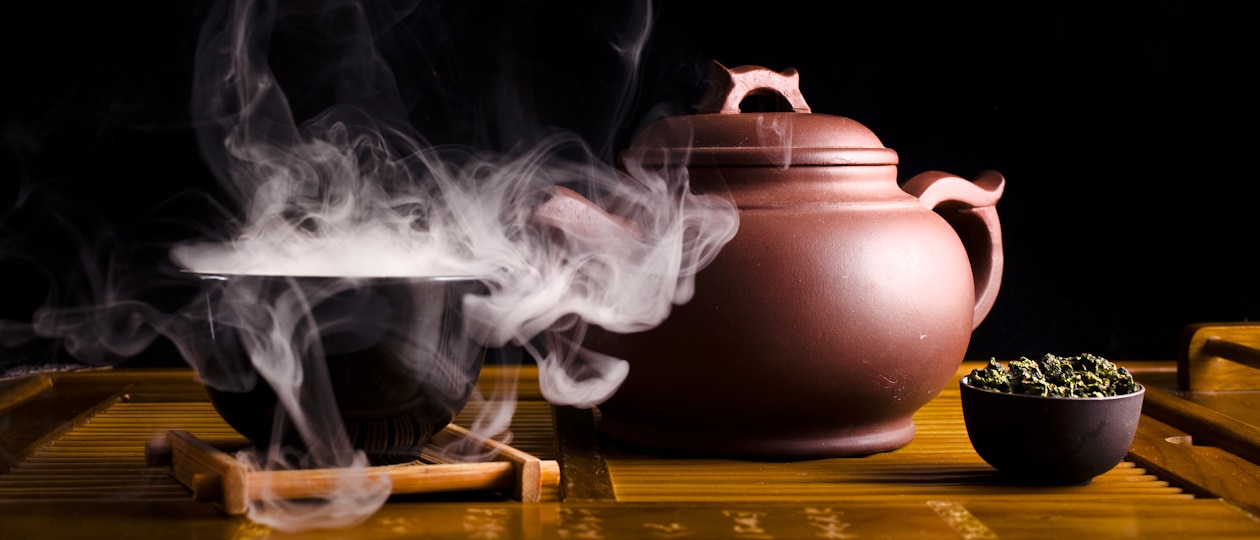 The tea ceremony, a tradition still very much alive. ©Shutterstock/Snowbelle
When Ana Kotar appraises tea, she starts by looking at the leaves. If they are dry, have an intense even colour and give off a strong fragrance, these are the first signs of good quality. Next comes the taste test: A good variety of tea has its own particular flavours that linger in the mouth. For the past three years, Ana Kotar has been working as a tea specialist, aka 'a tea master', at Paper & Tea, where she is responsible for compiling their assortment. Founded in 2012, this company runs two shops in Berlin and an online shop, mainly selling varieties imported directly from the tea producing regions. Paper & Tea sells pure tea rather than tea in bags, as the latter usually comprises a blend of several varieties, colours and additives. "More and more customers are interested in the quality and origin of products", says Ana Kotar.
The detox trend stimulates tea consumption
The concept of this Berlin-based company is definitely timely: Global tea production has been increasing constantly for years. Currently, five million tonnes are produced each year, which is an increase of three million tonnes compared to 1995.1 Half of this tea is consumed in Asia.2 However, interest for high-grade tea is growing in Europe and the US. Although tea consumption in Europe has declined by 3% since 2011, the value of tea sold has increased by 5% over the same period.3 According to Ana Kotar, this is due to heightened awareness of health: "Green tea, for example, is very popular with detox treatments." This ties in with a marketing concept, whereby antioxidants in green tea are associated with lowering the risk of cardiovascular diseases or certain forms of cancer.4
Tea masters consider themselves as ambassadors and seek to promote drinking tea in its original form, rather than brewed in industrially produced bags. Allison Dillon explains that, "Tea is a very complex product. The main varieties, such as black, green and white tea, as well as Oolong and Rooibos, each offers a wide range of flavours depending on the harvest period, the climate and the quality of the soil in their place of production. Even tea from the same plantations differs from one year to the next." Three years ago, this Australian tea specialist set up her online shop Cup Above Tea, selling over 80 kinds of tea. She sources her tea in small quantities from family-run plantations in Sri Lanka, India, China and Japan. Before founding her online shop, she travelled for two years around various tea plantations to forge contacts with suppliers. "Often, the plantations are so small that I can only buy 20 kilos of tea and can therefore only sell it in small quantities."
How do you become a tea master? Well, there is no official qualification. It's often a matter of being particularly interested in tea, as was the case for Allison Dillon. She then furthered her knowledge by participating in a three-day seminar organised by the Australian Tea Masters Association on the particularities of different varieties of tea, the conditions in which they are grown and how to prepare them. The seminar concluded with a test, part of which involved a blind tasting where Allison had to name different varieties of tea correctly. Established tea distributors, such as Ronnefeldt a German company founded in 1823, organise similar seminars. To earn their 'Tea Master Gold' certificate, participants have the opportunity to go on a seven-day trip to Sri Lanka to learn more about where tea comes from and how it is grown.
International enterprises are also increasingly recognising the trend for an authentic tea experience. In 2010, Nestlé launched SPECIAL.T, a machine that makes tea from capsules. Pierre Gerfault and Raphaëlle Liman are the two tea masters responsible for compiling a selection of tea from plantations in China, Japan, India, Sri Lanka and South Africa. SPECIAL.T tea masters combine whole tea leaves to create over 35 blends of tea, with flavours that are not too unfamiliar for its Western clientele. Raphaëlle Liman points out that, "Customers are definitely becoming more and more interested in the quality of tea and also in new taste experiences. However, many still prefer familiar flavours." Black or green tea may be perceived as bitter in their pure form, so SPECIAL.T combines these varieties with natural mint or orange flavours.
Gastronomic potential
Tea masters also aim to introduce the beverage to countries where it is not yet popular, by combining tea with meals, a concept known as 'tea pairing'. Allison Dillon works with chefs and restaurants to create 'tea menus'. She explains that, "Many young people are open to this concept, as more and more are consciously abstaining from alcohol. While classic gastronomy pairs wine with meals, tea is a good alternative." In fact, parallels can be drawn between wine and tea with regard to their multi-faceted aromatic notes. Pierre Gerfault and Raphaëlle Liman have collaborated with a wine expert to create an aroma catalogue suggesting equivalent blends of tea to specific kinds of wine. "Tea has even greater potential for combining with meals as, unlike wine, it can also be consumed warm", explains Pierre Gerfault.
Wine or tea can complement and strengthen flavours or, on the contrary, the bitterness of tea can balance out sourness in food. Hence, a variety of black tea pairs well with strong meat dishes, such as game. Green tea pairs well with lighter dishes, such as poultry or fish. Tea masters are very creative when it comes to tea menus. At Paper & Tea, Ana Kotar organises 'cheese and tea' tasting sessions once a month, with the opportunity to try six different combinations. With blue cheese, such as Roquefort for example, Ana Kotar pairs a variety of Pu'er tea (a Chinese tea, known for its spicy and earthy notes) to emphasise the strong flavours of the cheese. A growing number of renowned leading chefs, including the Michelin starred French chef Hubert Duchesne, are now adopting the principle of tea pairing. In addition, since summer 2017, the Hilton hotel chain has been proposing a tea menu on its Cape Town premises. Allison Dillon is convinced, "When it comes to enjoyment, tea is on a par with other beverages."
An overview of the main varieties of tea
Black tea
Where it is grown: China, Sri Lanka, India
Well-known varieties: Assam, Darjeeling, Ceylon
Aromatic notes: full-bodied, vigorous, floral, malty

Green tea
Where it is grown: China, Japan
Well-known varieties: Matcha, Long Jing
Aromatic notes: bitter, sweet, mineral, grassy

White tea
Where it is grown: China, Sri Lanka, India, Kenya, Malawi
Well-known varieties: Pai Mu Tan, Yin Zhen, Shoumei
Aromatic notes: sweet, full-bodied, floral, bitter

Oolong tea
Where it is grown: China, Taiwan
Well-known varieties: Da Hong Pao, Wuyi-Tee
Aromatic notes: sweet, fresh-floral, spicy

Rooibos tea
Where it is grown: South Africa
Varieties: green Rooibos tea, red Rooibos tea
Aromatic notes: honey, sweet, full-bodied
Do you like this page?