The popcorn boom
High in antioxidants, popcorn has risen from a cinema snack to a gourmet indulgence.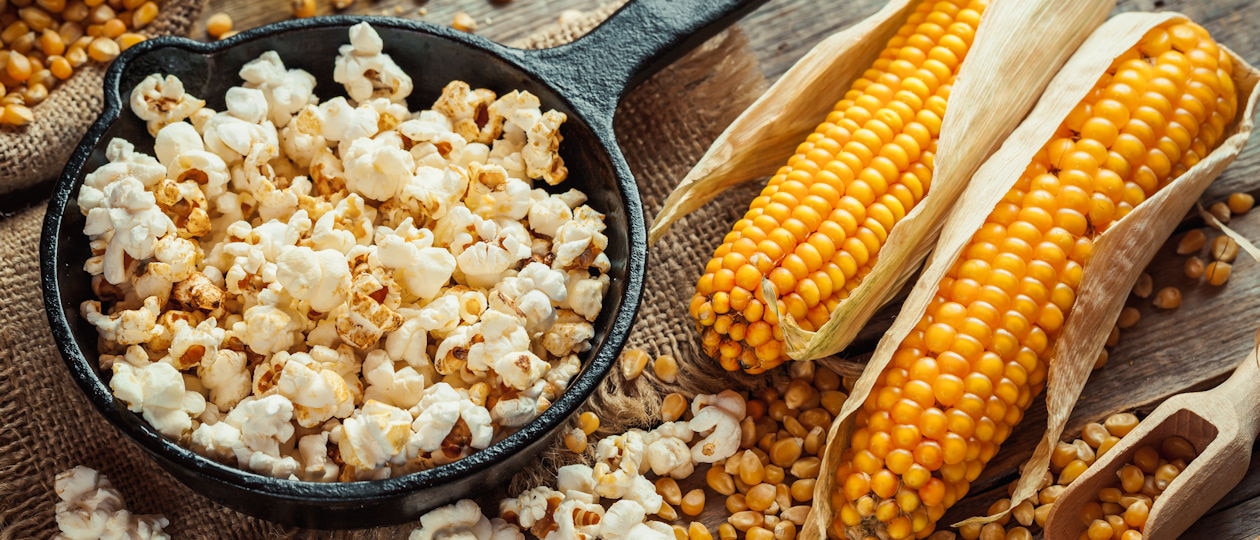 Grilled, ground, boiled, popped... corn can be eaten in a variety of ways! ©Shutterstock/Chamille White
In terms of nutritional composition, popcorn covered in salt or sugar does not have a particularly good reputation. It is often seen as a guilty pleasure we like to indulge in when watching a film on the television or at the cinema. Yet it deserves a little more consideration. A study carried out by the University of Scranton in the United States in 2012 examined popcorn in terms of its polyphenol antioxidants – a class of molecules that can reduce the risks of diabetes or cardiovascular disease. According to this study, there are more polyphenol antioxidants in popcorn than there are in fruit and vegetables. Joe Vinson, the leader of the study, points out that "Popcorn […] is 100% grain with no additives. […] Popcorn has a lot of fibre."
The quantity of antioxidants in popcorn is equivalent to that found in hazelnuts, and 15 times higher than that of tortilla chips. Popcorn comprises a mere 4% water, so the polyphenols are more concentrated; they are much more diluted in fruit and vegetables, which contain 90% water. The study points out that a portion of popcorn contains around 30 mg of polyphenols. In comparison, a portion of sweetcorn has 114 mg whereas a portion of fruit contains 160 mg of polyphenols. However, Joe Vinson emphasises the importance of how popcorn is prepared: Popcorn prepared with oil or in the microwave has twice as many calories than when it is simply air popped, and, of course, it contains even more calories when covered with butter, sugar, chocolate or caramel.
'Gourmet' popcorn
It seems the world is starting to see popcorn as a healthy snack. Brands are now targeting the 'gourmet' sector, as with the Yummy Pop store launched in Paris in 2016 by the American actress Scarlett Johansson. The savoury flavours include 'truffle-parmesan' and 'real cheddar', while the sweet menu features 'Canadian maple', one of the store's most popular flavours. My Crazy Pop also set up shop in the French capital, before moving to Saint-Maur-des Fossés. Since 2014, this store has been using air-popped corn that has not been genetically modified, and homemade sauces, including caramel (a bestseller), maple syrup, ginger, parmesan and wasabi.
Founded in 2011, the British company Propercorn is now present in twelve European countries. "Popcorn is a nostalgic snack that everyone understands," says the company's initiator Cassandra Stavrou. "It's totally natural wholegrain food that not only provides a gluten-free source of fibre and energy, but which is also a brilliant vehicle for delicious flavours." Indeed, Propercorn combines popped corn with other ingredients such as chillies, peanuts or coconut, and ensures that each flavour does not exceed 130 kilocalories per 25-gram portion.
A big snack for the big screen
According to Andrew Smith, author of the book Popped Culture: A Social History of Popcorn in America, popcorn arrived in the United States in the early 19th century aboard North American whaling ships returning from Chile. Its success spread quickly, and its affordable price led it to become a staple in cinemas since the Great Depression. Cinema owners soon realised popcorn offered a potential for high profit margins, so they started to sell their own popcorn. To give you an example, the Pathé group multiplex cinemas with over seventy screens across Switzerland now sell 1 900 000 litres of popcorn a year (72% salted compared to 28% sweet). This represents 34% of its revenue from food and drinks. In the 1950s, the increasing presence of an oven in American homes gave popcorn a fresh boost. Today, Americans eat an average of 50 litres per person a year. Meanwhile, in the United Kingdom, consumption of popcorn has increased by almost 170% over the last five years. Whether a calorie bomb or a high-fibre snack full of antioxidants, a treat for film lovers or an aspiring gourmet delicacy, popcorn is still very pop in our kitchens and supermarkets and is bursting to become our favourite indulgence!
Why does popcorn pop?
The inside of kernels of popping corn mainly comprises granules of starch that contain water. When the kernels are heated, this water begins to boil and turns to steam, pushing the starch outwards. The hull is subjected to high pressure and bursts when the temperature reaches around 180°C. Popcorn can pop in either of two shapes: mushroom (round) or butterfly (irregular). Food manufacturers more commonly use mushroom flakes if the popcorn is to be coated, with caramel or chocolate for example. The late 1990s saw the development of varieties of corn that produce only one or the other of these two shapes.
Do you like this page?