Pomegranates, from Antiquity to the present day
Pomegranates accompanied humans as they travelled across the globe, gaining a reputation as a highly appreciated foodstuff and an effective remedy. A short history of a fruity companion.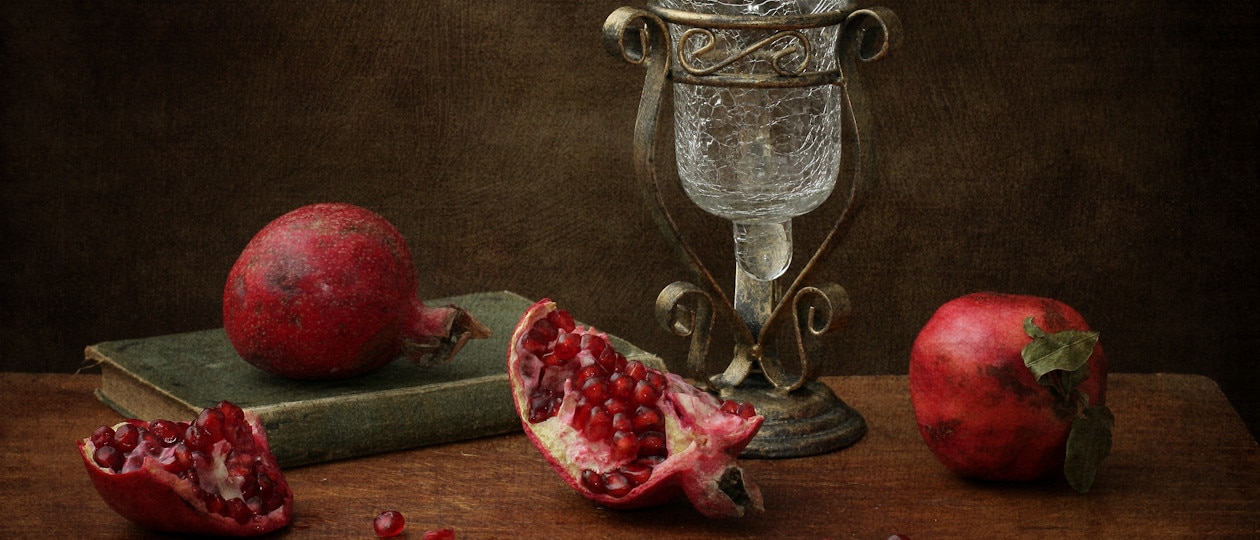 Pomegranates, a feast for both our eyes and our taste buds. © Shutterstock/Tanya Volkova
Along with vines and figs, pomegranates were among the first fruit cultivated by humans, in Asia Minor. Mesopotamian sources testify that they were already part of our ancestors' diet 5000 years ago. The Phoenicians introduced pomegranates to the African continent when they founded Carthage. The Romans encountered this fruit when they went to war against the Phoenicians and brought it back to Italy. The pomegranate's scientific name, Punica granatum, refers to its Carthaginian roots: the Latin word punica indicates it is the 'tree of the Punic country', or 'tree of Carthage'.1
In botanical terms, a pomegranate is defined as a large berry with a thick firm rind concealing scores of beautifully arranged seeds surrounded by delicious translucent red flesh. Perhaps thanks to their unique appearance, pomegranates have been linked to several myths and legends and have played a significant symbolic role in various cultures, associating them with life, death, fertility, sexuality, etc. In the Christian world, a pomegranate represents the Church as a community of believers. Symbolism aside, humans soon appreciated this fruit as it keeps particularly well after harvest. Consequently, travellers crossing the desert or the sea quickly adopted it. Pomegranate trees are particularly suited to hot climates and the Portuguese often planted them in their ports of call to provide an essential source of fresh fruit to prevent scurvy.
Wherever pomegranates spread, they were highly appreciated as juicy, fragrant and thirst-quenching fruit. They were a popular ingredient in royal kitchens; the court of the Sasanian emperor Balash (484-488) seasoned slices of salted mutton with pomegranate juice and eggs. For dessert, sovereigns favoured fresh pomegranate seeds flavoured with rose water. Despite a pomegranate's regal appearance – it is the only fruit topped with a crown – it was not the sole preserve of the ruling classes, but was accessible to all social strata. We know that, in Iran, countryfolk tenderised meat by marinating it in pomegranate juice, while the chefs of kings preferred to use vinegar for this purpose. Before the arrival of sugar, syrups made from dates, grapes or pomegranates were a popular sweetener used notably when making fruit-based dishes.
The versatility of pomegranates
Pomegranates are an integral part of the Middle Eastern diet. They are consumed as fresh fruit, or freshly squeezed into a refreshing ruby-coloured juice. Street vendors often take pleasure in preparing this in front of their customers. In India, it is common to sprinkle fresh pomegranate arils over dishes, while many spice mixes include dried or ground arils.
In Turkey and across the whole of the Middle East, pomegranate juice is cooked slowly over a low heat to produce pomegranate molasses (nar ekşisi in Turkish). This thick syrupy condiment was formerly used as a sweetener. Nowadays, it is added to a variety of dishes to give them a tangy, fruity note. It is used to improve muhammara, a Turkish sauce made from red peppers, walnuts and onions, and kisir, a sort of mixed salad made from bulgur, peppers, onions, tomatoes, parsley and mint.
Pomegranates are still highly appreciated in Iran, where they are used to make khōrēsh-é-fēsēnjān, a chicken or duck stew where the thick sauce is made from ground walnuts and pomegranate molasses.2 The harmony of the ingredients adds a sweet and sour flavour to this traditional autumn and winter dish. In the Caspian region, pomegranate juice flavours another kind of meat stew, anār-āvīj, while the fruit's seeds are mixed with herbs to form a stuffing for fish, to be baked in the oven and served with bitter oranges.
A popular plant in traditional medicine
According to Ayurveda, the pomegranate tree is an excellent pharmacopoeia. Ayurveda medicine uses not only the seeds, but also the flowers, the rind of the fruit, and the root bark too. Every part of the plant has its own qualities and, consequently, specific healing properties: The fresh fruit juice is considered a powerful tonic, particularly for the digestive and circulatory systems3; the skin is said to have anti-inflammatory properties and is thereby used to treat sore throats; the concentrated essence extracted from the roots is used as a dewormer. These are just a few examples: Ayurveda medicine uses pomegranates to treat around one hundred different conditions. Traditional Chinese medicine also believes in the beneficial properties of this fruit. In Tibetan medicine, ground pomegranate seeds mixed with Chinese cinnamon, galangal, cardamom and long pepper are a remedy to stimulate digestion.
Precious polyphenols
The use of pomegranates in Western phytotherapy has been less prominent; it is nothing like the profusion of suggested uses given by Ayurveda. Pomegranates were used to treat dysentery4 and, as mentioned above, as a dewormer5 – but such practices have since been abandoned.
Scientists are now taking a closer look at the fruit. Pomegranate arils are rich in vitamin C and also contain vitamins A, E, B1, B2, B6 and B9, minerals (potassium, calcium and magnesium) and trace elements (manganese, copper and zinc).6 However, it is the abundance of polyphenols that is of particular interest, owing to their antioxidant properties. Not only do anthocyanins give pomegranates their ruby colour, but other polyphenols, including ellagitannins, flavonoids and coumarin derivatives, are thought to have certain health benefits. Several studies suggest that the consumption of pomegranate juice helps lower the risk of cardiovascular diseases. It has been shown to reduce atherosclerotic lesions7, improve blood flow in the arteries8 and lower blood pressure in those with hypertension.9 Pomegranate polyphenols are being studied in the context of the prevention of certain cancers, such as breast cancer10, although there is clearly still a lack of clinical data to assess the true therapeutic potential in humans.
An elixir of youth
Their high concentration of antioxidants soon gave pomegranates a reputation as a superfood that can help combat ageing. It is a popular staple of specialised bars, where people come to drink freshly squeezed pomegranate juice like an elixir of youth. Shops now sell more and more brands of pomegranate juice, whether natural or fermented, pure, or mixed with other superfood (aloe vera, blackcurrants, etc). The École Polytechnique Fédérale de Lausanne (EPFL) recently discovered that the molecule responsible for the 'youth' effect does in fact exist. It is found in pomegranates in the form of a precursor and, once digested by intestinal flora, it is transformed into urolithin A and restores functions affected by the ageing of the organism12… at least in the cells of the C. elegans worm and of laboratory mice. With such promising results, could eternal youth be just a drop of juice away?
Do you like this page?