The Fork
Just a stone's throw from the famous statue of Charlie Chaplin, the Fork has likewise become an emblem for the town of Vevey.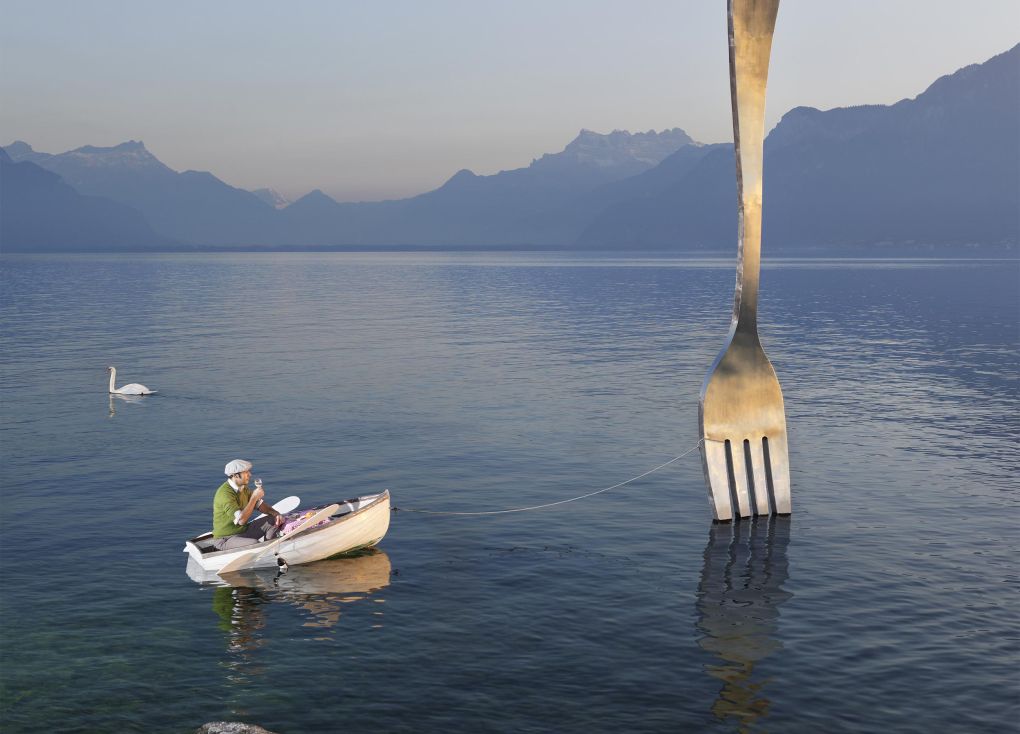 Although local inhabitants and those enjoying lakeside strolls embraced the Fork from the outset, obtaining permission for it to take up permanent residence in Lake Geneva was no piece of cake!
At its official inauguration ceremony in September 2009, County Counsellor Jacqueline de Quattro highlighted the symbolic power such works of art can acquire, as with the mermaid in Copenhagen, the Manneken Pis in Brussels and now the Fork in Vevey.
The trials and tribulations
The Fork is a statue of great stature! Made of stainless steel, it is 8 metres high and 1.3 metres wide. It was designed by Jean-Pierre Zaugg, a sculptor from Neuchâtel, Switzerland and embedded in the lake in February 1995 to commemorate the Alimentarium's tenth anniversary. It was initially intended to grace the lakeshore in front of the Museum for one year.

In 1996, despite backing from the town of Vevey, the Alimentarium did not obtain authorisation for the Fork to stay. Hence it left Lake Geneva for Littau in the Canton of Lucerne, to embellish the garden outside the Berndorf cutlery factory.

However, in September 2007, this impressive utensil came home for the Couverts découverts temporary exhibition on cutlery. That same year, a petition confirmed popular desire to keep the Fork in Lake Geneva. The Vevey Town Council joined in the proceedings and this time the outcome was positive! In autumn 2008, the Canton of Vaud decreed that the Fork could remain as part of the Lake Geneva landscape.
It has held the record in the Guinness World Records since 2014 as the world's tallest fork!