Café & Restaurant
Seasonal produce, outstanding meals, a magnificent setting and enthusiastic chefs with a real passion for food: The Alimentarium has all the ingredients to never let you down!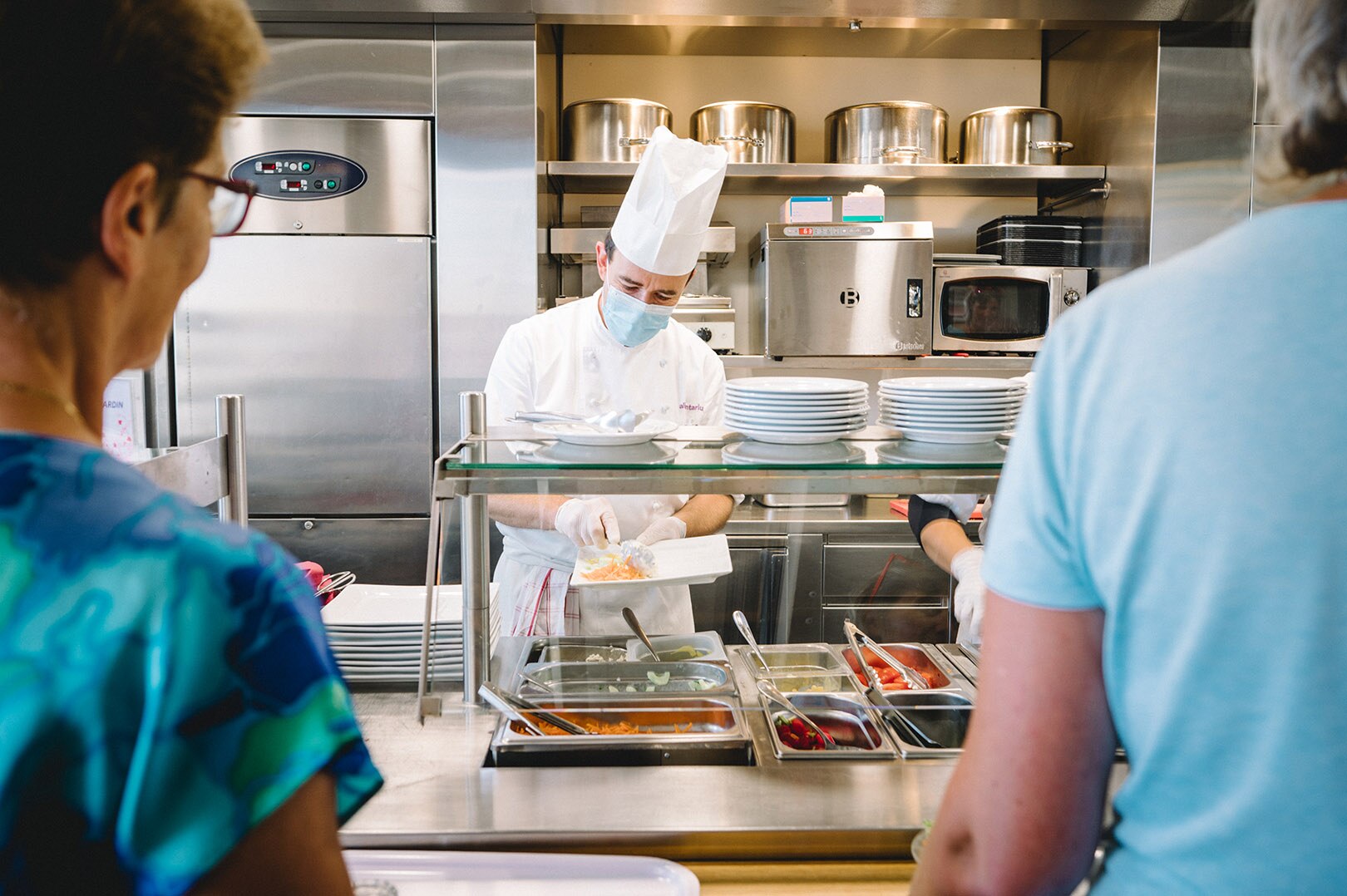 Good to know
From Sunday 18 December 2022, our Restaurant will discontinue its lunch service to favour engaging culinary endeavours as an integral part of visiting the Museum. With demonstrations, culinary workshops, events and tasting sessions, the FoodAcademy will revert to its original role as a place for sharing and learning.
Join us from 11:30 on Tuesday 27 December to discover these unique culinary activities!
Our Café continues to serve a range of drinks and sweet or savoury refreshments throughout the Museum opening hours.
The Restaurant
Our team of chefs concoct a variety of tasty seasonal dishes to add a gourmet touch to your visit. With a dish of the day, a chef's special, a vegetarian meal and a children's meal, there's something to suit all tastes and purse strings!
Chef's special         from CHF 20.00
Seasonal dish          from CHF 19.00
Vegetarian dish       from CHF 18.00
Chef's special throughout December
Turkey breast
Spicy chocolate orange sauce
Jacket potato
Sautéed vegetables
Poached fruit of the day
Top tip!
Our Restaurant is open to the public Tuesday to Sunday from 12:00 to 13:30.
For groups of 10 or more, we strongly advise to book a week ahead. Please complete our reservation form or call us on 021 924 44 18.
Light refreshments are available throughout the day in our Café or from our Kiosk on the outdoor Terrasse.
 
The Café
The comfortable armchairs in our calm, light and spacious lounge are great for just sitting back and relaxing as you enjoy our range of drinks (coffee, fruit juices, wines, etc.), seasonal treats, salads and hot or cold sweet or savoury snacks. There are plenty of fun and educational magazines and books lying around too, for you to leaf through should you wish! Not forgetting our nearby
Shop,
a real treasure trove...
Top tip! If the Museum is open, the Café is open too!​
The Terrasse
Feast your eyes on our lush
Garden
, the splendour of Lake Geneva and the Vevey quayside as you savour refreshing drinks, ice creams and much more... Our
Terrasse
is set to become one of the most popular spots on the Riviera this summer!
Why not relax here for a while, with one of our cocktails, aperitif platters, snacks or ice creams, or try our range of coffee?
Self-service in our Café or at our purple Kiosk.