Travel to the heart of food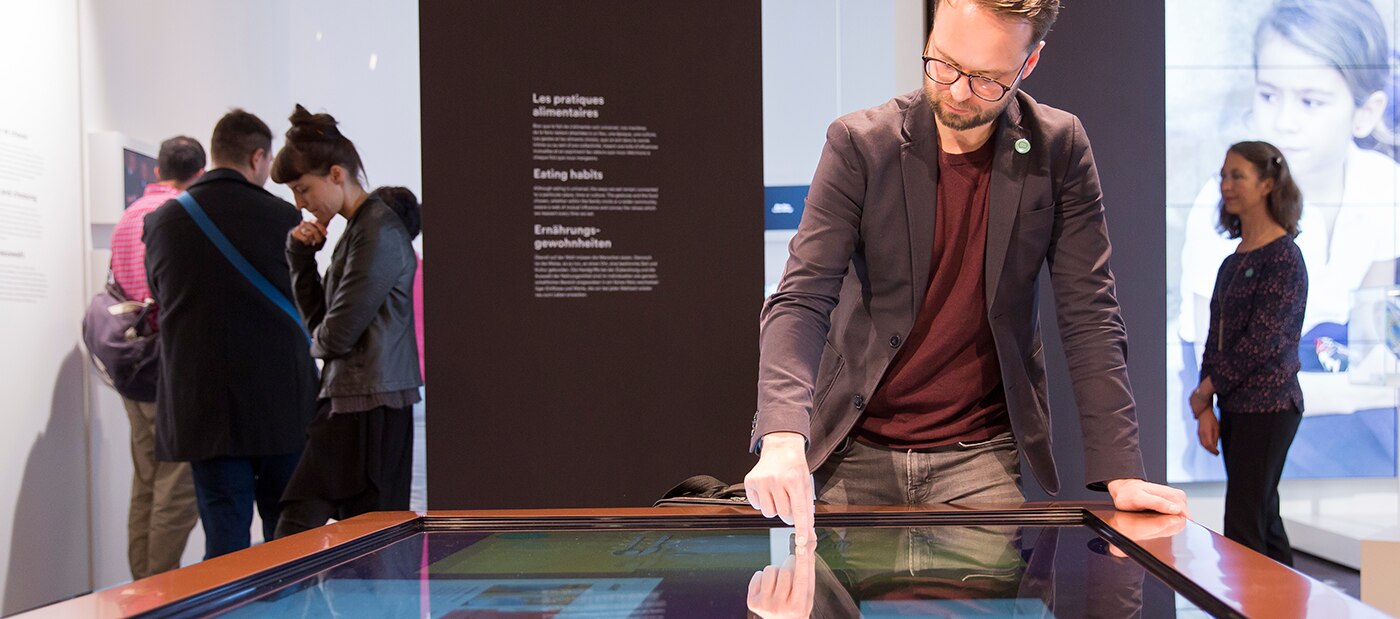 Designed as a fun, interactive journey, the permanent exhibition Food - The essence of life invites adults and children alike to explore the fascinating world of the food of yesterday, today and tomorrow. The new scenography brings together discovery, experimentation and knowledge enhancement in three new sectors: Food, Society and The Body. Each one uses film screenings, interactive terminals and video installations to create an unforgettable immersive experience that reveals the influence food has on the body and the environment.
Food sector - 1st floor
The tour of the Alimentarium's new exhibition starts with a sector which invites you to explore the world of food. Your discoveries will answer a fundamental question: "What do I eat?"
The first room immediately immerses you in idyllic countryside. Surrounded by interactive screens, you can marvel at the ways food is formed, such as watching corn grow in fast motion, or explore a host of other examples relating to all kinds of food.
After discovering the infinite variety of our food, you move through to the Production sector, which offers an overview of agriculture and trade. The objects on display can also be viewed on tactile terminals that show them in 3D in their usual setting. Themed interactive terminals and screens offer you the opportunity to find out more about objects which depict gathering food, hunting, livestock farming and crop cultivation.
To show the incredible journeys made by the food we eat after it has been produced, an interactive screen lights up the different routes selected on the terminals, revealing the distribution, transportation and traceability of food.
Now that you have seen how food is grown and transported, don't you just wish you could sit down and taste it? Yet before doing so, food needs to go through an important step: Processing. This room presents more exhibits, interactive terminals and video testimonies to help you understand the traditional and industrial processes behind the manufacture, preservation and preparation of food. You can even enjoy a fun-filled introduction to cookery on our large tactile table with interactive games about recipes and culinary techniques. What a journey! What history!
Denis Rohrer, Curator
"As a historian, I really enjoyed tracing the paths food takes. My aim is to make visitors aware of the story behind the products which make up the dishes they eat. As a curator, never before have I been able to display exhibits as well as we can now, contextualised thanks to multimedia".
Society sector - 1st floor
The journey continues with the Society sector which invites you to consider the question: "How do I eat?" This sector shows that eating is not only a biological necessity, but that the act of eating fulfils an essential social function.
In a cocoon representing the private sphere, filled with photographs and personal stories, you will understand the extent to which your education and family circle shape your relationship with food. You can leave your mark on a community wall and even explore new social phenomena such as the use of hashtags and the term 'food porn'. Make sure you post your childhood memories, your tips and your 'food selfies' in a terminal which will be used to expand the Alimentarium's 'Proust's madeleine', a sort of memory bank created for and by our visitors.
Continuing the visit, you will realise how your choices and your habits are also determined by much wider social and cultural spheres, at the crossroads of a rich array of influences. Every society, every culture, defines what it considers as food, its taboos and its rituals. In addition to cultural and religious taboos, our era has witnessed the emergence of new dietary precepts.
An interactive table with games on tableware and table manners offers a fun way to learn about some of the fundamental values of different cultures. The way the table is laid has always been valued in every country throughout the world.
A collection of photos highlights the diversity of eating habits across the globe and across centuries. What are the consequences of our food choices on our health, the environment and on other people's lives? Why do we eat when we are not hungry? The Alimentarium invites you to explore these questions here.
The journey through this sector ends in front of a lively, colourful wall of images and a selection of objects from our collection, illustrating the wealth of rituals, festivals and places where we eat across the globe.
Laetitia Aeberli, Museum's cultural activities
"As a sociologist in charge of the Museum's cultural activities, it is an amazing opportunity to be at the heart of the design of this exhibition, to be able to pass on key messages to our visitors. Through the Society sector, I hope to show the extent to which cultural diversity and understanding others, without judging, are such important aspects of living and let live, together".
The Body sector - 2nd floor
Welcome to the last sector of your visit. The Body sector invites you to reflect on two fundamental questions: "What do I think about what I eat?" and "Why do I eat?"
In the first room, you are invited to explore the pathways of the brain, dotted with giant neurons, where you can learn how each of your five senses works. Along a fun-filled trail you will discover how your senses activate specific areas in your brain and that it is possible to train your brain at any age.
You will also be invited to arouse your senses by carrying out some tasty, hands-on experiments. But be warned, your senses can both deceive and be deceived!
To round off this section, you will discover the results of recent research in the field of sensory science, as well as the way in which our education and our geographical, family and social environment influence our food choices and preferences throughout our lives.
Have you ever wondered what it would be like to travel through the organs of the alimentary canal to discover the secrets of how it works? For a few minutes, you will become an apple, mashed, mixed and broken down by enzymes. This helps explain the essential role played by the food we eat in the construction, functioning and protection of our body, encouraging us to make the right food choices for our health.
Before embarking on this journey, learn about the complex hormone mechanisms which govern the messages telling us when we are hungry or full.
When you reach the area focusing on our energy requirements, you will have a chance to burn off some calories and discover what your diet needs to provide you with, depending on your age, your gender and the amount of physical exercise you do.
This immersive journey ends in an area reserved for a multi-player, augmented reality game. It is a great opportunity for families or groups of school friends to move around together and experiment with what they have learnt during the visit!
Christelle Schaffer-Lequart
"As a food science researcher for almost 20 years, I am fascinated by the complexity of the biochemical mechanisms at play in constructing the individuals we are, from the food we eat. I really enjoyed designing the brain-senses trail. It was a wonderful opportunity to share my fascination with the workings of the brain which enables us, thanks to our senses and after a complex journey, to form an image of the world around us".
Do you like this page?