A Swiss-Vietnamese celebration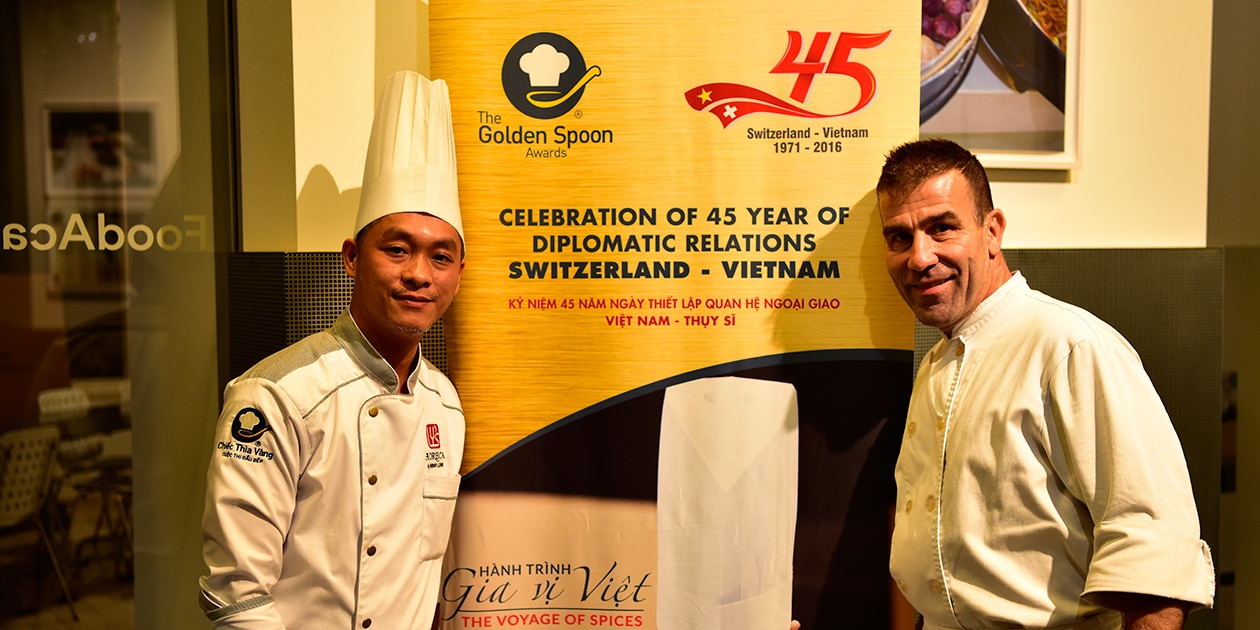 Celebrating the 45th anniversary of friendship between Switzerland and Vietnam, with good food. Chef Nguyen Hoang Nam (left) with Philippe Ligron, Head of FoodExperience at the Alimentarium (right) ©Alimentarium/Emmanuel Turchany
To mark the 45th anniversary of friendship between Switzerland and Vietnam, Bern and Hanoi organised a series of events to pay homage to the strong ties woven between the two countries. One of these festivities was a cooking demonstration by chef Nguyen Hoang Nam, held at the Alimentarium on 12 October 2016. His Excellency Mr Pham Hai Bang, Ambassador of Vietnam in Switzerland, was joined by approximately one hundred people, all actively involved in bringing the two cultures closer together, to see the chef share the secrets of a recipe for nem, also known as cha-gio with lotus seeds that won the Golden Spoon Award, the highest culinary distinction in Vietnam1.
His Excellency Mr Pham Hai Bang, Ambassador of Vietnam, spoke to us about this gathering:
What is the inspiration for today's celebration?
"Switzerland established diplomatic relations with Vietnam in 1971. Back then, recognizing the existence of our country was a pioneering and courageous decision. Forty-five years later, political, cultural and touristic exchanges continue to evolve. Switzerland has become Vietnam's fourth-largest European economic partner. In the past decade, the volume of trade has more than quadrupled, and the number of Swiss travellers who travel to Vietnam each year has soared from 4000 to 10 000. Our cuisine, which comprises over 550 different dishes, is quite well known here. Consequently, to honour the richness of this culinary culture, this celebration is taking place at the Alimentarium. The programme of events also includes an economic forum in Bern, with the participation of the SECO (the Swiss State Secretariat for Economic Affairs) and a screening of the Vietnamese film Nostalgia for the Countryside at the Capitole cinema in Lausanne."
The group gathered in the Alimentarium's new FoodAcademy area for an introduction and words of thanks from Laetitia Aeberli, Head of Education at the Museum, and then the chef's demonstration of how to prepare and make lotus seed nem. The technique for folding the rice or wheat wrappers used in this recipe was described down to the last detail. Large screens gave the densely-packed audience the chance to follow every move. After the demonstration, guests gathered round a delicious buffet of Vietnamese specialities.
Interview with chef Nguyen Hoang Nam
Can you explain what is special about the dish you presented to us this evening?
"Cuisine reflects the cultural life of a country. Today, I wanted to present Vietnam's traditional culinary values to you and invite you to taste a spring roll (nem or cha-gio) made with lotus seeds. The lotus plant is firmly ingrained in our culture and is symbolically powerful. In cooking, we use it at every stage of its growth. The roots are used for making restorative soups and the leaves for wrapping portions of rice. As for the flowers, they are seen as an expression of the sacred, and are used to venerate ancestors and gods. My recipe incorporates the seeds, which symbolise going back to the source, to essential values. The embryo can be removed and used to make tea.
The lotus is often confused with the water lily. The latter has rounded leaves, ephemeral flowers that open on the water surface and it is not edible. The lotus has elongated leaves and long-stemmed flowers reaching for the sky then developing into fruit."
Do you think the cultural ties between Switzerland and Vietnam could also be expressed through culinary creations?
"I advocate my country's culinary traditions, but this does not mean I am not open to new techniques. Our ancestral recipes are based on the products of our country and should be preserved. Their preparation is very precise. I have not yet had the chance to enjoy Swiss cuisine since I arrived (editor's note: Nguyen Hoang Nam arrived four days earlier) but, over the course of my career, I had the opportunity to work with a Swiss chef in Vietnam. This was a very rewarding experience. We prepared a meal together for the Swiss National Day in Saigon. Raclette was on the menu. I tried it and surprisingly enough, I had no trouble digesting it!"
Are there any ingredients from our culture that caught your eye?
"Among the ingredients specific to Swiss culture, I'm very interested in chocolate, especially when it is mixed with spices in unsweetened dishes. In Vietnam, most restaurants are traditional. Some are venturing into trying out ingredients from elsewhere to create new combinations and new flavours, but this is still quite unusual."
What are your impressions of this evening at the Alimentarium?
"It's the first time that I've given a demonstration to a large audience in a setting like this one: a museum that has elevated food to the level of culture. This is something I have never seen anywhere else, and it's fascinating."
Do you like this page?