A storm in a (microwaved) teacup?
An Australian scientist has caused quite a stir among British tea drinkers as he suggests microwaving a cup of tea to extract all the polyphenols.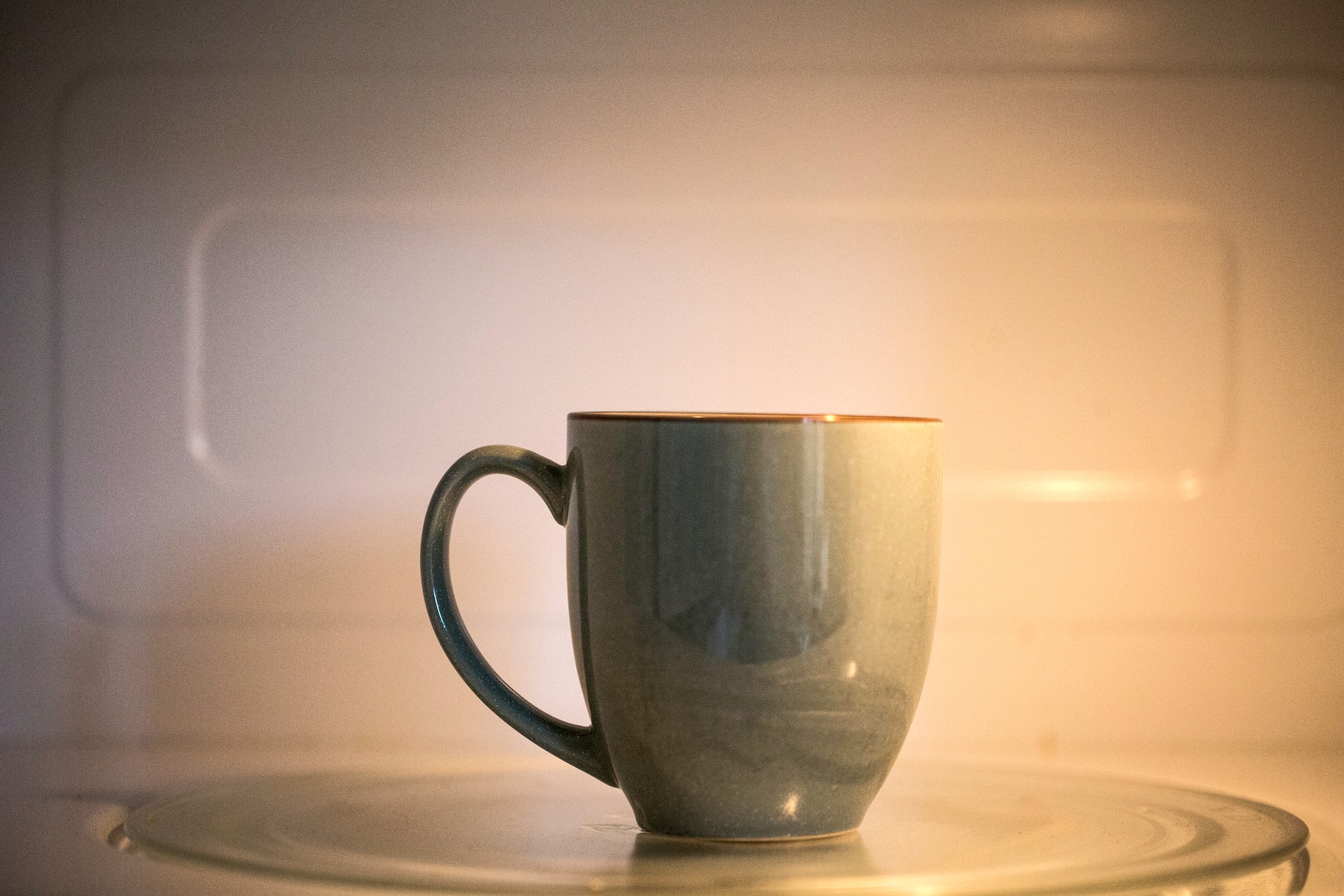 We might use a microwave to reheat a cup of instant coffee, but is it really the ideal way to brew tea? ©iStock/JayBoivin
Tea leaves are rich in antioxidant bioactive compounds thought to reduce the risk of several diseases linked to cholesterol and ageing. However, manufacturers' tips for brewing the perfect cup of tea do not allow sufficient time for all these flavonoids to be extracted. According to Quan Vuong, a food technology researcher at the University of Newcastle in Australia1, instead of the 2 to 3 minutes indicated on the packaging, green tea leaves would need to be infused for 20 minutes at a constant temperature of 80°C. As these conditions are generally only feasible in a laboratory, the biochemist set out to see how they could be replicated in the home. Although the microwave oven2 is often linked with junk food, this household appliance seemed to provide the solution: Infusing green tea in a teabag in boiling water for 30 seconds, then microwaving the cup for one minute on a medium power setting gave the most conclusive result. The researcher explains, "The electromagnetic waves accelerate the extraction of bioactive compounds such as flavonoids, caffeine and theanine."
British tea drinkers found these preparation tips "Shocking!" and said they were "Just wrong" on Twitter.3 "I wonder if their indignation also stems from the fact that gilt-edged china teacups cannot be put in a microwave, rather than simply from mistreatment of the tea itself," suggests Elise Naville, who has been organising tastings and other tea-related events in Geneva for the last ten years. The British remain Europe's most avid tea drinkers, even though they only drink eight cups a week nowadays compared to 23 a week in 1974. Yet, it has to be said that they too have been known to subject tea to rather shocking treatment. Not only do two thirds of British tea drinkers add sugar and/or milk to their tea (4 2016 figures), the British also popularised the most processed version of the beverage, i.e. fermenting and oxidising black tea then cutting, tearing and curling it. This method, known as CTC (Cut, Tear, Curl) was developed in the 1930s and guarantees tea with a strong, stable and long-lasting flavour. However, the way green tea is prepared is more advantageous, as it is only lightly fermented then pasteurised.
According to Quan Vuong, "During the oxidisation process, the catechins, a type of polyphenol, are transformed into theaflavins and thearubigins. Catechins have higher antioxidant properties, so generally green tea [may be] better for our health than black tea." When it comes to tea, the Japanese almost exclusively drink green tea. They are very interested in the link between tea and health and numerous studies in Japan are in fact boosting the reputation of green tea. Elise Naville notes that, "In Japan, 'high in catechins' is written on packaging as a selling point," even if the health benefits remain to be proven conclusively. There is, however, a lack of data relating to Chinese tea, such as Pu-erh or Oolong.
Nonetheless, brewing tea in the microwave does not result in a very pleasant taste. Quan Vuong admits, "The tea develops a pronounced bitter taste due to the high level of flavonoids and caffeine." His method of preparation is therefore aimed at those who wish to drink tea for medicinal purposes, or at manufacturers looking to make food supplements and functional food.
The Japanese tea ceremony, a centuries-old tradition inspired by Buddhism, lies at the other end of the spectrum of ways of consuming this beverage. Rather than a minute brewing in the microwave, it involves hours of rituals. Yet, it potentially offers the same benefits as tea that has had all its flavonoids drawn out. Tina Wagner, manager of the tea school forming part of the LängGassTee tearoom in Berne, explains that, "The aim of the [Japanese tea] ceremony is to create a perfect moment between initiated guests, by combining calligraphy and traditional costume with the traditional preparation of tea according to a codified procedure. They use powdered green tea leaves, known as matcha." During the ceremony, 100% of the tea dissolves in the water so all of it is swallowed. Elise Naville points out that "As the tea is in powder form, the compounds are more likely to have a higher absorption rate in the organism." Another aspect is the fact that, in addition to the absorption of the all-important antioxidants, the traditional preparation of tea demands mindful attention, whether during a formal ceremony or a simple tasting. In the latter case, purists use water with a low mineral content, rinse the tea quickly, then infuse the same leaves several times to allow all the flavours to develop gradually. As the Geneva-based taster assures, "We can compare the ritual of preparing tea with yoga or a martial art. It relieves stress and boosts our wellbeing."
Do you like this page?