Nestlé culinary competition at EHL
On 23 November 2016, around thirty hotel management students from the École hôtelière de Lausanne (EHL) took up the challenge of integrating liquid wholegrain cereals developed by the Nestlé Research Center (NRC) into novel recipes.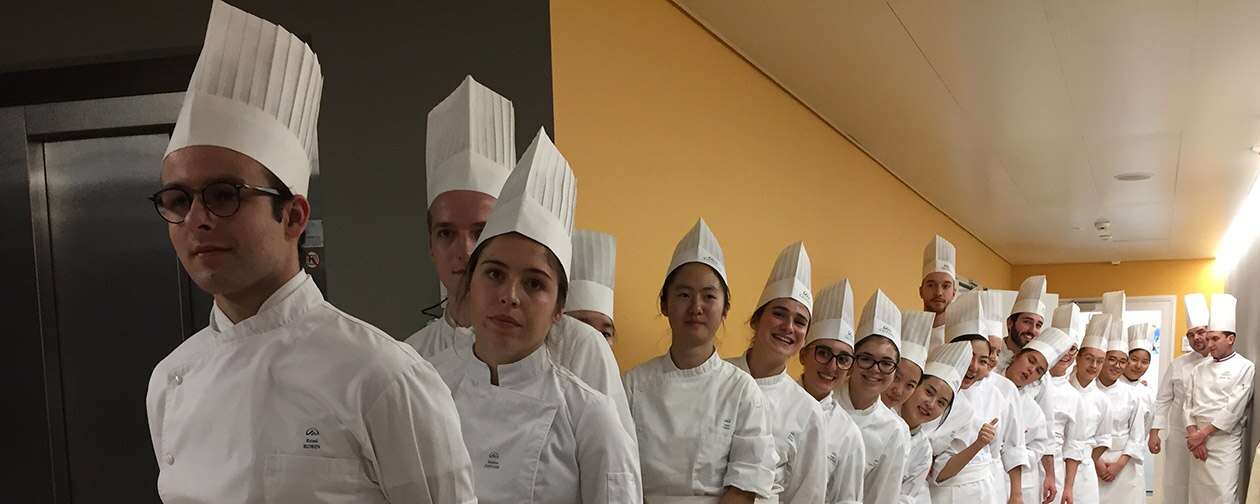 The NRC called upon the creative genius of EHL students. ©CRN
As average consumers, we are perhaps unaware that engineers from the food processing industry are constantly working to improve our health by creating ever more imaginative and innovative products. The Nestlé Research Center (NRC) is on the cutting edge of such innovation. Its cocktail of liquid wholegrain cereals could well favour their consumption. We all know that wholegrain cereals are a good source of fibre, vitamins and minerals1. They are a key element of a balanced diet and studies show that eating more wholegrain cereals is associated with a reduced risk of developing disorders such as type 2 diabetes, cardiovascular diseases and certain types of cancer2.
In order to incorporate wholegrain cereals more easily into a variety of recipes, while guaranteeing an even mixture, researchers at the NRC have developed a liquid form of wholegrain cereals. Thanks to the enzymatic process used to make it, this product retains its nutritional qualities and can be consumed just as it is, in its liquid form. Several products containing these liquid cereals have already been launched, notably Nescafé Granola Latte, sold in Japan, and Milo NutriG in the United States.
Youth and innovation
For the second year running, the NRC called upon the creative genius of the students of the EHL. Around thirty of them took up the challenge, working in teams under the supervision of their teachers. Their mission was to create three sweet and savoury dishes with at least 8 g of liquid wholegrain cereals per serving. The contest took place in the EHL kitchens, with a jury comprising EHL chefs and Nestlé scientists to judge the creations.
While Aline Crouquet and Christoph Schauer won the first prize of one thousand Swiss francs with their gluten-free avocado cream, a vegetarian salad dressing and sweet banana balls, the judges were impressed by everyone's creations, many of them imbued with exoticism, a sign of the multiculturalism that prevails at the EHL.
This partnership aims to identify needs in terms of innovative solutions and to assess their practical application. "The students' experiments and feedback are a source of inspiration for us. The products they cook are both original and balanced," emphasised Alice Moroni, a researcher specialising in cereals at the NRC. An excellent source of inspiration also for the development of new Nestlé products targeting diverse markets.
Nestlé research
Nestlé research is a driving force for innovation that aims to improve consumers' health and wellness. The goal is to improve quality of life with science-based nutritional and health solutions for every stage of life. The researchers develop products in the field of nutrition, health and wellness in a predictive and creative way. Nestlé research comprises the biggest R&D network of any food company across the world, with more than 30 R&D centres and over 5000 employees.
Do you like this page?