Honouring onions
A host of events and festivals exalt these healthy, inexpensive bulbs and their diverse uses. A brief overview...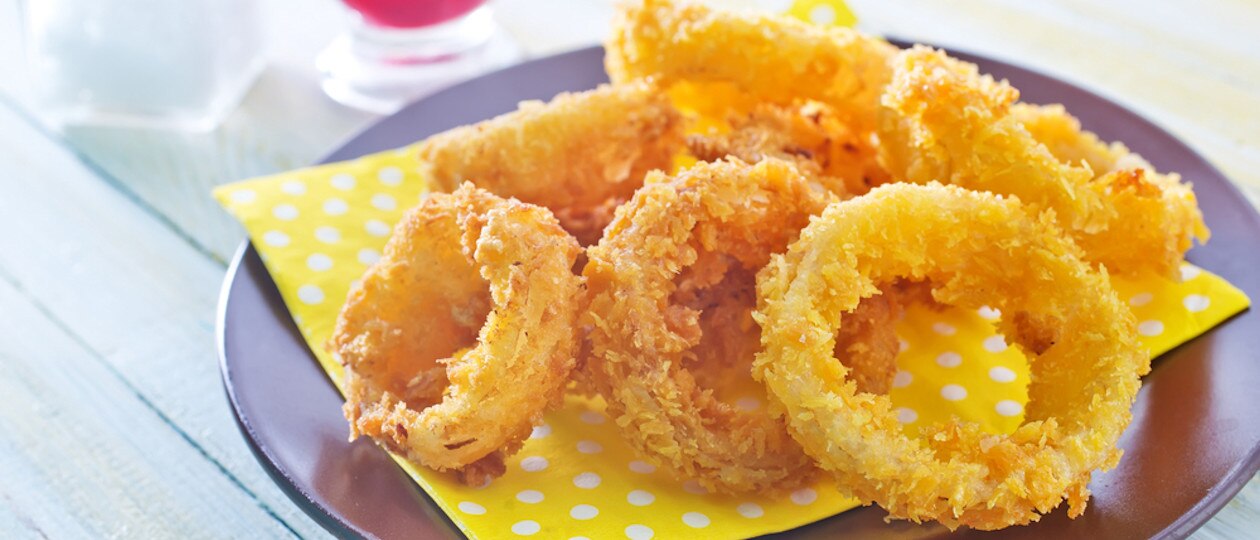 Calamari rings? No, deep-fried onion rings! ©Shutterstock/Gayvoronskaya_Yana
Onions, without doubt among the oldest vegetables consumed by humans, are thought to derive from a wild species growing in Central Asia.1 Traces of onions have been recovered from Bronze Age settlements in China, as well as from the tomb of Pharaoh Ramses IV in Egypt.2 Today, onions continue to feature widely in our diet and in books on nutrition, and there are even festivals devoted entirely to onions. Just how did such a commonplace Oriental plant become such a global celebrity?
A popular vegetable
The Glennville Sweet Onion Festival and Annual Vidalia Onion Festival (United States), Gran Festa de la Calçotada in Valls (Spain), Festival des Oignons in El Hajeb (Morocco), Fête de l'oignon de Roscoff (France) and Weimarer Zwiebelmarkt (Germany) are just some of an impressive list of markets and festivals that pay tribute to onions. The Allium cepa is a kitchen staple in many regions of the world. Cheap to grow and to buy, it is suited to a wide variety of soils, keeps well and is easy to transport.
Every year on the fourth Monday in November, the Swiss capital, Bern, holds a famous onion market (Zibelemärit in Bernese dialect) which attracts around 10 000 visitors. From early morning through to the evening, the region's growers sell between 55 and 60 tonnes of bulbs. The first written trace of this festival dates back to the 1850s although, according to Marc Höchner, a research assistant at the Bern Historical Museum and a specialist in popular traditions, this festival finds its roots in much older Middle Age traditions. "In 1439, the Bern City Council decided to establish a market on Saint Martin's Day (11 November). Then, with the adoption of the Gregorian calendar, the date gradually changed. Farmers from Le Vully, a region neighbouring the canton of Bern, started selling their plaited strings of multicoloured onions at this autumn market from the mid-19th century onwards."
The Swiss historian wonders why onions are rarely mentioned in historical texts. "Apart from a street in Bern's historic old town called Zibelegässli ('onion lane'), there is almost no indication of the plant. Yet, it was a very important and popular vegetable in the Middle Ages. It was used both as food and to treat diseases. Onion skins were also used to make dyes."
During the 20th century, the market became a big family festival. Today, local children make the most of their afternoon off school to throw confetti over passers-by, while the adults drink mulled wine with friends and eat traditional dishes, such as onion tart. "In 1922, Bern's city authorities decided to move the market to the city's main squares (Bundesplatz, Bärenplatz, Waisenhausplatz), allowing it to continue to develop without the hindrance of traffic." Nowadays, tourists from other regions of Switzerland and abroad, get up early every year to make the most of the festivities.

 
Full of flavour...
Red, brown, white or yellow, there are almost 1000 varieties of onion3 enabling us to favour certain flavours. During her consultations, the Quebec dietician Marise Charron does not hesitate to recommend onions as a condiment. According to her, "A meal without onions is like a meal with no taste. We can use them in soups, quiches, pizzas, salads or vegetable stir-fries."
Several quality labels and controlled or protected designations of origin [AOC and AOP] aim to encourage consumers to discover varieties such as the Cebolla Fuentes de Ebro (Spain), the Cipollotto Nocerino and the Cipolla Rossa di Tropea Calabria (Italy), the Oignon doux des Cévennes and the Oignon rosé de Roscoff (France).
Roscoff, a town situated in northern Brittany, proudly extols the unique, mild and sweet flavour of the local variety, which has been popular with the British since the 19th century. "The Roscoff men who set off each year at the end of summer to sell their onions in Great Britain were given the nickname 'Johnnies'. Firstly on foot, then on bikes, Johnnies were loaded down with plaited strings of onions which they sold door to door along the streets of England, Wales and Scotland."4 The Breton port has been appreciated for its onions since the 17th century. Since they are easy to keep and boast a high vitamin C content, they were a staple for sailors who would go several weeks, or months even, without touching land.
... and good for our health!
Sailors are not the only ones to appreciate these nutritious bulbs. As Marise Charron explains, "An onion comprises around 36 kilocalories, which is not many, but it contains 1.2 grams of fibre. It also contains vitamin C, vitamin B6 and manganese, nutrients the body needs to function properly."
However, some people, especially those suffering from irritable bowel syndrome, may have an intolerance to onions. The Canadian dietician points out that, "They may suffer from bloating and gastrointestinal discomfort," before adding, reassuringly, "But most people don't have any problems, quite the opposite in fact."
Onions are high in antioxidants so they form a good line of defence against infection, inflammation and bad cholesterol. In her book Superaliments Bonheur5 on happiness superfood, Marise Charron puts forward another, lesser-known effect on health: "Onions contain quercetin, which helps reduce anxiety." Although clinical studies have yet to prove such an effect on humans, while natural functional food is currently so popular, onions do not seem to be in any danger of being knocked off their pedestal.
Do you like this page?