Food supplements
A third of the population living in western countries take food supplements regularly.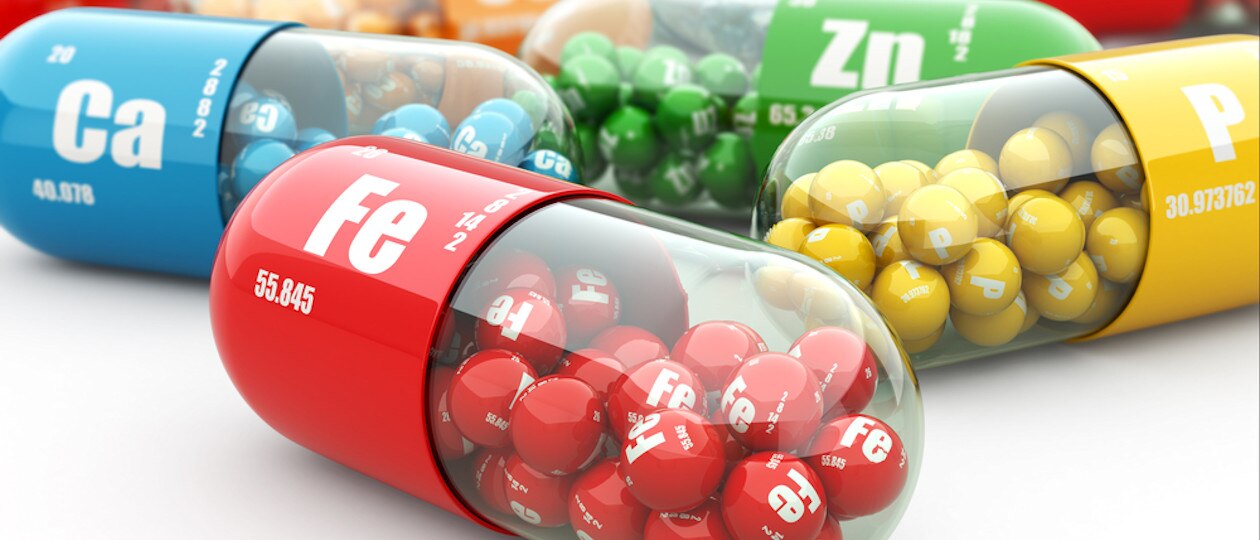 Food supplements can be a source of essential nutrients, but not to the extent of gobbling them like sweets! ©Shutterstock/Maxx Studio
A vitamin boost to prepare for winter, omega-3 to perk up your memory before an exam, or calcium to strengthen bones… Successful advertising campaigns have made taking food supplements second nature in today's world. The number of consumers worldwide is growing just as fast as the variety of products and their alleged effects. More than half of all adults take them in the United States, with women and the elderly comprising the majority of consumers. In Europe, rates of consumption are 59% in Denmark, 43% in Germany, 20% in France and 9% in Spain.1
Yet what exactly is a food supplement? It is a concentrated source of nutrients, either vitamins (especially A, B, C, D and E), minerals (calcium, potassium, magnesium, zinc, selenium, sodium, copper etc.) or other substances that have a nutritional or physiological effect. As their name suggests, food supplements are not intended to replace a varied and balanced diet, but to supplement it. They come in all shapes and forms, such as capsules, lozenges, tablets, powders, vials of liquid etc., and are sold in chemist's, in supermarkets, over the Internet and sometimes in specialised stores (such as General Nutrition Centers in the United States).
In the same way as consumption varies, the classification of dietary supplements also differs from one country to another. According to Pierre-Yves Rodondi of the IUMSP University Institute of Social and Preventive Medicine in Lausanne, Switzerland, "Several European countries and the United States classify herbal products as food supplements. In other European countries, such as Switzerland, plant-based preparations are monitored by the authorities and are not considered to be food." Therefore, plants such as kava, St John's wort, and valerian are available in American supermarkets, but not necessarily in Europe.
Scurvy, rickets and other problems linked with deficiencies
The use of food supplements has become so mainstream that we could easily forget that it all began relatively recently. According to sociologist Francesco Panese of the University Institute for History of Medicine and Public Health in Lausanne, to understand the phenomenon we have to go back to the beginning of the 19th century. "That is when the first treatises on maintaining health were published. These papers discussed ingesta, that is everything that people take into the body as nourishment, and explained what should and should not be consumed. The authors were great health reformers and brought this issue onto the political stage."
Political concern with regard to food supplements emerged at the turn of the 20th century, when countries in both Europe and North America launched major health campaigns. "For example, people were encouraged to add cow's milk, butter, sugar etc., into children's diets."
It was also in the first half of the 20th century that chemists first tried to synthesise nutrients. Vitamin C was developed in a laboratory in Zurich in 1933, nearly two hundred years after the Scottish physician James Lind proved that giving oranges and lemons to sailors prevented scurvy. The same goes for vitamin D, a lack of which was causing rickets in children. Several states, including the United Kingdom, distributed cod liver oil free of charge until 1971, before recommending the newly developed synthetic alternatives. Researchers confirmed the links between iron deficiency and anaemia, and between iodine deficiency and cretinism or goitre. As the French chemist Luc Cynober noted "Some food supplements have provided and continue to provide irreplaceable benefits in the prevention of various diseases, or in the correction of dietary deficiencies."
'Performance enhancers'
According to the sociologist Francesco Panese, the use of food supplements today reflects a more personal approach to health. "We no longer need the power of the state. Each individual is now responsible for their own health and, subsequently, for the health of others."
This researcher notes another phenomenon, in the fact that people are increasingly drawn to what he calls 'performance enhancers'. "It is no longer just about being healthy, as outlined in government health policies. In a world where competition and the balance of power have become dominant values, there is also the need to increase your performance. Products consumed for this purpose range from the basic ginseng that students take before exams, to illegal drugs used in certain professional sectors."
Francesco Panese adds that, "This quest for performance forms a sizeable 'business to consumer' market." In 2012, global revenue for companies in this field approached 32 billion dollars, a figure that could rise to 60 billion dollars by 2021.2 In Europe, for example, the sector's turnover, estimated at 7.2 billion euros in 2015, could reach 7.9 billion euros by 2020.3
In this fashion-driven sector, the demand for food supplements is constantly changing. Geneviève Cazes-Valette, Research Professor in Anthropology and Food Marketing at Toulouse Business School (France), examines what consumers are looking for and concludes that they want to feel less tired, treat specific health problems, or overcome stress, or work and exam issues. Consumers also want to stay healthy, balance their daily diet, and maintain or enhance their beauty 'capital'. Current trends and, very importantly, age and gender, influence consumption of food supplements. She points out that, "Senior citizens are clearly much more focused on preventing or resolving health problems."
 
Risks and benefits: Getting the facts straight
Many consumers wrongly believe that food supplements do not present any risks.4 According to Pierre-Yves Rodondi, "Too often, patients are convinced that consuming large quantities of vitamins will increase their benefits. They are unaware of the possible risks of an overdose." This specialist also mentions that it is important to be careful about mixing supplements. Reactions can vary from one person to another. "Smokers, for example, should limit how much beta-carotene they consume."
Given these risks, should food supplements be banned altogether? Rodondi continues, "I am not against supplements. They are essential to correct deficiencies and to prevent certain illnesses. However, consumers should be aware of what they are taking and seek personalised advice." He believes that the medical profession should also be better informed.
However, the scarcity of existing studies makes it difficult to share information. "Food supplements are more difficult to patent than medication. Conducting a study will not necessarily yield a return on investment for the producer who launched the supplement, since other manufacturers would be able to offer the same supplement without investing in any research."
The chemist Luc Cynober and nutritionist Jacques Fricker realised that the public needed to know more so, in January 2017, they published Tout sur les compléments alimentaires. Les bons et les moins bons (Everything you need to know about food supplements, the good and the not-so-good). In this book, the authors analyse 155 active ingredients from acetogenin to zinc, decipher the theoretical effects of each product and suggest how they should be used.
Ever-stricter regulations
According to Luc Cynober, claims made by companies in the sector are becoming increasingly bolder. "There is a trend to promise more and more, even going as far as claiming supplements will treat diseases. Obviously, there is no evidence that food supplements can cure cancer or that they will make a 70-year-old look young again!"
Fortunately, however, this escalating rhetoric has resulted in tougher regulations. In Europe, legislation requires that food supplements must neither harm nor deceive.5 "Companies can only claim that a food supplement has specific effects if two studies attest this property." It is therefore possible to state that phytosterols reduce cholesterol by 10%, but not that these substances – which are present in some margarines and occur naturally in vegetable oils (soya, rapeseed, corn) – prevent cardiovascular diseases, "because the studies have not been sufficiently conclusive on this point."
The regulations are different in the United States6 and Japan. They work on the basis of a list of banned substances. In other words, everything that is not expressly forbidden and recorded on this list is permitted. There is no need for prior authorisation. The companies themselves are responsible for the safety and labelling of their products.
Do you like this page?