The big cheese
Thierry Chevenet owns one of Europe's biggest goat farms; his expertise has now attracted the attention of France's top chefs.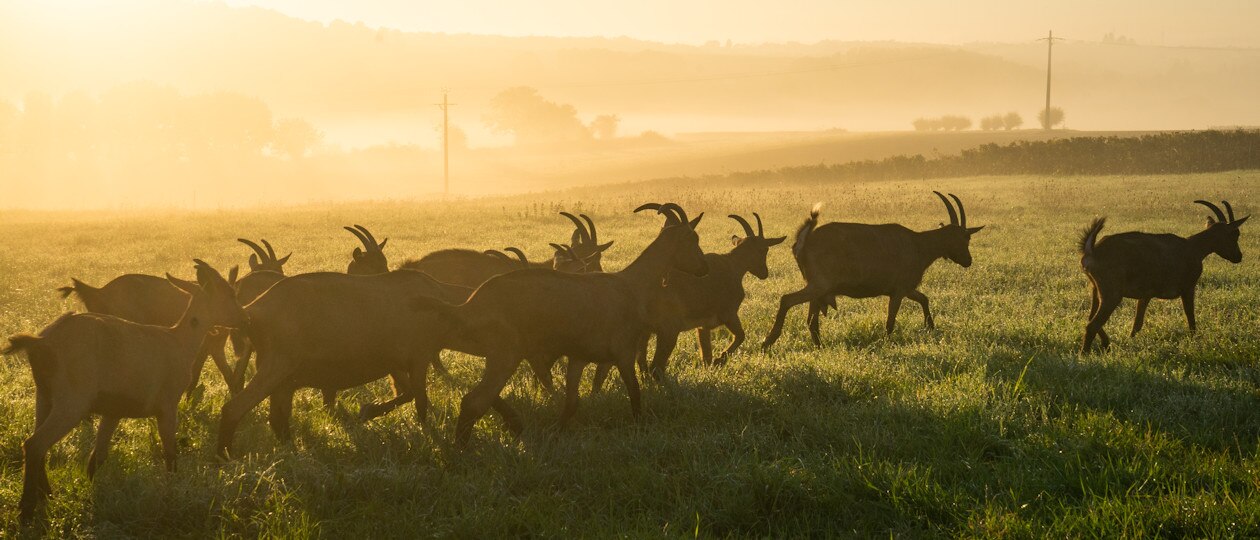 A herd of goats wandering in the setting sun. ©Agence Album – Maxime Massa
In the beginning was the goat. Or rather a kid goat, to be precise. Young Thierry had been begging for one for a long time, until his father Louis finally gave him one. This was in the 1960s, when the Chevenet family lived from polyculture farming in the Burgundy village of Hurigny. The arrival of this animal sparked the family decision to specialise in goat farming. The farm operated on a small scale to begin with, then grew to 400 dairy goats in the 1980s, and 1300 today. Still run by the family, the farm now employs 35 people and is in good financial health, with revenue increasing on average by nearly 15% each year.
The reputation of the Fromagerie Chevenet has been built first and foremost on traditional regional know-how. Thierry Chevenet, the 53-year-old managing director explains, "In the 1960s, there were 7000 farms in the French department of Saône-et-Loire breeding goats to make cheese." In this region, goat's milk is consumed as a fromage blanc prepared in a strainer, or as a fromage frais or a matured cheese with its characteristic blue spots. All are made with raw milk. Drawing on the riches of this local environment, the cheesemaker was awarded AOC certifications in 2006 for his Mâconnais and the Charolais, two soft specialities with a bloomy rind (meaning they are covered with penicillium and have a fuzzy outer layer with blue spots depending on the maturing process).
The Burgundy company set itself apart very early on by focusing on sustainable farming. "We refuse to make productivity our primary goal with our livestock. It's the same for the twenty or so farmers who supply us with milk and fromage frais. Consequently, our goats keep their horns, are never given any antibiotics and eat fodder that does not contain any synthetic fertilisers." The rusticity of the family's herd and the quality of its milk have caught the attention of foreign breeders and cheesemakers. "We now sell goats to the Netherlands, Switzerland, Eastern Europe and even to Vietnam. This is opening up a whole new market in countries that were traditionally not big consumers of goat's cheese."
Support from top chefs
The Chevenet family's business would never have developed in such a way without the help of some of France's leading chefs. Paul Bocuse, 'chef of the century' who died in January 2018, supported both Louis and Thierry Chevenet in the development of their farm, encouraging them to innovate. "La Baratte, one of our flagship products, is the joint creation of my father and Paul Bocuse. The chef was looking for a high-quality cheese where he could oversee the costs. They invented this cheese speared with a piece of straw and easy to serve in individual portions." Other chefs with three Michelin stars followed suit, such as Georges Blanc and Michel Troisgros.
Preparations for prestigious dairy shops and top restaurants represent around 40% of production. "Affinage, packaging, shaping… everything must be perfect. It's the haute couture of cheese," declares Thierry Chevenet, adding that the growth of the company hinged on this perfectionism.
The Michelin starred Burgundy chef Jean-Michel Carrette appreciates the reliability of Thierry Chevenet's products. He orders whey for an original glaze for his vegetables, as well as ingredients for his goat's milk ice cream, and ultra-dry cheeses to grate over his beetroot tartlets. The head chef of Aux Terrasses in Tournus explains, "We've been collaborating for thirteen years. We've built a relationship based on trust. I know that he will supply me with quality products all year round."
From the Cannes Film Festival to the supermarket
As a reward for his efforts, the cheesemaker's specialities are now served on renowned tables. "Our cheeses are eaten at the presidential Élysée Palace and in government ministries, as well as at prestigious events, such as Roland Garros or the Festival de Cannes."
While the actress Cate Blanchett, president of the 71st Cannes film festival, may well savour Chevenet cheese, you don't have to be a star to eat it! A savvy businessman, Thierry Chevenet has also forged partnerships with supermarkets. "We see this as our 'prêt-à-porter collection'. Although these cheeses are cheaper and maturing and packaging are more standardised, the quality remains the same." Around 50% of Chevenet cheese production is sold through these channels.
Since the 1960s, the Chevenet family's goats have come a long way. The Burgundy farm now exports 8% of its soft cheeses beyond French borders, as far as Scandinavia and Japan. In the beginning was the goat; the result is a product rooted in local terroir, blending modernity with tradition, now conquering the world.
Do you like this page?