N° 38 Recherche et alimentation en dialogue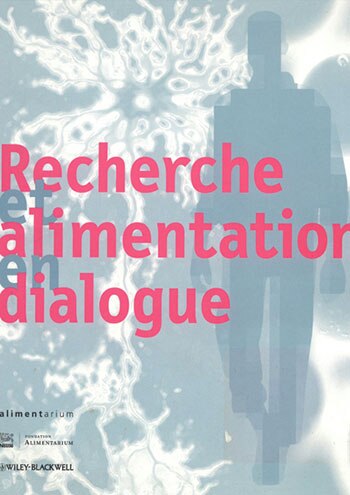 Research and food – a dialogue
From 28 February 2009 to 17 January 2010. An exhibition created by the Alimentarium.
What role did food play in the development of the human brain? Our intestines are home to 2 kilos of bacteria. Why? What does food for children, for the elderly, for athletes or for astronauts have in common? Can we tolerate milk? This decision is made by our genes! How can we meet the technical challenge to reduce fat? Bacteria and fungi are omnipresent in our food - are they useful or harmful?
In terms of food science, there are many more questions which remain as yet unanswered. This is where research has its role in answering the questions of human society as it constantly evolves, as can be seen by the progression of the age pyramid. Besides, certain crucial problems of our times, such as obesity or production of drinkable water, require solutions. Current research is based on the knowledge gained from centuries past, renewed and supplemented by modern technology.
Constant questioning, the search for new answers and exploring the unknown are some of the challenges facing research scientists. Whether they are engineers in food technology or nutritionists, physicists or chemists, science historians or archaeologists, geneticists, neurobiologists or doctors, anthropologists or sociologists, biochemists, experts in molecular biology, physiologists or working in plant selection, they all contribute to current research on food.
Although we all eat food every day, most of us have no concept of the extraordinary wealth of research in the field of food and nutrition. The Recherche et alimentation en dialogue exhibition was dedicated to this scientific theme, to look in depth at what is currently at stake in research on food, yet without discarding the historical and practical aspects.
This interdisciplinary exhibition aimed to present a reliable, scientific point of view on the state of current knowledge, to highlight the various objectives of research and to give a glimpse of the food of tomorrow which is already taking shape in research laboratories, although it will have to wait for many years before we see it on our plates. Scientists from over thirty institutions in ten countries collaborated to make this project possible.
The exhibition laboratory: in the steps of a research scientist!

Visitors could carry out their own scientific experiments with the help of qualified Museum staff.:
Discovering the latest technologies
Colour testing taste buds to identify 'super tasters'
Using bioluminescence to count the bacteria in yoghurt after it has passed through the stomach
Antibiotics in milk? Let's check!
Taste tests to discover the interactions between the senses of taste and smell.
Test garden
The Museum garden was not only a living extension of the exhibition, but also the stage for food research:
Noah's Ark or the Svalbard Global Seed Vault: presentation of Switzerland's selection of important plants for preservation in Spitzbergen.
Rice plants left for two weeks under a metre of water: a single gene decides their fate!
Biotechnology to assure food supplies: corn grown in saline soil.
The 12 plants that nourish mankind.
Polychromy: fruit and vegetables good for your health.
The sensory corner: to identify the odour of hidden plants.
► The Museum created educational material for both teachers and their pupils..
►Catalogue, on sale in the Museum shop (available in French and in German).