N° 37 De la cuisine à l'usine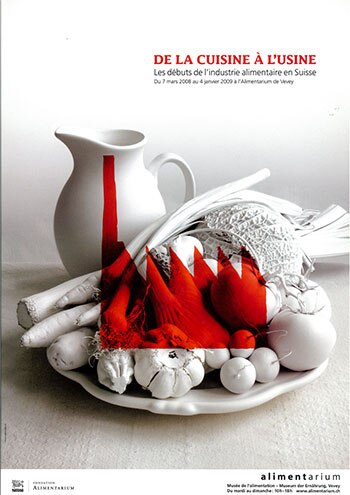 The burgeoning food industry in Switzerland.
From 7 March 2008 to 4 January 2009. An exhibition created by the Alimentarium.
The origins of modern food
Just over a century ago, most people produced and prepared their food themselves. Nowadays, our food is mostly composed of ready-prepared items that we buy in supermarkets, such as various blends of breakfast cereal, yoghurts, instant coffee, powdered iced tea, frozen lasagne or pre-cooked pizzas for a quick meal. How did this fundamental change in our eating habits come about?
Looking at this burgeoning food industry…
The Alimentarium's temporary exhibition De la cuisine à l'usine presented the birth of the food industry in Switzerland in the early 20th century by looking at four key food products: powdered soup, condensed milk, milk chocolate and substitutes for coffee. Food products carrying the Maggi, La Laitière, Cailler, Nestlé and Franck labels illustrated how such modern food was prepared, from its invention, manufacture and distribution all over the world, right through to being served on a plate.
…in the socio-economic context of the 19th century
The lively and interactive approach to this themed exhibition invited visitors to discover the life of factory workers and the audacious ideas of pioneers in food development, while underlining the diverse interactions between economy and society. Modernisation of agriculture, growth of towns, scientific discoveries and globalisation of the economy thanks to new means of transport such as the railways all contributed to the founding and grounding of this young branch of industry – as did the advent of advertising in newspapers and on enamel signs and placards.
The socio-economic processes of that period and the question of food supplies remain topical today and are still the fundamental concern of modern food and nutrition.
► An exhibition catalogue is available in French and in German in the Alimentarium shop.