N° 36 Couverts découverts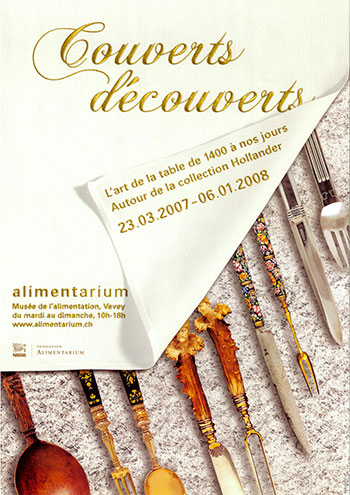 COUVERTS DÉCOUVERTS
From 23 March 2007 to 6 January 2008. An exhibition created by the Alimentarium.
Yellow amber handles, intricately engraved blades, ivory sheaths are just some of all manner of inventions to embellish knives, forks and spoons! Taking cutlery out of its safekeeping and observing it in minute detail takes you on a pleasant voyage into a fascinating chapter of our cultural history.
The Alimentarium Food Museum – a Nestlé Foundation – staged a temporary exhibition called Couverts découverts focussing on extraordinary pieces of the Hollander collection. This largest private collection of flatware, built up by the Belgian specialist Jacques Hollander, is one of its kind - it comprises cutlery made by humble craftsmen as well as creations from the most eminent silversmiths. Priceless pieces and rare wonders illustrate that a meal tastes even better when eaten with an alluringly shapely precious fork!
This exceptional collection of valuable storytellers relates our cultural history. The Alimentarium explored various themes related to this collection, in a broader context.
Learning to carry food from your plate to your mouth using a knife and fork is no easy feat and takes years of practise to do elegantly! Even so, refined tableware should be matched with dainty manners. Did you know that, for our ancestors, it was not obvious that a fork was to be held in your left hand and a knife in the right? Also, if they travelled, they could not expect to find a guesthouse table to be laid with cutlery. When away from home, they always carried their cutlery with them, in its own little sheath or small case. This was always an essential part of their luggage.
To go beyond the pure aesthetics of these objects, the exhibition staged how and when they were used and showed audio-visual films to address recurrent questions. How has tableware evolved since the Renaissance? Which habits have developed beyond Western culture? What does the current trend to return to simpler eating habits mean, such as in fast-food restaurants or when eating finger-food while standing? Which expressions come from using cutlery? It was only natural for our grandparents to have to learn innumerable rules governing table manners. How important are those rules today?
Activities
Various historical varieties of fruit and vegetables were grown in the Museum garden, for visitors to discover as a complement this exhibition.
► This exhibition was accompanied by a very original catalogue, where each page unfolded to give a life-size presentation of two hundred magnificent table settings selected from the Hollander collection. The richly illustrated texts reveal the enthralling history of how tableware came to be used and the evolution of table manners since the Middle Ages.
► Discover the world of tableware with our exhibition portfolio (in French only).