N° 35: Sacrée banane!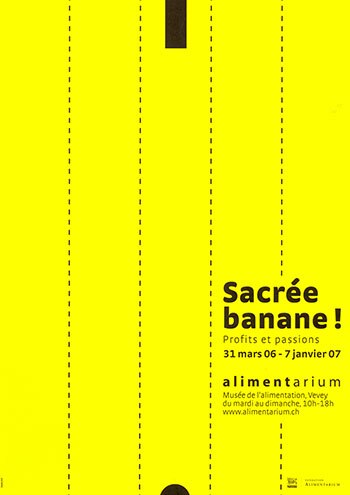 From 31 March 2006 to 7 January 2007. An exhibition created by the Alimentarium.
Just over a century ago, the world was plagued with 'banana fever'. Until then, this yellow fruit which originated in Southeast Asia, was only known in a few tropical and subtropical regions. Since the late 19th century, bananas have seen surprising discoveries, inventions and wars and, in just over one hundred years, they have conquered world markets to become one of the most popular kinds of fruit today.
Such success is not only due to their unusual colour and shape, but is also owed to their nutritional value. Yet bananas are not only of economic or dietary interest - they have become a cultural icon and political emblem (e.g. a banana republic) and, thanks to Andy Warhol, they have even become a model for pop art.
This exhibition presented the fascinating development of bananas over the past century, looking at work in the plantations, worldwide trade in bananas and how bananas have influenced art and culture. Some 800 objects illustrated the economic and cultural history of 'blessed bananas' through six sectors of the exhibition: Banana skins! – From Southeast Asia to North America – An ideal foodstuff? - Fascinating fruit – Exportation of bananas – Wars and battles.