N° 32 Pot-pourri: cinq événements en 2003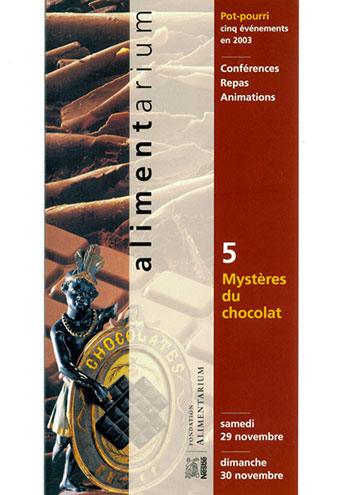 POT-POURRI
Five events to explore unusual aspects of food and nutrition.
Each event was spread over three activities on a particular theme.
• Friday evening: an unusual meal and a conference led by a specialist
• During the weekend, various animated activities and workshops throughout the Museum to follow-on from the Friday evening conference
• From Tuesday to Friday, Museum chefs prepared a lunchtime meal inspired by certain dishes from the Friday evening meal and led afternoon cookery workshops.
Programme of activities
​​14, 15 and 16 March 2003
Vaudois cuisine during the 18th century
1803 - 2003: For the Canton of Vaud's jubilee year, the Alimentarium explored an unexpected part of its history: its native cuisine, with François de Capitani, historian and gourmet, curator of the Swiss National Museum, Château de Prangins. On Friday 14 March, the meal comprised 15 dishes and allowed guests to become acquainted with the rules of traditional French-style service.
2, 3 and 4 May 2003
From Iran to Mongolia, meeting people working with dairy products
Colette Dahan and Emmanuel Mingasson, both specialists in mountain cheese, travelled in a 4x4 for an entire year across Central Asia to Mongolia. What was the theme of their journey? Milk. They discovered surprising knowhow, such as how to preserve cheese in goatskins, buried or sun-dried until it was rock hard. The menu for the meal served on 2 May included traditional Iranian festive food, koreshs, kebabs, two-coloured rice, sophisticated salads and oriental pastries. These were evenings to savour as Colette Dahan and Emmanuel Mingasson's magnificent photographs revealed the importance of milk for breeders of ewes, she-camels and yaks, as well as the local traditions linked to this precious foodstuff.
► Un an sur la route du lait, a brochure (in French) collating 11 letters written by the two explorers during their voyage.
On the Saturday and Sunday, the Museum kitchen served Iranian dishes, while visitors could also view slide-shows on the transformation of dairy products in Iran, Central Asia and Mongolia or watch live demonstrations on the transformation of milk.
20, 21 and 22 June 2003
Dishes in small parcels
Food is prepared in small parcels throughout the world, be it Chinese ravioli, Mexican tamales or Polynesian oven-cooked fish en papillote. Françoise Cousin and Marie-Claire Bataille-Benguigui, ethnologists from the Musée de l'Homme in Paris, invited visitors to discover the diversity of such 'wrapped food'. Whether a gift or a snack to go, these little parcels always conceal a delicious surprise.
During the meal served on 20 June and the weekday workshops, visitors could both taste and prepare little Chinese, Mexican and Polynesian food parcels.
29, 30 and 31 August 2003 (with an added date, Sunday 28 September 2003)
Japanese Cuisine
Sushi, nigiri, sashimi... do we realize that Japanese cuisine is not all about raw fish? In fact it comprises a wide range of food and preparation techniques. Particular attention is always paid to the freshness of the food and the aesthetic quality of the dishes. Georges Métailié, specialist on Japan and Senior Research Scientist at the CNRS (French National Centre for Scientific Research), Muséum National d'Histoire Naturelle de Paris invited visitors to discover the many facets of the cuisine of the Land of the Rising Sun.
During the meal served on Friday 29 August, Georges Métailié presented a varied range of unusual textures and flavours, all complemented by a tea ceremony. Throughout the weekend, yakitori, udons and tempura tempted visitors' taste buds as they watched Mr Uchitomi, a reputable Japanese chef and caterer, demonstrate how to prepare sushi and sashimi, while two Japanese ladies expertly orchestrated the ancestral art of a tea ceremony. Visitors could also try out origami (paper folding) and taste a range of Japanese dishes prepared by the Museum's chefs. From Tuesday to Friday, visitors of all ages could turn their hand to the art of sushi making during afternoon cookery workshops.
► Glossary of Japanese cuisine and brochure on the tea ceremony (in French only).
21 and 23 November, 29 and 30 November 2003
The Mysteries of Chocolate
Whereas the Mayas saw chocolate as a drink for gods and kings, the Aztecs claimed it had multiple virtues. When cocoa arrived in Europe in the 16th century, it soon spread far and wide. It was popularised during the 19th century and later became a manufactured product. Today, the Swiss consume the most chocolate per capita!
On Friday 21 and Sunday 23 November 2003, Museum visitors enjoyed a murder mystery dinner show (Mortelle gourmandise) by the Meurtres & Mystères drama company. During the weekend, Mr John Lehmann, a confectioner and teacher at the Ecole professionnelle artisanale et industrielle in Fribourg, demonstrated the techniques used to make chocolate (growing, fermentation, drying, roasting, grinding, mixing etc.). Meanwhile, Mr Alain J. Bougard honoured the Museum with his presence to autograph his book CH comme chocolat - l'incroyable destin des pionniers du chocolat.
More curious visitors could test their knowledge of chocolate with a family board game created by the Alimentarium, allowing them to discover the history of cocoa, its origins and arrival in Europe and various objects linked with preparing drinking chocolate. A unique large-scale version of this game still allows visitors to play this game in the Museum itself. A simplified version and a version made of wood were sold in the Museum shop.
During the weekend, Alimentarium confectioners made various chocolate delicacies in full view of visitors (dipping fruit in chocolate, pouring chocolate into moulds, making chocolate and marzipan decorations) including chocolate cromesqui (a ball of ganache covered in fried pastry!) and Museum guides showed visitors two ways to drink chocolate: Viennese style or Mexican fashion.
On weekdays, visitors were able to make a delicious chocolate sleigh during afternoon cookery workshops.
PDF available (in French only)