Prinzessinnengarten
Project participants are not only growing 500 different types of herbs and vegetables, but also developing urban space. Prinzessinnengarten is a laboratory for coexistence.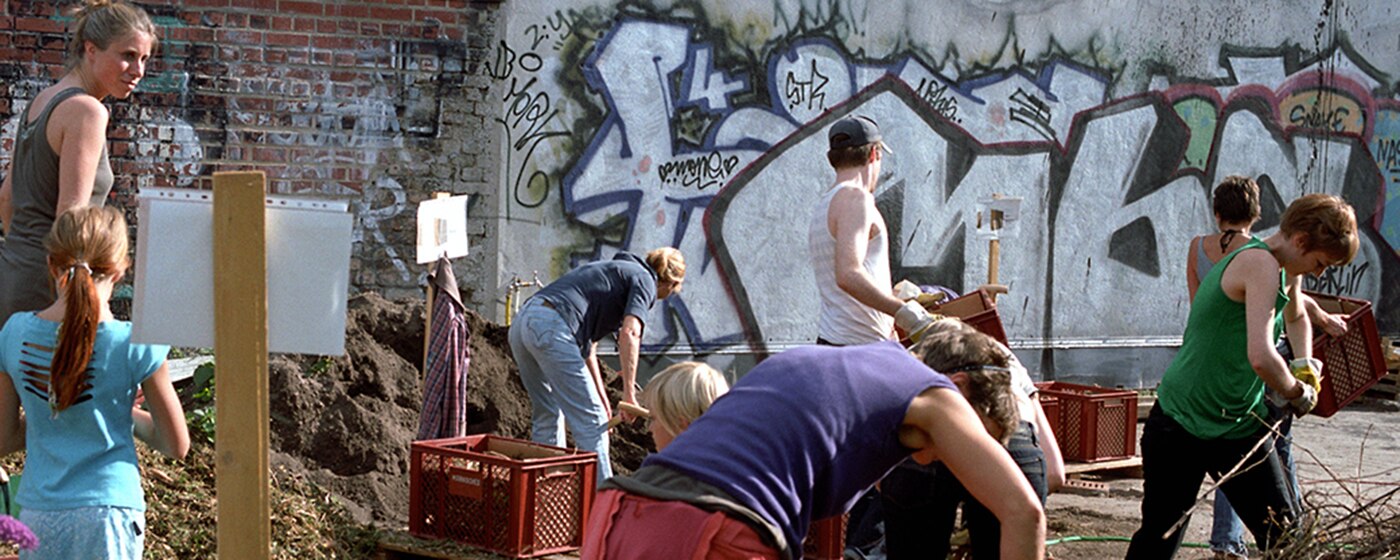 Historian Robert Shaw and filmmaker Marco Clausen have turned a wasteland into a thriving paradise within a very short time. Impressed by urban gardens in Havana, they leased land in Berlin in May 2009. In their book Prinzessinnengarten, they describe this once barren space: "For ages nobody wanted it. It was bombed out, deserted, ugly. And when it comes to unemployment statistics, the surrounding area regularly ends up at the bottom of the list; two thirds of the children are considered poor."
People were immediately enthusiastic about their project. Following an article in zitty magazine, 150 volunteers showed up from the neighbourhood. Together they disposed of two tons of rubbish and cleared the site, which had been neglected for decades. Because the term of their lease was limited, they came up with the idea of a mobile garden. To this day, everything is grown in Euro pallets, shipping containers, disused rice sacks and tetra packs. As a result, the garden can be moved and set up again at another site whenever needed. Over the years, Prinzessinnengarten has become a major attraction: every season about one-thousand volunteers help out with the gardening, and some 60,000 people visit the garden annually.
Andreas Kohli spoke with Marco Clausen
What has made Prinzessinnengarten so successful?
Everyone can participate whenever they want. There are no private vegetable beds and the garden is open to the public. Besides gardening, the space can be used for lots of other activities: it's a place where you can relax, study, participate and build things. You can also get something to eat or drink here. It's an urban garden that attracts and combines all sorts of uses and functions.
Are there any other gardens in Berlin with this concept?
Yes. There's a general trend to do gardening in the city again. Christa Müller wrote a book about this titled Urban Gardening - über die Rückkehr der Gärten in die Stadt (Urban Gardening – City Gardens Are Back). Gardens have always existed, but now they are taking on new forms that fit the times.
"Prinzessinnengarten didn't develop out of a longing for the countryside. In fact, it was probably the opposite, it developed out of a longing for an urban location, a place of permanent interaction and dialogue."
In what way does Prinzessinnengarten differ from a park?
It's far more open than a park. People are always coming to us and saying they would like to offer a seminar here, do a project on "indoor farming", or recycle something, or set up a bicycle workshop. In other words, we have actually created an open space – one that offers far more opportunities to create something, and deals with our idea of how we want to live in the city in the long run and enjoy a sustainable life together: we don't want to use up things senselessly, but rather share, interact, and learn from one another. In Prinzessinnengarten, people don't just talk about gardening, but also about their living conditions and ideas. That's what makes this place so special.
Why do people participate? Is it because they enjoy gardening?
I'm not a gardener. Most of us are amateurs, dabblers. People have different reasons for doing gardening. Plants and the people who take care of them create a very special atmosphere. There are very few people who cannot be reached through gardening, and if it's not through gardening, then it's through food.
And how important is the harvest?
We don't have any privately-owned beds. So nobody can harvest their own bed or their own vegetables. Rather all the vegetables that are produced here are grown to support the garden as a whole.
Some of the vegetables are cooked and sold in the restaurant. People can also harvest them and pay a certain price. Those who have worked in the garden pay far less. You're handed a knife and you harvest what you need.
We also plant old and rare varieties – over a hundred different varieties of herbs and vegetables. We grow more than 20 varieties of tomatoes and 20 varieties of mint. Altogether we have some 500 different varieties of plants. The quality here is very high, compared to vegetables that are industrially produced. The leaves of lettuce from supermarkets, for instance, are tough and leathery on the outside, so they can survive the transport. We have varieties of lettuce that you can't buy, because they aren't transportable. This means we also make a very special contribution at the culinary level.
500 varieties, that's impressive!
Yes, it is. And although we don't harvest large quantities, we produce things you don't find elsewhere. Cooking is also something special here: you see the beds and the vegetables and the way they're processed in the kitchen.
How big was the crop this year?
This year's crop? In numbers? None of us has any idea.
Not even approximately?
We don't keep track of how much there is, we don't weigh the blossoms and leaves… we've really no idea. What we can say is: we are cultivating an area of about 6,000 square meters. That's extremely small compared to what is normally farmed.
Do you plan to sell the land one day?
No, the land belongs to the city and was supposed to be sold to the highest bidder in June 2012. But Prinzessinnengarten succeeded in preventing the sale by collecting 30,000 signatures. In the end, the city handed the site over to the district of Kreuzberg. We want to remain tenants.
Has the project changed since it was started some five years ago?
Yes, it has changed a lot. It began with an idea and has now become a rather complex location that places high demands on the management and the budget. We are largely self-financed and running a seasonal operation is not easy. We continually have to find new sources of income. The whole place depends on the help of large numbers of volunteers and is changing all the time.
Often with projects like this one, there's a team that kicks off the whole process but later disbands. Has that happened here?
No, the founders, that is, the core team, are still the same. But we don't want to continue working like this for another ten years. It is incredibly good fun, but you can't work 80 hours a week like we've been doing and live on an income like ours.
What would you recommend to people who want to start their own garden project?
I would recommend to just go ahead and do it. At the moment, we see so many different kinds of gardens emerging, no matter whether they are new allotment gardens, community gardens, or social urban landscapes like ours… The potential is tremendous. There is so much land lying waste, or that could be put to better use. In my opinion, there cannot be enough gardens in the city. If you are willing to persevere, you'll succeed in implementing your idea. Moreover, you have to get others excited about your idea: if you do, a lot more is possible than you think. When we started, many people said it was a very cool and romantic idea, but that nothing would come of it. Now is a good time, because there are so many amazing projects providing orientation. Not just Prinzessinnengarten.
Do you like this page?