#vegan
If you've not yet visited our temporary exhibition #vegan, you have until Sunday 1 May 2022 to do so! Thereafter the Alimentarium will be focusing on an entirely new topic.
The #vegan exhibition stems from vegans, vegans-to-be, and those simply interested in veganism sharing their experience on the participative platform myveganlife.org set up in December 2020.
The Museum is not only presenting a new temporary exhibition, but also new themed events, culinary workshops, presentations and round-table discussions.
Giving vegans the floor!
To better understand what triggers this food choice, the Alimentarium gave internauts the opportunity to share their story, whether as vegans, vegans-to-be, or simply interested in veganism, on the participative platform myveganlife.org.
Since early December 2020, the Alimentarium has collated over 120 posts. Many of them are now cited on the exhibition walls.
The database of these first-hand accounts will also enrich scientific research on veganism in collaboration with Edmée Ballif, SNRF postdoctoral fellow, University of Cambridge & University of Kent.
Finally, these ephemeral contributions will be preserved as intangible heritage in the Alimentarium Collection.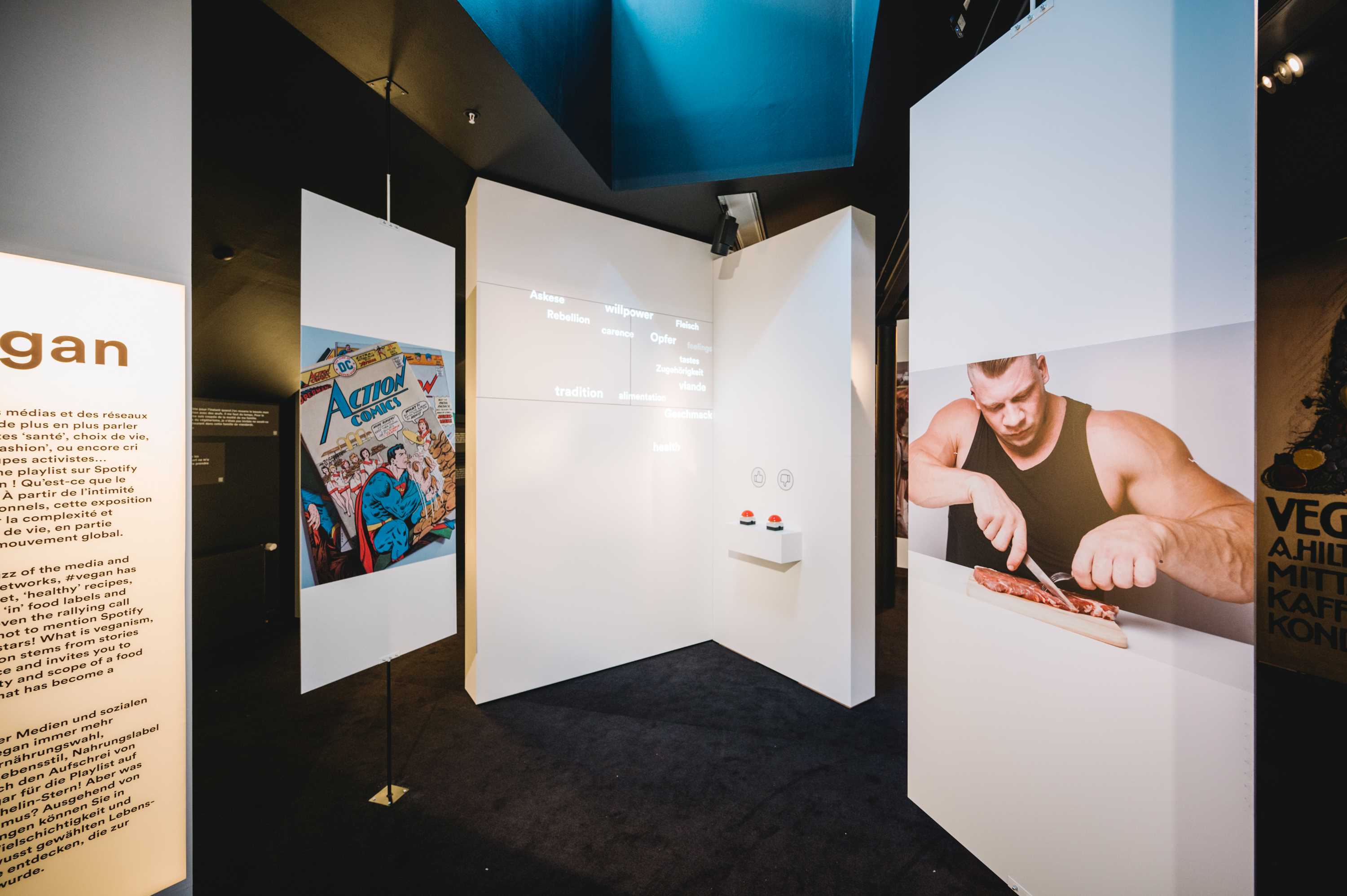 THUMBS UP OR THUMBS DOWN?
Even before discovering the exhibition, visitors are greeted by a buzzer inviting them to take a stand, giving veganism the thumbs up or thumbs down.
This device embodies the compelling choices we face each day on social networks. The Alimentarium invites us to go beyond such binary judgement to explore the full complexity of the subject, starting by dismantling some preconceived ideas. The results of the count are revealed at the end of the exhibition, enabling visitors to reflect on whether their perception of the subject has changed since they first entered the exhibition.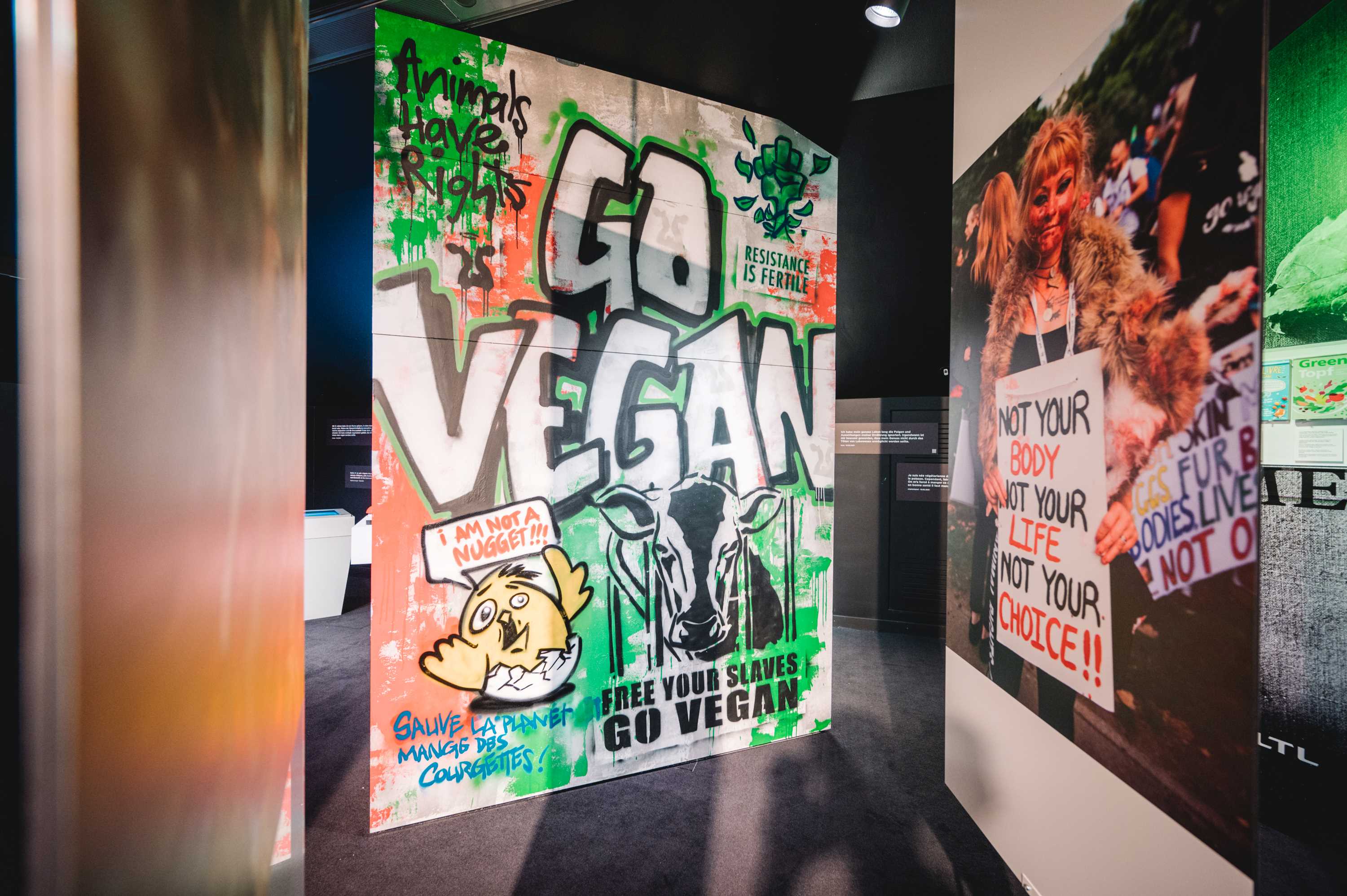 A MAZE OF CONFUSION
After the buzzer, visitors enter a confusing maze, as they come under fire of the many slogans, assertions and other media stances we are confronted with each and every day.
#vegan live feeds on social networks are broadcast in the exhibition to supplement this kaleidoscope of images and plunge visitors into the ambient hubbub about veganism.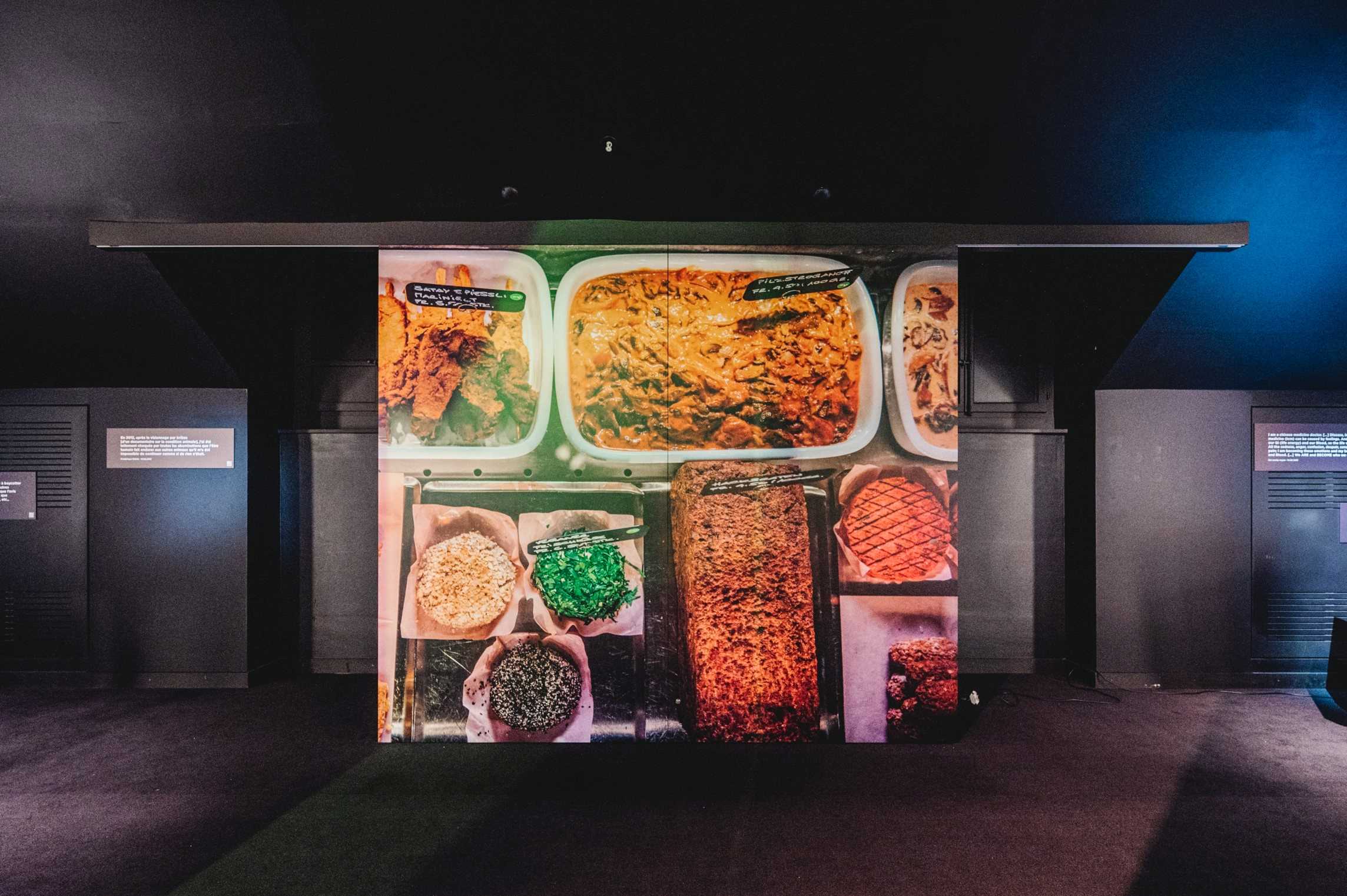 ALCOVES OF CONTENT
As visitors emerge from this maze, the Alimentarium invites them to investigate the many facets of veganism from four axes: gastronomy, health and nutrition, environment and ethics, activism and popular culture.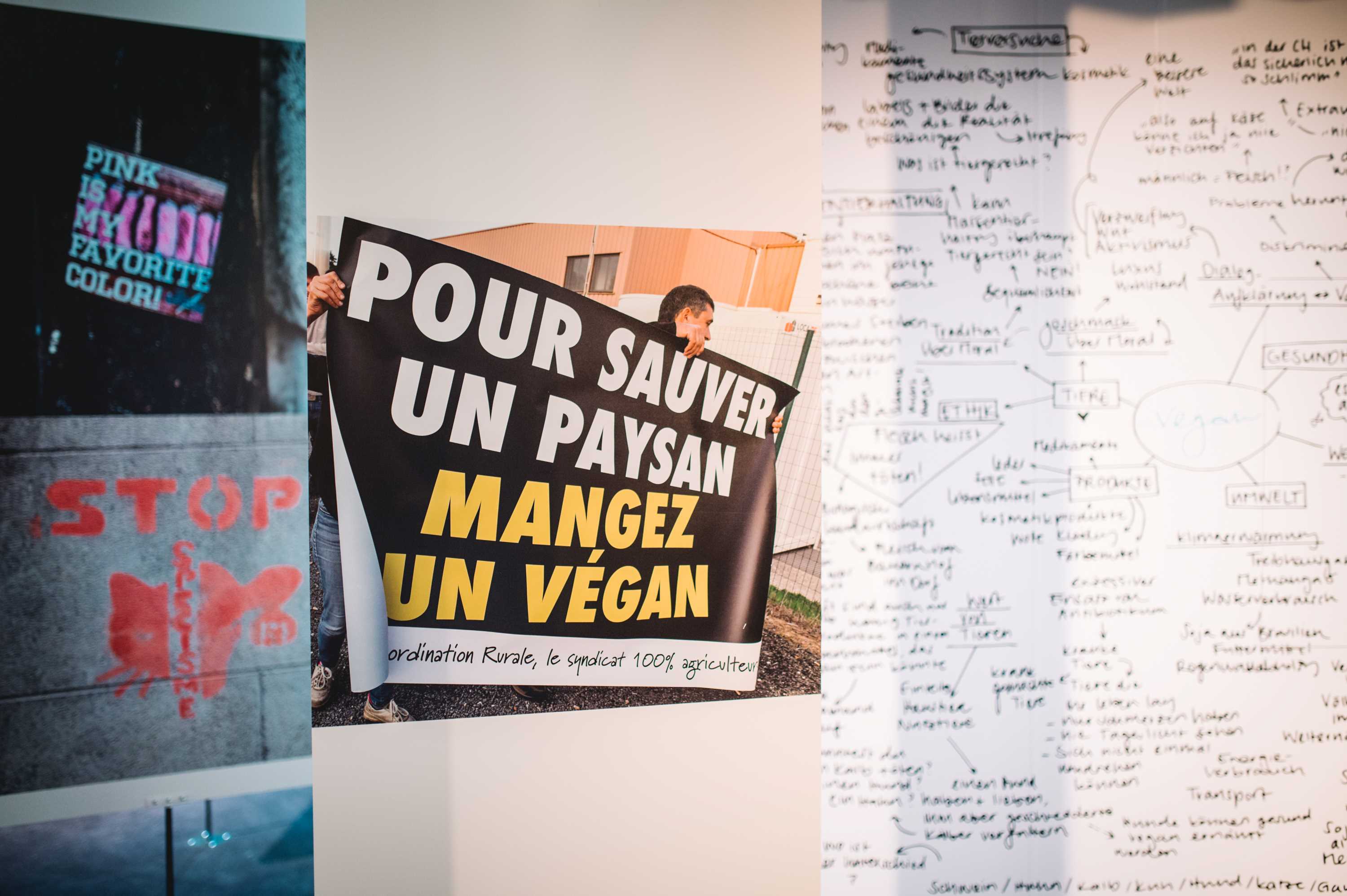 CARNISM x OMNIVORISM
The notion of carnism encircles the exhibition area, as the prominent perspective that encompasses our daily lives. By 'mirroring' the exhibits on veganism, the panels on carnism highlight stereotypes and anti-vegan allegations, without drawing any simplistic conclusions or forming an opinion.
Featuring the concept of carnism rather than omnivorism helps reveal the motives driving the choice of a vegan lifestyle. By questioning the reasons that push some people to refuse this natural tendency, the discussion expands from the biological perspective to the sociocultural perspective. If all human beings are omnivores by nature, do they have to be omnivores by necessity?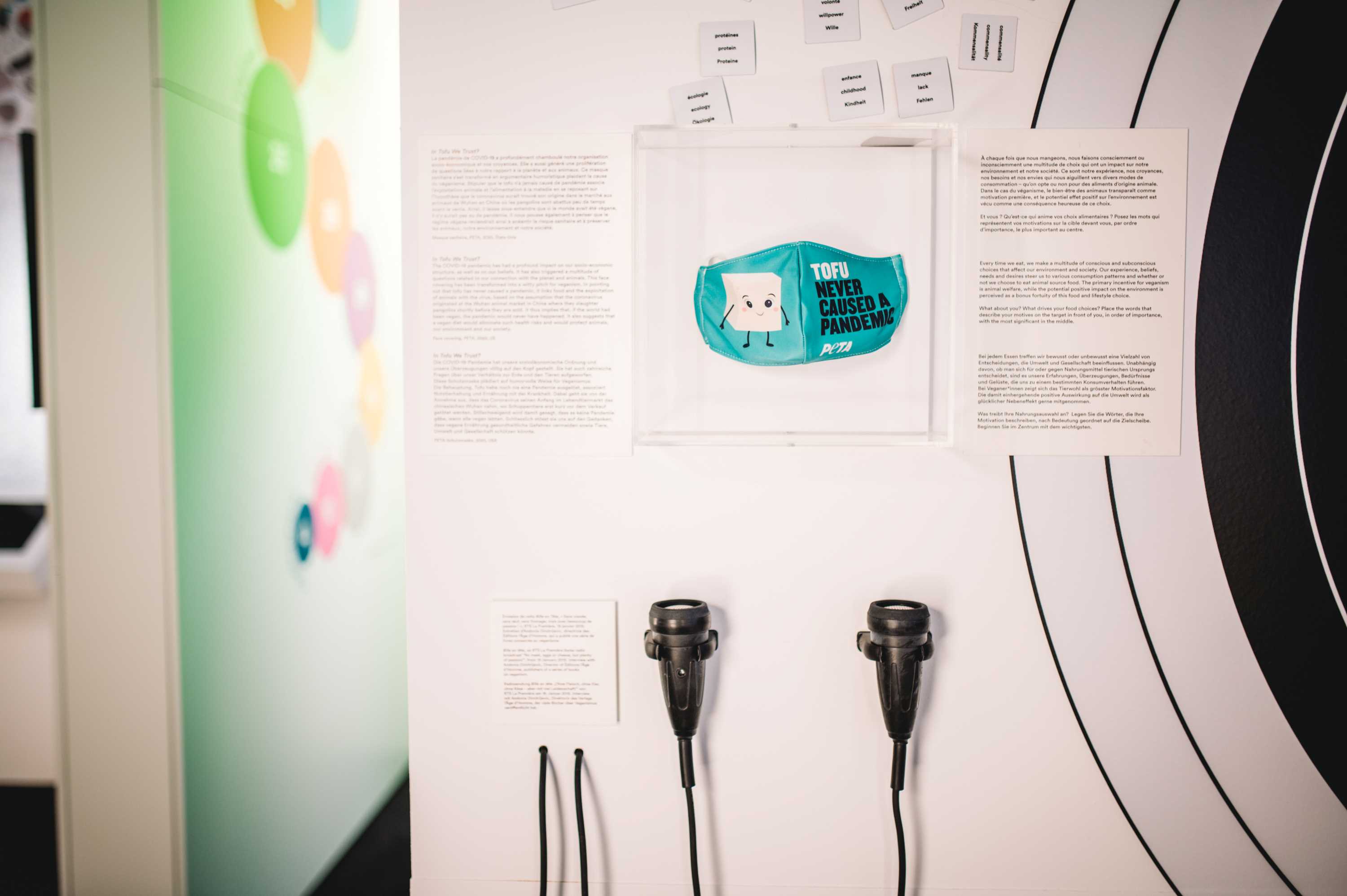 VEGANISM x HEALTH x NUTRITION
The nutritional aspects of veganism are regarded from the angles of vegetarian, pesco-vegetarian, and ovo-lacto-vegetarian diets, as well as from an omnivore's average diet. The exhibition uses visual aids, charts and graphs to present and compare various aspects of each dietary choice and the inherent constraints and limitations as defined by the FSVO (Federal Food Safety and Veterinary Office).
The general public often associates a vegan diet with the question of animal proteins from meat (and thus, symbolically, from flesh). However, if close attention is not paid to nutrient intake, the deficiencies that may arise more often concern essential nutrients (B vitamins, especially B12, iron, calcium, iodine, essential fatty acids) than proteins. In developed countries, the issue of protein intake in adults is relatively minor. A game in the exhibition highlights this message, as it invites visitors to compose the content of their daily meals, whether omnivorous, vegetarian or vegan, and then picture the level required and reached for each essential nutrient.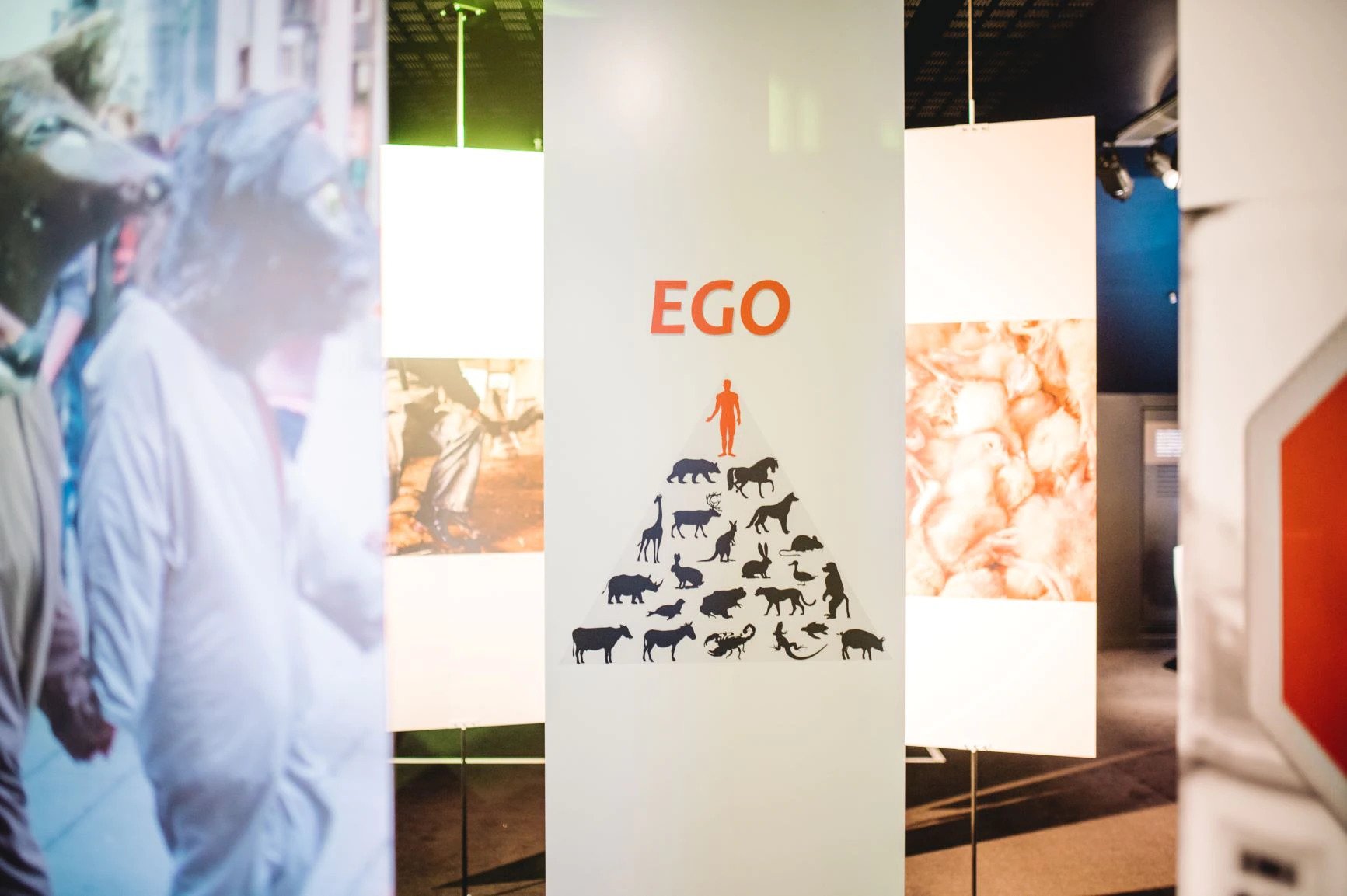 VEGANISM x ENVIRONMENT x ETHICS
Although concern for the environment is not the primary rationale behind veganism, it does sometimes inspire this food choice.
The same is true for flexitarianism and various vegetarian diets. Veganism urges paring down the ecological footprint caused by direct or indirect exploitation of animals. The exhibition illustrates the impact of a vegan diet on greenhouse gas emissions and on water consumption, pointing out that this restrictive diet requires producing and transporting food that raises its own challenges for society and the environment. One such example is the importation of non-local commodities (chia seeds, cashew nuts, almonds, etc.). This is a way of pointing out that, although the ecological balance sheet may be favourable, it may not necessarily be optimal, whilst also recalling that, contrary to other diets (such as organic or vegetarian) this aspect is not the primary premise of veganism.
This section of the exhibition provides an opportunity to reflect on the challenges vegan agriculture faces. In banning animal-based fertilisers, for example, it could favour mineral fertilisers. The complexities of such an endeavour could lead to some conflict between ethical and environmental motives.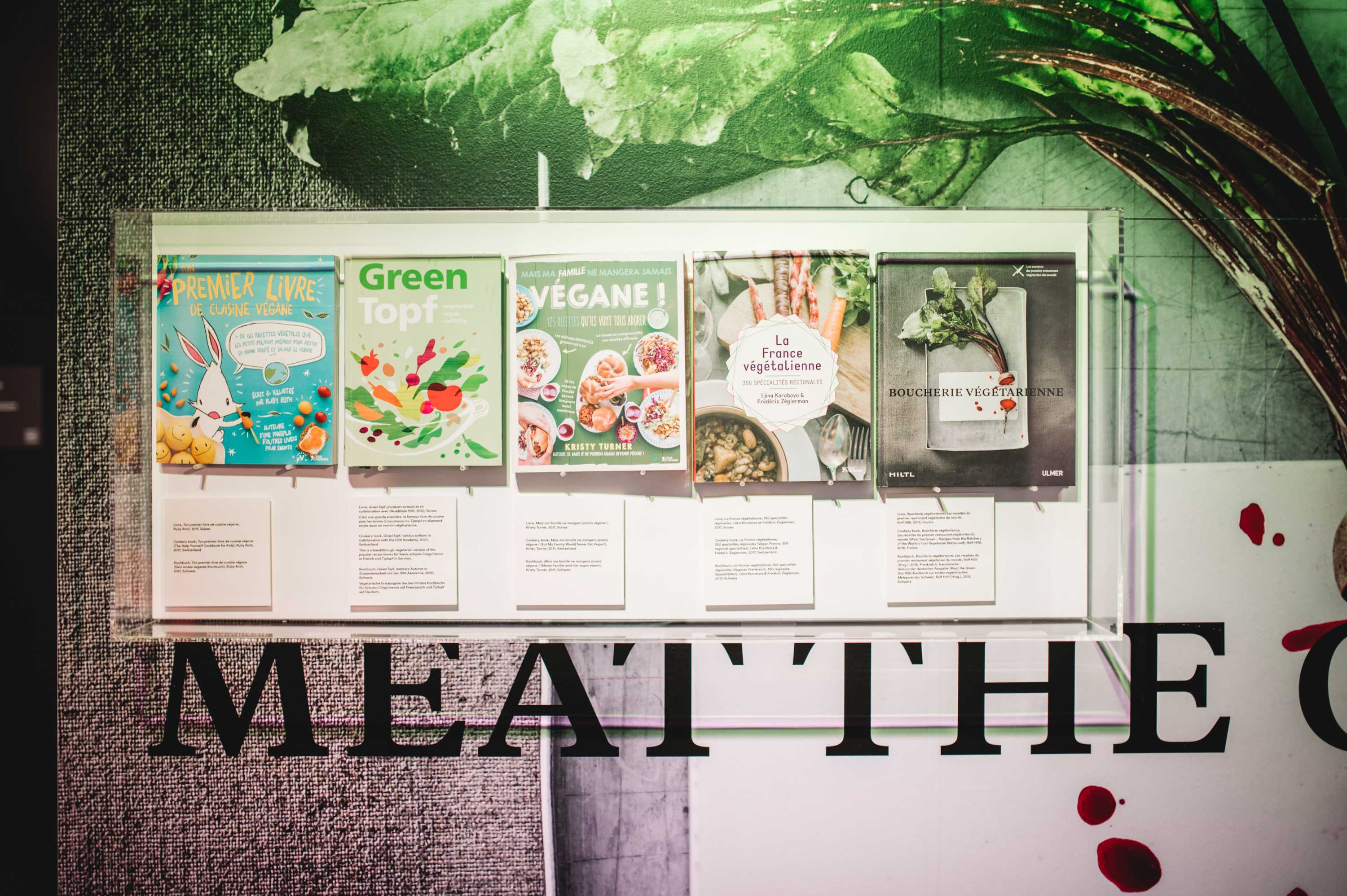 VEGANISM x GASTRONOMY
Nowadays, when we wander around supermarkets and grocery stores, our eyes are drawn to a multitude of new products with exotic names, such as vuna (vegan tuna), vacon (vegan bacon) and seitan (wheat gluten), and other meat substitutes. Why do vegans opt for food that resembles meat in order to eat like others, only with alternative burgers, wraps and Bolognese sauce?
Whilst on the topic of veganism and gastronomy, Rolf Hiltl deserves mention. He opened one of the first vegan butcher's shops in Zurich and continues to run the HILTL vegetarian restaurant his family founded in Zurich in 1898, considered the oldest vegetarian restaurant in the world.
Finally, the stories shared on the myveganlife.org platform show how this diet may lead to conflict and stress, or even question certain family traditions. Could veganism mark the end of family meals?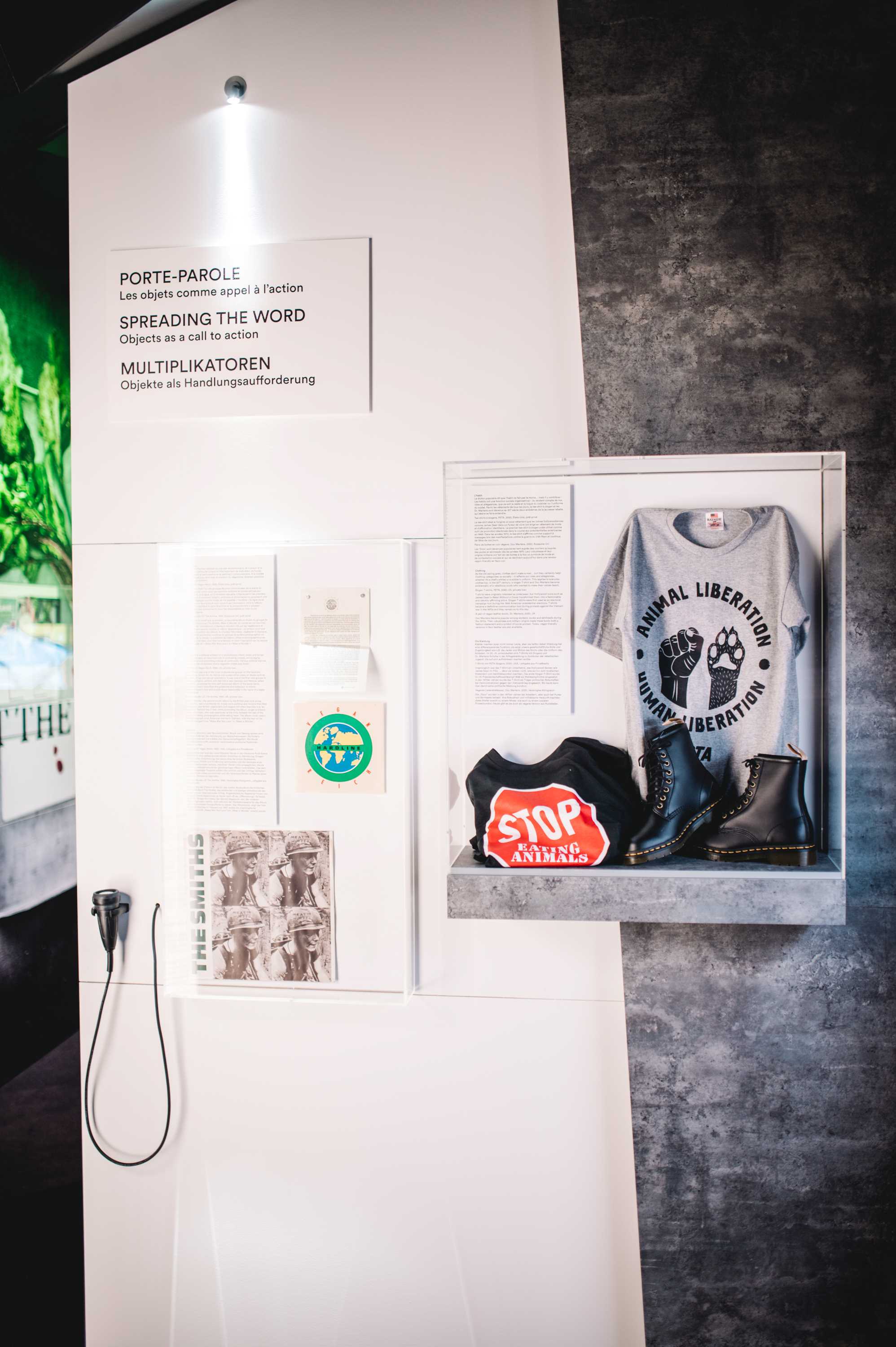 VEGANISM x ACTIVISM x OBJECTS IN POPULAR CULTURE
Veganism is also a form of protest. This angle is presented through activism for animal rights and the environment, direct action, and cultural symbols (music, literature, fashion, etc.).
The exhibition shows how diverse, dissonant, and conflicting voices rise up within this social movement. Some vegans cite The Smiths' iconic song Meat Is Murder (1985) as the decisive factor in changing their diet.
Protests in the street or at the table, civil disobedience, punk music, clothes, and shoes made of vegan leather… Just how far will this movement go?