FOOD2049
What will we be eating in 2049? Will we be living in a dystopian world where a single foodstuff is the dreaded last solution? Or rather in a high-tech land of plenty where hunger is no longer an issue?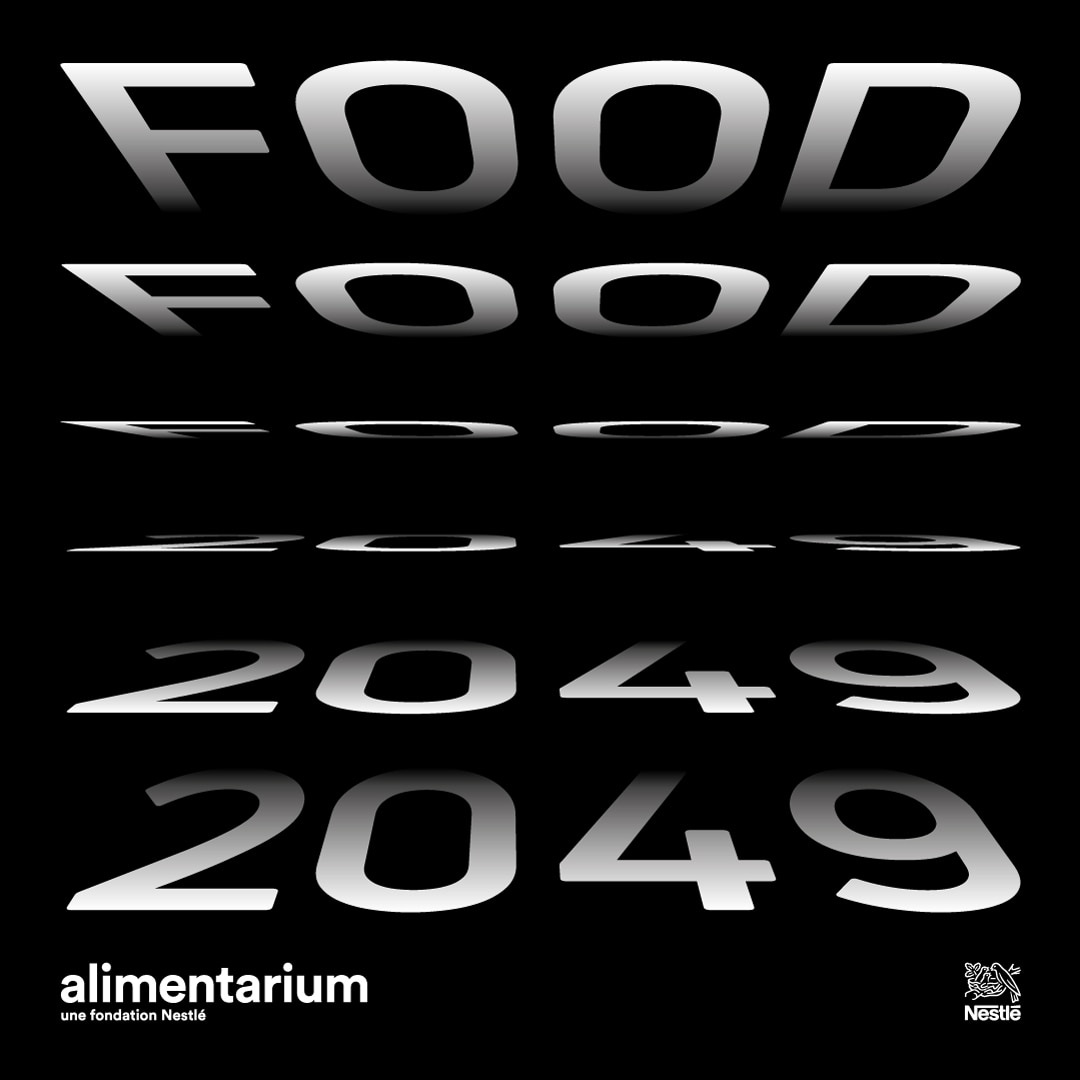 Science fiction and futuristic speculative fiction have always suggested how and what humans could be eating in years to come.
FOOD2049, the Alimentarium's new temporary exhibition, invites us to delve into the past to explore these concepts forged by popular culture and to compare them with current scientific trends, innovations, and projections. The title of this temporary exhibition echoes the cult science-fiction film Blade Runner and its recent sequel Blade Runner 2049.
Between liquid food, automated cooking and farming, a single foodstuff, and Noah's Arks 2.0, FOOD2049 examines four facets of past predictions of our food future.
The Scienticafé: Where eating finally becomes a pleasure
When science boomed in the early 1900s, they foresaw a future without knives and forks, and where chewing would no longer be necessary. In his book Ralph 124C 41+, the American novelist Hugo Gernsback imagined all food would be semi-liquid, rendering the use of handheld utensils obsolete. According to him, this new way of eating could finally awaken humanity to the true pleasures of the palate. The old restaurants, or "places of mastication" as he called them, would be converted into 'scienticafés', where diners are comfortably seated in leather armchairs and fed via tubes. Meat, vegetables, and other kinds of food would all be liquefied.
Other scenarios rewrite or even make fun of familiar settings and circumstances where food is involved: kitchens, eateries, tableware, and table manners. A German advertisement from the 1930s mocks futuristic table manners by featuring a 'meal machine' that feeds two guests whose curves infer the pleasures of good food and idleness, and who are now also relieved of the tedious effort of bringing the food to their mouths. Using robots to declutter the gestures associated with food production and intake is a recurring topic in futuristic representations of human food and eating habits.

Die Essmaschine (The meal machine), chromolithography trade card for Echte Wagner margarine, Humoristische Technik series, 1930, Germany © coll. Agence Martienne
Cyber-cornucopia: 'Push button' kitchens
Echoing these perceptions of culinary arts from the beginning of the century, the technological utopia of the 1950s imagined a future that freed humans of the tedious task of making meals. The American dream at that time was a 'smart kitchen' that would follow all our instructions and anticipate our every need or desire. This ideal of an automated made-to-measure kitchen is reminiscent of two imaginary places: The land of milk and honey, where our thoughts are all it takes to whip up our culinary desires, and cornucopia, or the horn of plenty, a symbol of eternal abundance. From the 1980s onwards, the popular sci-fi series Star Trek: The Next Generation, featured a machine known as the replicator. By synthesising any provisions required at a molecular level, it is the guardian of human society in the 24th century, where hunger and animal exploitation are a thing of the past and all meals are perfectly balanced.
In the 16th century, Thomas More envisaged the citizens of his imaginary country being freed of such drudgery. Nonetheless, the ideal kitchen of his social order was still run by women and slaves. The 20th century saw a different kind of slave: robots (from the Czech word robota, meaning task or chore). Food mixers, blenders, and other household appliances replaced a multitude of tasks with a simple flick of a switch.