Nourishing interaction
Food – There's no better subject to break the ice between pupils with different languages and cultures.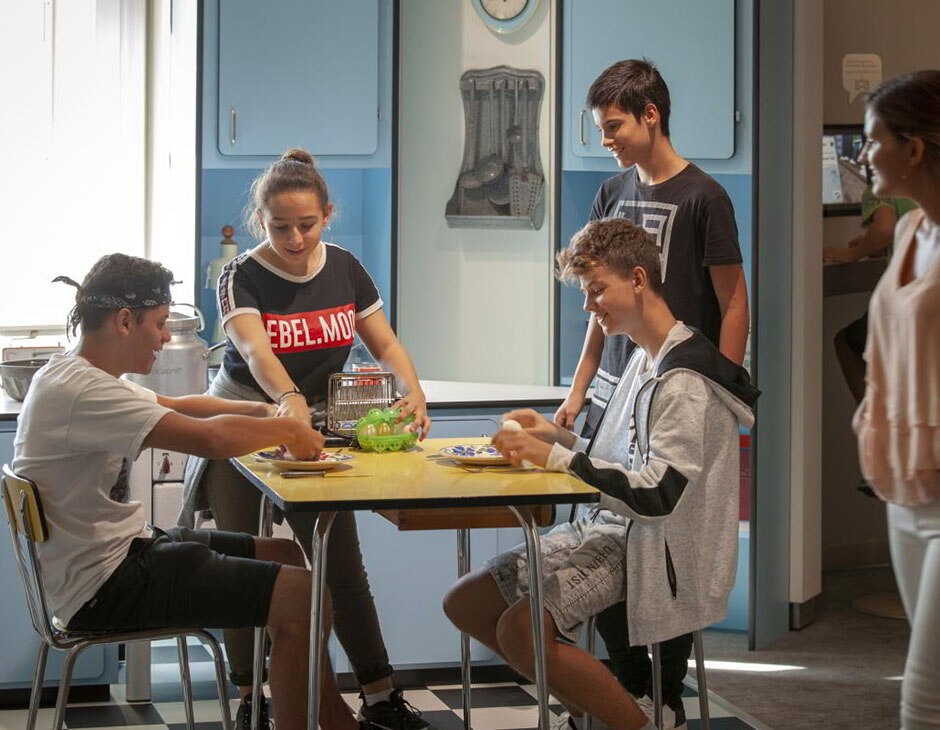 Your safety and the safety of our staff is our utmost priority. Hence all our activities have been adapted to the FOPH guidelines. All health and safety precautions in the Museum are to ensure you have a safe visit.
It is compulsory to wear a mask in our Museum. Please remember to bring one with you when you pay us a visit! Masks are also available at our Welcome Desk (CHF 0.50 each).

Let's stay safe together! Thank you for your help and understanding.
The Alimentarium is already renowned for its pedagogical approach and, since spring 2019, now offers a new initiative aimed especially at language exchange classes.
Pupils are invited to dive into the history of favourite food and pet hates via interactive exhibits and demonstrations that arouse all our senses, focusing on four main aspects of this topic: biology, ethics, aesthetics, and sustainable development.
It includes:
Group welcome at the Museum
Bilingual discussion led by one of the Alimentarium's experts on the importance of food, and food-related issues
Bilingual guided tour of the Alimentarium's permanent exhibition
Discussion regarding the exhibition and the general theme
Teaching resources, in French and German
For whom? When? How much?
Target audience: Secondary I (from age 10) to secondary II
Number of participants: Two classes and accompanying adults
Times: Morning or afternoon, depending on the teachers' preferences
Duration: 1h to 1h 30 min
Languages: French and German
Price: Fixed price for 2 classes (40 pupils), CHF 200 (free for accompanying adults)

This programme receives support from Movetia, which provides grants to promote linkups between classes from Switzerland's different language regions. For more information visit www.movetia.ch/echange-classes.